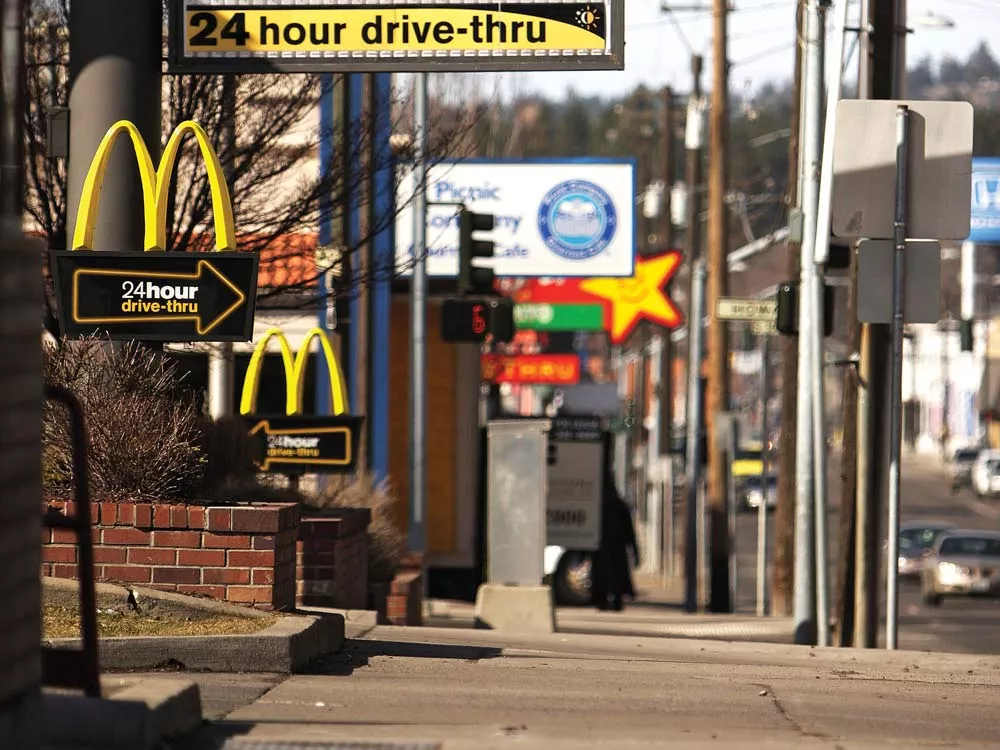 In an effort to quantify a national obsession, the Daily Beast website recently published a ranking of the 500 American cities with the highest saturation of fast food per capita. It's a long list from Orlando to Las Vegas. And while the golden arches and paper crowns dominate urban areas, mainly in the Southeast, our very own Spokane ate its way to No. 9 on the list.
The ranking shows that our city's population of just over 208,000 supports 158 fast food chains — and that's not including Zip's, D'Lish, Dick's or other regional chains. The study included only the nation's 30 top-grossing mega-chains. Subway was the most prevalent.
If you've cruised Third Avenue, Sprague or Division, this isn't breaking news. To travelers passing through on I-90, our aggressive array of signage reflects the numbers. The Inlander's own reader-ranked "Best of the Inland Northwest" poll regularly indicates a preference for nationally recognized chains over mom-and-pop spots: In 2010, readers voted Starbucks as the best coffee/espresso shop, Red Robin for the best burger, and Subway as their second-favorite sandwich place in town.
Polls like the Daily Beast's aren't comprehensive or flawless, and they certainly don't define us. But they do project an image of Spokane to the outside world. And that got me thinking: How can our fair city sustain 34 Subway shops while locally owned eateries like Hale's Bar & Grill, the Top Notch Cafe and Morning After Bakery all folded within a year? If we are what we eat, what does a ranking like this say about us?
THRIFT AND SWIFT
At 4 on a Monday afternoon, Zip's on the corner of Third and Lincoln is slow. Outside, it's cold and gray. The mostly empty parking lot lends a view of Taco Bell, Carl's Jr. and Jack In the Box.
Jon Berroteran has been a manager with Zip's for 15 years — long enough to know the ropes. Sitting in one of the booths, he throws his hands up in the air when asked how a fast-food restaurant survives in an already saturated industry, "Who the hell knows?" he says, talking quickly. "If I had an answer to that question, I'd have written a book by now and sold millions."
The last few years have been less swift for Zip's, slower than Berroteran would like. Major construction projects have taken a toll on business. Epic winters make the cold months tick by slowly.
Not to mention that on Third Avenue's fast-food corridor, Zip's is "the little guy." Spokane's 13 Zip's locations are corporate-owned chains — as opposed to franchises, which place the financial burden of building and operating on individual investors in exchange for a corporate brand name and mega marketing dollars. For Zip's, it's still hard to compete with the giants across the street.
"Right now, people are looking for value," Berroteran says. "The burger might be half the size, the taco might not be real beef. Honestly, for most people, I think it almost doesn't matter what's in the sack, as long as it's 99 cents or a 'five dollar foot-long' — as long as I get change back from my dollar."
When you slide down the fast-food culture rabbit hole, you find yourself wading in facts, demographics and socio-economics, not to mention history, employment, education and public health. Spokane is a working-class town. And our poverty level is high. The median household income is $10,000 less than the state average. Dollars matter here.
But Spokane is also a family town. Fast food is cheap and kid-friendly. In my short time sitting with Berroteran at Zip's, the customers were all parents with young children.
Across the street from Zip's, Taco Bell's manager declines to talk with me. It's understandable, considering the company is embroiled in a nationally publicized lawsuit over its taco "meat filling" ostensibly masquerading as beef. But even in the wake of scandal, cars pull in, snaking around the building, one after another.
At Subway, meanwhile, their corporate motto is "Eat fresh," and that's exactly why Sean Reines, manager of Spokane's Third and Walnut location, believes Subway is the largest fast-food restaurant in Spokane — and the world. Subway's website claims 34,187 restaurants in 95 countries.
"People come for fresher veggies," he says. "They get to see their food prepared in front of them, and actually get three minutes of face time with the person making it. That means something."
But even Subway isn't immune to challenges. Two years ago, Pizza Hut moved in directly next door. "We stopped doing pizza subs after that," Reines says.
ONE IN FOUR
The National Restaurant Industry's annual industry forecast predicts that "local sourcing, sustainability, and nutrition" will be the biggest menu trends in 2011. It also suggests that, as in 2010, the quick-service industry will fare better than full-service. Diners are hungry for value.
The health trend is a response, in part, to a national epidemic. According to the Spokane Regional Health District (SRHD), one in four adults in Spokane County is obese. Diabetes is a leading cause of death. Young people aren't eating as many fruits and vegetables. Life expectency is decreasing.
Natalie Tauzin, who coordinates the Spokane Healthy Corner Stores program for SRHD, believe access to healthy options can help tackle these issues. In addition to working with local convenience stores to provide fruits and veggies alongside the Cheetos and Ho Hos, Tauzin's team is creating a comprehensive Spokane food map, noting everything from fast-food and full-service restaurants to community gardens, farmers markets and food banks.
The report will go public at a community meeting in June, and Tauzin hopes folks will join the discussion about generating easily accessible, nutritious food options for all. "This is very much going to be a community conversation," she says.
In the meantime, note the rise of the $5 lunch, available at Europa, the Safari Room and Post Street Ale House. Note the effort by farmers markets to accept WIC and food stamps. Note the Main Market Co-Op's revision of its membership policy: A low-income payment plan now allows for installments of just $5 a month.
But still, last Wednesday afternoon, the food court at River Park Square was bustling. Giddy teenagers traded fake punches over pizza. Retail workers on late lunch breaks sipped from giant Pepsi cups. A tattooed mom watched silently as her son devoured food from Panda Express. A fashionably dressed twenty-something couple carried Taco del Mar trays to a window seat, near an old woman who sat alone, savoring a dessert pie.
It's no wonder, looking at this great mix, that in 2010, Spokane landed a place on a number of national rankings. USA Today ranked Spokane 51st among the "Drunkest Cities in the U.S.," but the Lilac City was also one of Outside magazine's 25 "Best Towns" for running, biking, hiking and paddling. It's one of Inc. Magazine's "Best Midsize U.S. Cities for Doing Business." And while we made the Top 10 list at Men's Health for "Worst Teeth," we ranked seventh in Parenting magazine's "Best Cities for Families."
So what can we take from this? That we're busy?
We're working hard? We're strapped for time and cash? You bet. That our locally owned businesses could use some love? Sure. Or that we could pay more attention to food we're putting in our bodies? Absolutely. And that some things — like the spirit of a place, and the many voices, contradictions and complications that make it real — just can't be measured.