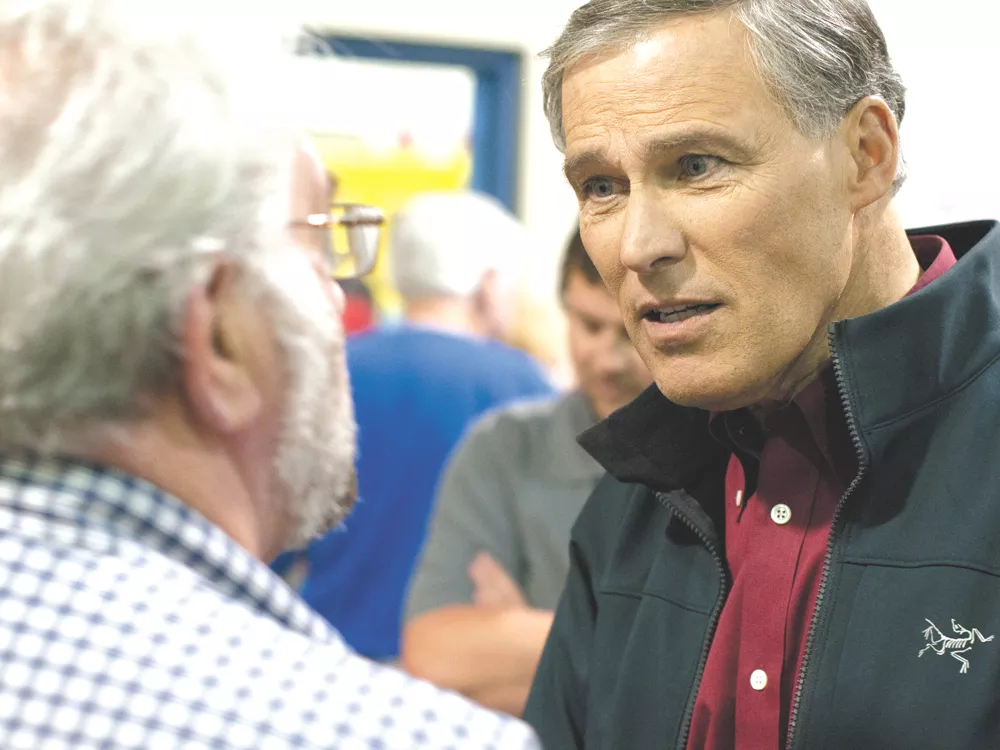 Jay Inslee's breath puffs across my face, arriving in tight bursts as he talks about health care reform and jobs plans. We're standing near the grills outside a labor rally at the Spokane County Fairgrounds, surrounded by the smell of charred meat. When Inslee wants to make a point, he leans in extra close. Fortunately, Inslee's breath doesn't smell.
"I had an ice cream cone at the airport, when we landed," he says.
Today, the former congressman and author of a clean energy book is making points about his Republican opponent, state Attorney General Rob McKenna.
"I think one candidate had a jobs plan and one candidate did not, and that's a pretty big distinction," Inslee says, referring to a debate the two had the night before.
Inslee, a 61-year-old Democrat, is a former state legislator who was elected in 1992 for a term in the U.S. Congress representing Central Washington. After losing his re-election in 1994, he moved to Bainbridge Island and practiced law before getting elected to that region's seat in Congress. He also wrote a book with a dramatic title: Apollo's Fire: Igniting America's Clean Energy Economy.
As governor, Inslee or McKenna will face a world of financial hurt. Earlier this year, the state Supreme Court declared that Washington schools were underfunded, in violation of the state Constitution. The court directed the state Legislature to fund schools, which some estimates say would cost between $500,000 and $2 million more per year. The state also faces a projected non-education spending shortfall of $1 billion for the 2013-to-2015 budget.
But forget the poorhouse. Inslee is talking jobs today, about his plan of "75 very specific ideas" that range from finding quicker ways to make money off of university research to snagging more defense contracts. Inslee is also a big supporter of the green economy, saying that it is growing twice as fast as the traditional economy. That, he says, is where Washington state must look for job creation.
Inslee also talks about "working with the Legislature … to get a research and development tax credit for small businesses."
What can he do on Day One to create jobs?
"On Day One, you can hire people," Inslee says, adding he wants to hire "disruptive agents who want to bring change to state government."
Inslee says the state can cut health care costs by emphasizing preventive care for state employees and teachers unions and use more efficient payment systems. And he accuses McKenna, when it comes to health care reform, of trying to "blow it up."
"Now we basically got to remodel the house of health," he says. "You can't hire the guy who tried to tear it down."
Inslee also wants to close state tax loopholes, like the one that infamously benefits traders of bull semen.
McKenna is 50, but has the face of a teenage boy. A former King County Commissioner, McKenna was elected the state's attorney general in 2004. He most recently made news by helping sue the government in an effort to stop President Barack Obama's health care law. But McKenna earlier worked on projects to get rid of methamphetamines and identity fraud. He's also known for doing the Gangnam Style dance at a Korean Day celebration; a performance which, caught on video, went viral.
Talking on the phone one day in late September, McKenna sounds peppy. He'll be mingling with Inslee later that day — they end up shoulder-to-shoulder at countless voter forums on the state's population-packed West Side — but for now he's happy to throw out facts and minutiae about state government.
He touts endorsements he's gotten from more than 50 mayors, including Spokane Mayor David Condon, Spokane Valley Mayor Tom Towey and Cheney Mayor Tom Trulove. As attorney general, he says he's visited Spokane more than 100 times.
"I don't just show up every four years," he says.
Like Inslee, McKenna isn't shy about trying to score points.
"He likes to talk about the fact that he used to live in Eastern Washington," McKenna says of Inslee. "But of course, he lost an election and left."
As for that jobs plan Inslee says doesn't exist, McKenna's proposes to spur economic growth by lifting some of the tax burdens that befall small businesses. McKenna also wants to blend state and federal regulations so the system is easier to navigate.
Unlike many Republicans — or Democrats, for that matter — McKenna doesn't resort to business boosterism when talking about how to solve Eastern Washington's slow wage growth compared to the West Side.
"Education is key," he says. "In this world economy, income growth is tied to education levels."
He says companies look to relocate to Eastern Washington because electricity rates are low, but the region doesn't have enough educated workers to fill those jobs.
McKenna proposes a plan to raise revenue to meet court-ordered education spending needs. He would cap all non-education spending at 6 percent, and that any revenue that comes in over 6 percent would be added to the education budget.
He says he'll vote against Referendum 74, the public ballot measure that would legalize gay marriage, but notes that he supported the successful 2009 public vote that recognized civil unions.
When asked about whether the state should do more to combat global warming, McKenna turns the conversation back to jobs.
"I think our state is well-positioned, though, to take advantage of, for example, the electrification of transportation," he says. "Electric cars."
Neither McKenna nor Inslee have endorsed the idea of starting a regional carbon cap-and-trade market in order to decrease carbon pollution. Washington belonged to a group — which included several West Coast states and some Canadian provinces — that was exploring a regional cap-and- trade situation, but has since dropped out.
But outside the Fairgrounds, Inslee isn't worrying about global disaster. He's got an election to win. In a short speech before several hundred people at the labor rally, Inslee promises factory jobs and talks about his belief in cold beer and short speeches. Afterward, when I ask him about his favorite beer, he responds, and then tweaks his answer: "Free, free beer. No. No, I'm sorry. Washington free beer."