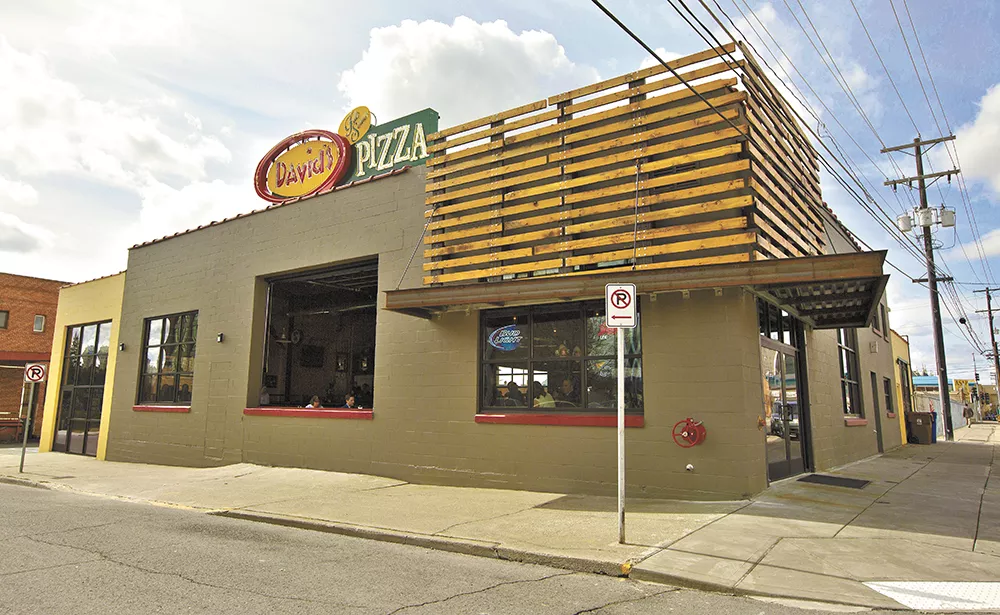 Word travels fastaround here.
It's been less than two weeks since local joint David's Pizza quietly reopened its doors after a nearly four-year hiatus as it transitioned between locations. On a rainy Wednesday evening, jovial chatter in the busy restaurant echoes from the concrete floor up toward the 18-foot, exposed wood ceilings, filling the 100-year-old former warehouse with new life.
It seems like ages since the Spokane staple, founded in the mid-'90s, was forced in June 2011 to shutter its iconic Logan neighborhood spot at the corner of Hamilton and Boone. But in that time, David's owner Mark Starr was up against a long list of challenges associated with relocating.
"There's a lot of history there," Starr notes. "Everyone associates that location with success, but it took a us a long time. You have to earn people's loyalty, and if you fail to do that, you're not going to do well."
Since being booted from its original home — razed to construct the Clementine Square retail center near Gonzaga University — much of the delay in reopening was related to finessing undisclosed details with the property owner of the former Wonder Bread bakery block just south of the Spokane Arena. During that time, Starr was also running David's Pizza's catering arm out of Famous Ed's restaurant on the South Hill, which he co-owns.
There also were numerous financial decisions to manage the cost of completely rehabbing the space. When construction began last fall, Starr began working up to 100 hours a week alongside his contracting crew, gutting the building down to its brick shell and rebuilding from the inside out.
Starr is a hands-on business owner who says he hasn't taken a vacation in years. Each day since opening, he floats around the bar and family dining sections, asking customers about their meal and greeting tables of people he knows personally. With a red, flour-smudged apron tied around his waist, Starr slips behind the counter, where pizzas are cooked in view of diners, to lend a hand.
Over the years, Starr has continually used David's to give back. Even when the restaurant had no permanent home of its own, Starr was still serving up donated pies at Bloomsday, Hoopfest, SpokeFest and numerous other charitable and community events from the back of David's Pizza's iconic, converted fire engine catering unit.
"I enjoy seeing people succeed, and that's the best part of this business — helping others," Starr says. "I'm going to be able to do a lot more things with the community now that we have this space."
Another element that's unchanged is David's Pizza's (it's named after Michelangelo's famous statue) approach to food. As of its reopening, Starr says the menu will focus on David's classics — pizza, sandwiches, stromboli and calzones — although there are plans to expand with new dishes as the restaurant settles into its rhythm. Starr anticipates that many of these additions will be favorites from Famous Ed's menu that would be new to David's.
While the new David's reflects the same eclectic, garage-y vibe that fans recall from its old spot, the new building is more than twice the size. Windows on all four sides fill the open layout with natural light as the sun arcs through the sky. After a few recent, rainy days, it's nice enough to roll up one of the garage-style, west-facing windows to let a fresh breeze blow in. When it gets even warmer, Starr plans to open up two outdoor patios — one for bar patrons and the other for families.
Two focal points anchor the warehouse space, most notably the massive Brunswick-style bar that Starr salvaged from Cyrus O'Leary's restaurant, which closed the same year David's went on hiatus. Across from it, a circa 1940s rowing scull — Starr also saved it before O'Leary's was torn down — from the University of Washington is suspended from the ceiling.
Beyond the bar and above the kitchen, a circular mezzanine hovers over the pizza ovens. At the top of the stairs to this reserved seating area sits a massive, circular table made of salvaged gym floor from Gonzaga. The floating mezzanine was designed to showcase this 500-pound piece, which barely fit through the restaurant's front door and was a beast to haul up the stairs, Starr says.
"Everything here hearkens back to another era," he says. "The Cyrus bar, people have come in just to see it. I don't have a favorite piece, but my favorite theme is to bring back all these things." ♦
David's Pizza • 803 N. Post • Open daily, 11 am-close • 483-7460 • davidspizza.com