President of the United States
Hillary Clinton vs. Donald Trump
For a moment, let's set aside the latest headlines. Let's set aside the steady stream of WikiLeaked (and allegedly Russian-obtained) documents showing Hillary Clinton's internal calculations and Wall Street speeches. For a moment, let's set aside — if you can suppress your gag reflex long enough — the procession of women, one by one, who've come forward to say they were sexually assaulted by Donald Trump.
Let's just look at policies: The two possible futures this election has laid out have created one of the most stark choices of our lifetime.
Clinton promises an extension of the Obama years, with a more aggressive foreign policy and a more liberal domestic one. For all her strengths and weaknesses, Clinton promises a boring presidency, where one move is methodically made at a time, gradually attempting to push forward her agenda.
Trump promises to kick over the entire game board, sending pieces flying everywhere. He promises to burn down the old alliances, the old norms, the old politics of piety and platitudes.
His supporters see a bull in a china shop, sure, but one who won't be bullied by China. Bullshit, critics say. They see Trump as a misogynistic madman, playing Russian roulette with everyone but Russia. (DANIEL WALTERS)
U.S. House, Washington's 5th District
Joe Pakootas vs. Cathy McMorris Rodgers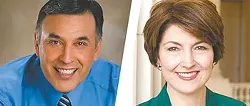 This is the second attempt by Joe Pakootas, a Democrat, businessman and tribal leader, to unseat Republican Cathy McMorris Rodgers, who was first elected to represent the district in 2004. Pakootas has hammered McMorris Rodgers for supporting Donald Trump for president despite Trump's well-documented history of lying, denigrating women and minorities, and exploiting tax laws to his advantage. McMorris Rodgers, meanwhile, touts how she's used her position in party leadership to get results, and points to legislation to fund fighting wildfires, reform the Veterans Health Administration and help rural communities access medical equipment. (JAKE THOMAS)
U.S. Senator, Washington
Patty Murray vs. Chris Vance

Chris Vance wants people to know he won't be like other Republicans. He was among the first Republicans to announce that he wouldn't support Donald Trump, and he hasn't backed down. He says climate change is real. He says he won't try to overturn Washington voters' decisions on marriage, abortion or marijuana. But that may not be enough to beat U.S. Sen. Patty Murray, who is seeking her fifth term in the Senate and who is a high-ranking member of Senate leadership. Over the past 24 years, she's worked on bills related to education, transportation, health care, veterans' issues and women's health. Most recently, she helped pass a bill that includes $1.1 billion to combat the Zika virus, and removed language from that bill that would have blocked Planned Parenthood from accessing funding. (WILSON CRISCIONE)
U.S. House, Idaho's 1st District
Raul Labrador vs. James Piotrowski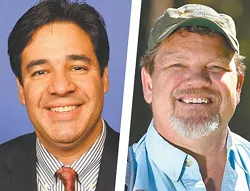 A Boise lawyer who specializes in civil rights law and who is fed up with "obstructionist" Republican politics is challenging Republican U.S. Rep. Raul Labrador for a seat in the 1st Congressional District. For Democrat James Piotrowski, the final deciding factor was Labrador's support of a state takeover of federally owned public land. The incumbent representative — a founding member of the House Freedom Caucus, a group of about 40 intensely ideological House Republicans who have threatened government shutdowns to accomplish policy goals — is too "extreme" for Idaho, Piotrowski tells the Idaho Statesman. Labrador, a Tea Party supporter who is seeking a fourth term, has worked to repeal all or part of the Affordable Care Act and is one of the Congressional Republicans supporting extensive, bipartisan criminal justice reform. (MITCH RYALS)
U.S. Senate, Idaho
Mike Crapo vs. Jerry Sturgill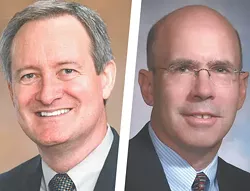 Jerry Sturgill hopes to take advantage of what he believes are the shifting political tides — specifically, the divisions created by Donald Trump's candidacy. The Democrat is attempting to knock off incumbent Republican Sen. Mike Crapo in a Senate seat held by the GOP for the past 36 years. A former corporate attorney, now managing director for the financial advisory firm Headwaters Merchant Bank, Sturgill says he wants to remove money from politics (Crapo has $5 million in his campaign coffers). After initially backing the Republican presidential nominee, Crapo was one of the first Republicans to withdraw his support after a 2005 video surfaced of Trump making vulgar comments about sexual assault. Idaho County Republicans then withdrew their support of Crapo, who previously said he supported Trump because of his stance on a strong military, tax cuts and limiting government regulations. (MITCH RYALS)