Sandy Tarbox, owner of Greencastle Soap Co., was an early arrival on the artisan soap-making scene. Like many who have come after her, she came to soapmaking as a result of a personal need: solving the problem of dry winter skin. It was the early '90s, before the rise of the internet, and it took her months to find a recipe, gather the supplies and make her first batch of soap. She quickly settled on a formula: "Our soap is a real simple recipe: coconut, palm and olive oil, lye and water," she says, while taking a break from crafting her latest creation, multicolored tie-dye soap, in her shop off of East Sprague.
She describes purchasing the building, a house with a commercial shop attached, as one of the best decisions she's ever made. Like most small businesses, controlling expenses was crucial to Greencastle's success. When she moved into the home, she quickly realized she could grow her business in the attached shop. "People had been asking me for years,'Do you teach classes?' So I finally just said, 'Yeah!'" That quickly led to selling soap- and lotion-making supplies and containers as well.
Tarbox has been happy to share her knowledge with the growing crop of local soap and lotion crafters. A local policeman is a regular soap maker. And she's trained others who have gone on to start their own businesses as well. "About 15 years ago, Sister Sky came to me, in their early days when they were just starting out. They went past me real fast!" she laughs.
Mountain Madness Soap Co.
Jennifer Morsell was living in Alaska in 2003 when she started making small batches of soap as gifts. Recipients clamored for more of her soaps, which she made with olive, coconut and palm oil, and she saw the potential to expand the hobby into a regular business. After relocating to the Pacific Northwest, Morsell opened a retail shop, which she quickly outgrew. She now employs eight women in her new Coeur d'Alene shop: "We collaborate on new ideas, create, give back to our community and support many causes that we are passionate about," says Morsell, including the arts, environment, animals and LGBTQ rights.
Find at 310 Sherman Ave, Coeur d'Alene, or online at mountainmadnesssoap.com
---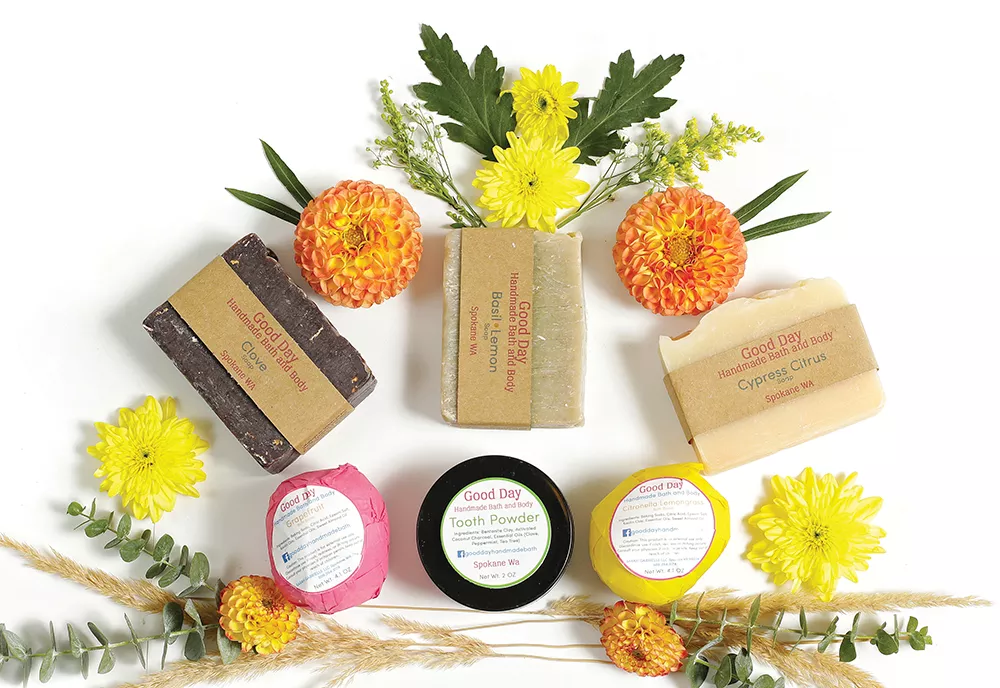 Good Day
Newly married Sarah (Suksdorf-Reiner) Brown is a familiar, smiling face at area farmers markets and craft shows with her Good Day Handmade Bath and Body products. "Being able to be home with my dogs, and work outside sometimes, were large factors in my choice to leave my wonderful full-time job and take the leap of starting a business," she says. "This business has also allowed me to inspire children who are always full of questions and excited to hear I make everything myself." Ingredients are all-natural with sensitive skin in mind, adds Brown.
Find online at squareup.com/store/gooddayhandmadebath or call/text 509-294-3178 to order
---
Soap Orchard
Evelyn Watt Kloczko started her modest company in 2014 to address her husband's longstanding skin ailments. After purchasing an expensive bar of specialty soap online for him, she looked at the label: "Once I saw what the ingredients were, it turned me on to go take some classes. And I fell in love with it." She began making soaps with nuts and fruits from orchards near her Los Angeles home. As part of an intentional "lifestyle change," Kloczko left her job in TV and film postproduction and moved to Spokane Valley in 2015, a location chosen partly because of the area's easy access to orchard-grown ingredients for her products. Kloczko has since added to her line of lotions, soaps, scrubs, sprays and candles, including products for babies and specific scent collections, such as Merlot wine and tangerine lavender.
Find at Farm Salvation in Medical Lake, or online at soaporchard.com
---
Sister Sky
Monica Simeon and Marina TurningRobe, members of the Spokane Tribe, formed Sister Sky in 1999, incorporating wisdom passed down from their grandmother regarding native plants. Products are never animal-tested, and feature sweetgrass, often used in healing and cleansing ceremonies, as well as yucca root, elderberry and white willow. While the company has expanded and Sister Sky products, including shampoo and body wash, are manufactured on a large scale and distributed nationally, the sisters maintain their commitment to quality ingredients. Sister Sky also donates a portion of profits back to the Native American community, including the Salish School of Spokane.
Find online at sistersky.com
---
Greencastle Soap Co.
In search of a remedy for dry winter skin, Sandy Tarbox started making soap nearly three decades ago, and she's never looked back. Greencastle offers 32 soaps in fragrances ranging from hemp and comfrey to Washington apple, as well as crafting everyday lotions, creams, beard oil and herbal salves, available in many retail locations. Tarbox's enthusiasm is infectious as she describes what happens after a runny mixture is poured into custom-made wooden molds: "That's when the chemical magic takes place. It heats itself up, and when it cools down, it has saponified. It's turned into soap." Experience the magic of chemistry for yourself at one of the classes Tarbox offers at her production/retail space.
Find at the Greencastle Soap & Supply shop at 203 N. Stone in Spokane; greencastlesoap.com
---
Peace Love & Bath
Kristen Hoover loves making soaps and bath products like rainbow sherbet scrub and multicolored goat's milk soap flowers topped with shimmery unicorn figurines. Motivated by Etsy sales — her business started as holiday presents — this young mom taught herself from YouTube videos. She recently landed a spot at NorthTown Mall's BeYOUtiful Bath Bombs & More, a unique storefront housing a number of local, woman-owned businesses. Hoover also continues to work the craft-show circuit. "I love it when a batch of soap turns out just how I had envisioned it. I feel like a kid waking up on Christmas morning!"
Available at NorthTown Mall, 4750 N Division St. Suite 1144; facebook.com/PeaceLoveBath