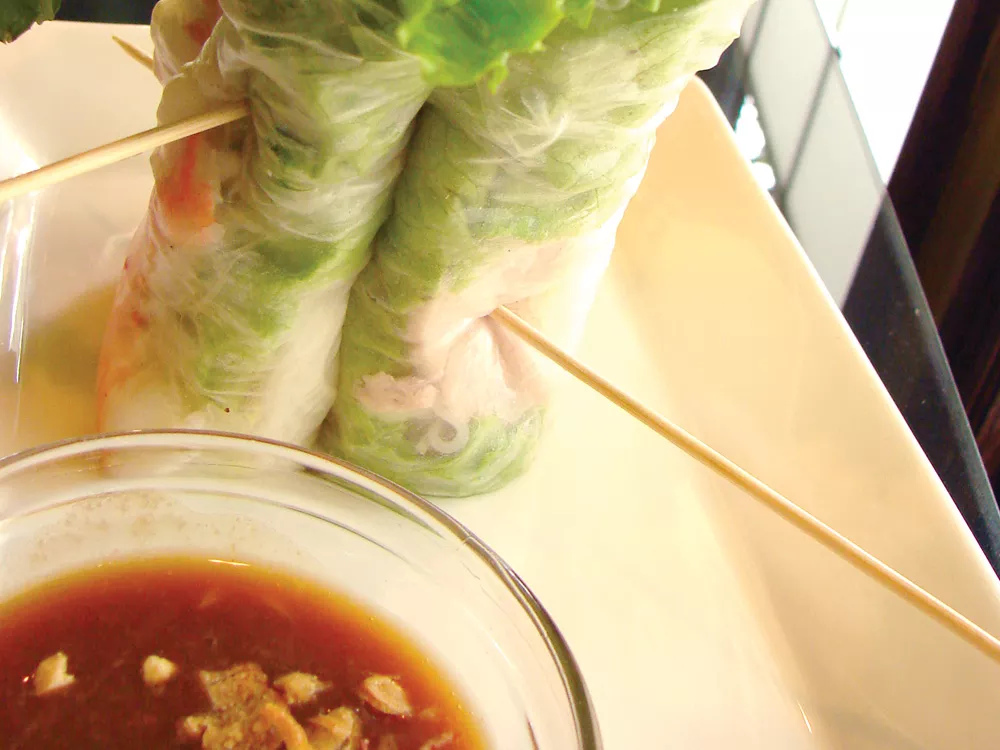 Most people travel or take up golf when they retire; Pat Ferraro opened a new restaurant. "I'm bored at 62. Instead of retiring I did this," it's more exciting," says Ferraro, who opened Dewey's Burgers and Brew in late July.
"Some people say it's the best burger they've ever had," my server says of Pat's special burger ($10).
I'll have to admit that the hot, juicy double-meat, double-cheese burger ranks right up there on the burger nirvana scale. The generous pile of thin, crispy fries wasn't bad either.
Owner Pat Ferraro should know a thing or two about making a great burger. He eats a double cheeseburger at least five times a week. "I only like American and Italian food," says Ferraro, who owns the Steer Inn in north Spokane and Ferraro's Homemade Italian restaurant in Spokane Valley.
Ferraro completely remodeled the Dewey's space (previously home to Dewey, Cheatam and Howe and El 7 Mares restaurants), turning it into a bright, family-friendly restaurant with a sports bar feel and an inviting, landscaped patio.
You'll find nine burgers ($7- $12) on the menu, including a spicy jalapeno burger and the 'Shroomburger, topped with Swiss cheese and sautéed mushrooms. Lighter fare includes over a dozen sandwiches, salads and a house-made minestrone and clam chowder.
After 4 pm, Dewey's serves barbecue ribs and a few Italian dishes popular at Ferraro's Valley restaurant, including lasagna and spaghetti and meatballs. "They are all my mom's recipes," says Ferraro, who came to the United States from Italy at age 13.
There's a kids menu, too, with the standard corn dogs, burgers and chicken fingers. "I taste everything that comes out of the kitchen," says Ferraro, who insists on prepping all of the ingredients himself and letting his staff finish and serve them.
Many of Dewey's appetizers — fried ravioli, wings and mozzarella sticks — sound like they're meant to be washed down with a nice cold beer. Choose from eight beers on tap or a wide selection of bottles, or order a cocktail from the bar. (Kirsten Harrington)
Dewey's Burgers & Brew • 3022 N. Division St. • Open Mon-Sun 11am-close • 325-7443.
---
East Meets West
Lemongrass is good-tasting and good for you. Native to temperate regions throughout southern Europe, Africa and Asia, its many varieties have been widely used in traditional medicine, as well as in cooking. It also inspired the name of Coeur d'Alene's new Lemongrass French Asian Cuisine.
Their Lemonbarb Chicken ($8), for example, features sweet-and-sour sauce with lemongrass and rhubarb. It's served over fried chicken tenders and accompanied by vegetables and jasmine rice. In Heo Wok ($8), lemongrass is paired with ginger, garlic, green onion, nectarines, pineapple and stir-fried pork loin to provide a balance of sweet and savory.
The menu at Lemongrass features signature dishes from numerous Asian cultures, such as Chinese, Thai, and Vietnamese. Korean kimchee — a pungent, pickled assortment of vegetables — is tempered with sesame lime dressing ($7), while the yellow curry in the crusted curry beef and sweet potato fried rice hails from India ($13).
Vietnamese food varies from beef pho soup ($10) to goi cuon, or summer rolls (sometimes called spring rolls). At Lemongrass, two large summer rolls are artfully presented, brimming with lettuce, basil, cilantro, bean sprouts, pork and prawns ($7). The cha gio is similar to a Chinese eggroll, and it's filled with taro, shrimp, and pork ($5).
French culture is represented here, too — perhaps not surprisingly, considering that France occupied Vietnam for nearly 100 years, introducing bread, beer and the potato to native cooking styles.
Lemongrass takes over the space where Takara, a Japanese restaurant, used to be. Owners Jack and Diane Torres spent months remodeling the space, painting the interior a golden yellow and adding earth-toned seating, curtains and other accents throughout the main dining room and adjacent tatami (small private) rooms. (Carrie Scozzaro)
Lemongrass French Asian Cuisine • 309 Lakeside Ave., Coeur d'Alene • Open Mon- Thurs, 11 am-9 pm, Fri-Sat 11 am-10 pm • (208) 765-9777.