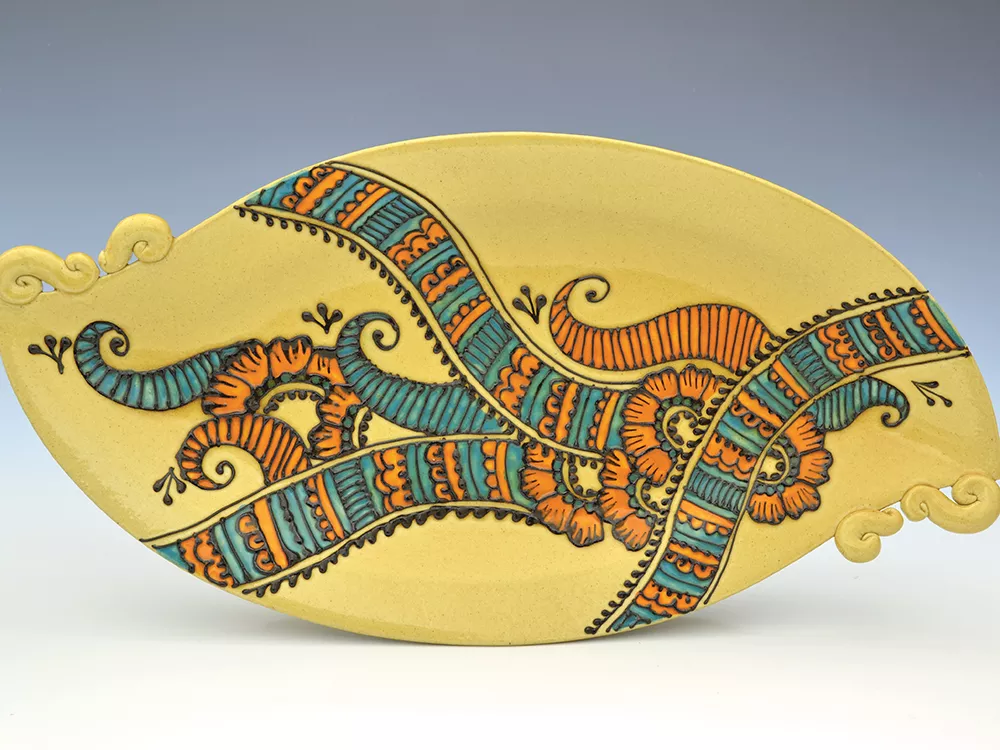 Surrounded by grandfather trees and historical buildings, including the stately old dame of the Patsy Clark Mansion, one can't help but marvel at the accumulation of tradition at ArtFest. Potters, welders, painters, glassworkers. ArtFest is living history. Like countless arts and crafts across America at any given moment, it's the continuing narrative of how humans create.
THREE GENERATIONS OF GLASS
At the other end of the artisan spectrum, Michael McCoy of Essential Glass Works barely remembers a time when glass wasn't a part of his life. His mother was an architect and artist, while his father made stained glass pieces.
He collected art glass and learned glass cutting and repair while other kids were learning how to drive. First in northern California, later in Idaho, McCoy parlayed his art, design and business skills into his own stained glass business, including teaching classes.
Ever adaptable to changes in the market, McCoy transitioned into fused glass around 1998, took a class with veteran Seattle artist Gale Franko and entered what he calls his "dichroic period."
"People think we paint it," says McCoy, explaining that dichroic glass is specially treated to allow quartz crystals to form on one side of the glass. As the glass moves — reflecting light — the shimmery color you see is different than when it's stationary. The result is eye-popping color on barrettes, earrings, pins and other jewelry.
McCoy painstakingly cuts and layers glass as small as one-sixteenth of an inch, fusing them at 1600° Fahrenheit in a specialized oven into complex designs: dragonflies, scarabs, cats, landscapes, abstracts. His orcas, for example, require 30 separate pieces of glass, including computer-designed "eyes" he had specially made for this popular design.
Continuing the tradition of glasswork in the McCoy family is daughter Heather, who also creates jewelry and manages the gallery at Essential Glass Works, which features glass, jewelry and ceramics from artists across the country.
LIVING THE DREAM
Charan Sachar always dreamed of working with clay, taking a circuitous route that began growing up in India. That's where his mother ran a bridal boutique and where he'd eventually earn a Bachelor's degree in electrical engineering.
After relocating to the United States to complete his Master's in computer science, Sachar worked in software engineering, eventually relocating to Washington state in 2000, putting him one step closer to his dream.
"I took classes at a local pottery co-op and it was love," says Sachar, who quit his engineering job in 2011 to develop Creative with Clay full-time. He learned to throw on the wheel and handbuild, experimenting with decoration, using an extruder (picture a giant cookie press) and making his own dies (the part that forms the cookie shapes).
"I wanted to create the soft, delicate look of intricate embroidered fabrics from India," says Sachar. He uses a technique called slip-trailing, covering the surface of the somewhat damp clay with "lines" of colored slip (liquid clay) that, once the piece is fired, become part of the surface pattern and texture of the piece.
"I try to introduce new patterns and colors inspired by seeing what's new in the Indian fashion industry and in Bollywood movies," he says. "The paisleys and floral patterns are the most popular and they keep making their way in often. And doing them freehand gives a lot of opportunity to keep changing them all the time."
ADVANCING THE ANCIENT WORLD
Raquel Edwards' images seem to come from another place and time, combining the ancient art of encaustic — painting with colored wax — and the comparatively new process of digital photography.
The process is laborious, beginning with a photograph mounted to a substructure. Edwards makes her own encaustic medium, a combination of beeswax and tree sap, then tints it with natural earth pigments and nontoxic oil paints. Between eight and 14 layers of wax are applied to the photograph, each layer hot enough to flow evenly, but not so hot as to burn. Propane and butane torches are used to "fuse" each wax layer with its predecessor.
The result is a filmy, ethereal version of the original image: bird's nests, butterflies, landscapes and ephemera. "Both the little details and expansiveness of the natural world inspire me," she says.
While her still lifes "celebrate rebirth, metamorphosis and new beginnings," says Edwards, her landscapes "are about stillness and reflection. They are inspired by those pockets of the world that allow us to step outside of the chaos of modern life and contemplate what is essential. They are often majestic and expansive scenes that are subtly faded and distressed — a representation of time's unstoppable passage. Through them, I examine the delicate balance between nature's strength and its fragility."
ArtFest • Fri, May 31 through Sun, June 2 • Coeur d'Alene Park • 300 S. Chestnut St. • Free entry