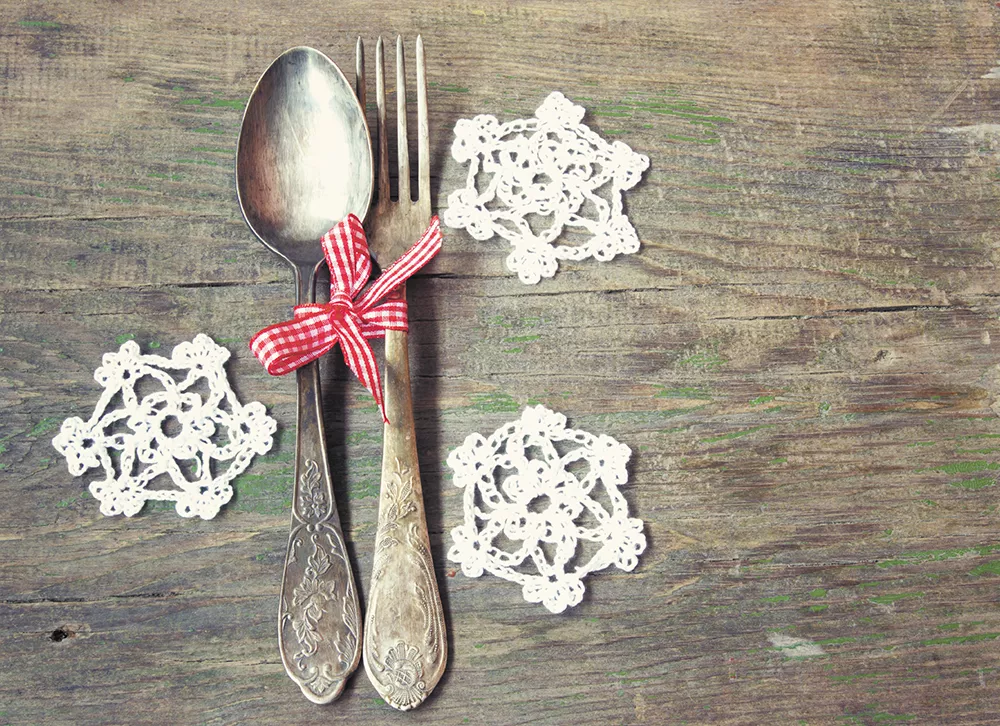 Christmas Day Out
So, it's Christmas. You could (a) miss most of the gift unwrapping, giggle time and picture taking because you're slaving away in the kitchen preparing appetizers, side dishes, main courses and desserts for when the rest of the clan comes over, or you could (b) not.
If you go for option b, everyone still has to eat, so why not go out? Taking the work part out of Christmas so it actually feels like a holiday is definitely not a cop-out, and the local restaurants that serve up Christmas dinner make it quite the classy occasion.
Two of the Davenport Hotel's restaurants are open on Christmas Day. Savor a three-course traditional turkey dinner with all the fixings at the Palm Court Grill off the hotel's main lobby. Over at the Tower, the Safari Room opens at 6 am for breakfast and serves from the regular menu all day long with a turkey dinner special.
Over at the Coeur d'Alene Resort, enjoy a wintery view of the lake from Beverly's on the seventh floor while you ponder their extensive wine list and order from the regular fine-dining menu, or go for the turkey dinner. At Dockside, guests can dish up their own plate from the buffet, offering ham, turkey and potatoes and salad, bread and dessert stations.
Clinkerdagger is a good option if you're craving something that departs from the turkey-and-stuffing ritual. Its chef makes a fresh sheet for the holidays, and though there's a limited menu on Christmas Day, it's similar to the regular one, with dishes like prime rib, chicken, surf and turf, salmon and pasta.
If you plan to put down the spatula for Christmas, you have to fully commit and make reservations ahead of time, because tables fill up fast.
All About that Beer
One thing we Inland Northwesterners are proud of is our local brews. That's why we have things like the Inland Northwest Ale Trail, to reward people for visiting breweries all around the region. But let's face it — the holidays are usually too hectic to spend romping around in search of suds. Enter Beertopia. On one night, at one place, 16 local breweries are present, including River City, No-Li, Selkirk, Iron Goat and Ramblin' Road. RSVP at yelp.com/events for $5, which gets you a pint glass, five 2-ounce sample tickets and appetizers. At the event, play pool for fun prizes like growlers, T-shirts and flasks. Wed, Dec. 3, from 6-9 pm. $5. The Black Diamond, 9614 E. Sprague. yelp.com/events
Hoppy Holidays
If you're a lady in love with craft beer and you still feel slightly alone in that, you have yet to discover Girls Pint Out. This group of women stoked about the craft beer scene meets throughout the year, and what better time to jump in than their Hoppy Holidays party? Taste brews like Hale's Ales' Mongoose IPA and Anderson Valley's Winter Solstice, and bring a wrapped-up bottle of your favorite craft beer for the white elephant exchange. Then there's the menu featuring sun-dried tomato satays, grilled sirloin and mushroom bruschetta, teriyaki steak skewers, curried chicken with raisin flatbread and carrot-ginger bisque shooters. Yum. Wed, Dec. 3, from 6-9 pm. $25. The Lincoln Center, 1316 N. Lincoln. girlsbeerblog.com
Snack in the New Year
OK, so drinks on their own might not be enough to pull off a brilliant holiday party. If you want to learn how to make delicious small bites for your New Year's Eve bash, the Inland Northwest Culinary Academy's After Dark program is offering a class on whiskey-soaked drunken mushrooms, Spanish tomato and spinach pizzettes, and white chocolate and raspberry purses. A glass of champagne is included as you cook. Fri, Dec. 5, from 6-8 pm. $49. INCA at SCC, 1810 N. Greene St. incaafterdark.scc.spokane.edu
Sweet Competition
Every December, the Davenport Hotel's Grand Pennington Ballroom is inundated with candy mansions. Bakers and architects from around the region come to compete in the annual Christ Kitchen Gingerbread Build-Off, a benefit for the local nonprofit, as they create sugary masterpieces that blow your childhood gumdrop-covered lean-tos out of the water. If you still want to make your gingerbread house and eat it too (or if your kid wants to), get a kit for $7 and construct your own. Sun, Dec. 14, starting at 10 am. Free to watch. Davenport Hotel, 10 S. Post. ccckministry.org
Local Libations
If you plan to play host this season and you're fretting about what to feed everyone, here's an idea: let the food take care of itself and just get good drinks. Here are a few local, seasonal beverages you might choose from:
Twilight Cider Works: Traditional is their newest release, made with English cider apples; it has a full-bodied, medium finish.
Trickster's Brewing Company: Try the Soul Warmer winter porter or their Christmas beer, Naughty Nick, an oatmeal chocolate-chip cookie stout.
Selkirk Abbey: St. Thomas is a black saison that presents subtle coffee and chocolate notes.
Hierophant Meadery: The Douglas Fir Retsina is an off-dry mead made with local honey and infused with Douglas fir sap.
Latah Creek Winery: During the holidays, Latah Creek sells mulling spice bags with bottles of their Ellena-Ellena cabernet franc.
V du V Wines: The dark cherry and cranberry aromas of the 2012 Columbia Valley Pinot Noir pair well with turkey or salmon. ♦