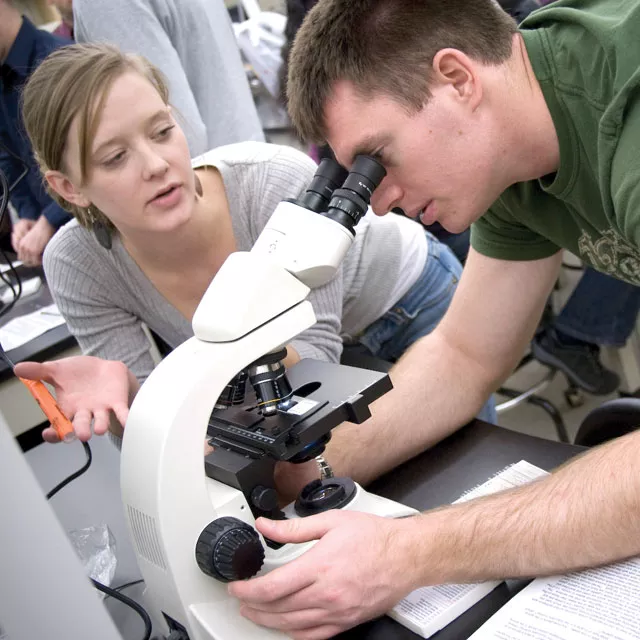 Brooks Ohlson grew up in Everett and completed his undergrad education at Western Washington University in Bellingham. After he was accepted to the University of Washington's medical school, he was told he would be spending his first year in Spokane. He and his wife weren't quite prepared for this news.
"We were surprised," Ohlson recalls. "But we were definitely along for the ride. It was good to see Spokane as more than a stop along I-90."
Ohlson was one of 20 first-year medical students who spent that first year in the Lilac City. They were part of UW's WWAMI program (which refers to the participating states, Washington, Wyoming, Alaska, Montana and Idaho). The program has traditionally placed students in more rural areas in order to encourage them to return to those communities after completing their education, rather than staying put in the bigger cities that normally host large medical schools. There were some bumps in the program's first year, but overall it appears to have been a success.
"Spokane has a huge, huge medical community," says Ken Roberts, director of the Spokane-based program. "About 20 percent of the economy [in Spokane] is tied up in the hospitals and other clinic systems. There are a lot of medical people here, and wherever you have that kind of concentration there's going to be a desire for medical education — kind of a traction site for clinicians to come. Spokane has been pushing to have medical education for a long time."
Even though the program has been operating since 1970, it's new to Spokane, which means instructors had to be found and hired, courses built from the bottom up, clinicians identified who would donate time and energy to the students' preceptorships… It was no easy task.
"Most of our staff is very experienced, but even experienced staff putting together new courses for a new program can have difficulties," Roberts says. Many of the new WWAMI instructors came from UW and Eastern Washington University and had never taught medical education courses previously. But they did have a wealth of experience teaching the basics: gross anatomy, cell physiology, biochemistry, histology, embryology, neuroscience, microbiology and immunology.
Steve Lampa teaches the anatomy class, but he comes at it from an interesting perspective. After completing his Ph.D. in neuroscience, he went on to become a post-doctoral research assistant at Washington State's College of Veterinary Medicine.
"There were some difficulties over the last year," Lampa (a Ferris High School grad) says via e-mail. "There was a huge learning curve. … For every one hour of lecture [there were] probably three to four hours of work preparing the notes and lectures. Also as course director, I was dealing with new faculty who had also not taught this course and they also needed direction. I believe all these [logistical] issues will be much easier to deal with going into the future."
Roberts, the program's director, agrees. "Having course material for the 13th or 14th week — in a 15-week course — ready at the beginning is pretty unlikely, really. So you're assembling even as you're teaching. From a student's point of view, it kind of feels like a work in progress and it has a less smooth feel to it. When you're on the front side of it you wonder: What if it doesn't all come together? But it did," Roberts says. "Now it's a question of refinement and making it better."
Roberts says there is no planned growth for the program in Spokane — there were always 20 students allocated to be here — but that doesn't mean that big things aren't on the way. UW is already educating third- and fourth-year medical students in clinical rounds in Spokane. And in early June, the clinical deans for those students moved into the Riverpoint campus, where WWAMI is located, consolidating both programs. All that's needed are second-year students and Spokane will have itself a medical school.
"There's actually a planning process under way to study the question of having a full four years of medical education [in Spokane]. I expect something to come of that in the next few months," Roberts says. "I believe we are planting those seeds [for a full four years] right now."
Ohlson, who is back in the Puget Sound area and preparing for his second-year studies, says he got an education unlike one he would have received in Seattle.
"Within the first couple of weeks, the community had us surrounded," he says. "I don't want to say we were bombarded, but they were excited to have some medical students. They were very welcoming." The clinician he shadowed for his preceptorship was also accommodating. "It seemed like he had all the time in the world for me. … That never would have happened in Seattle."