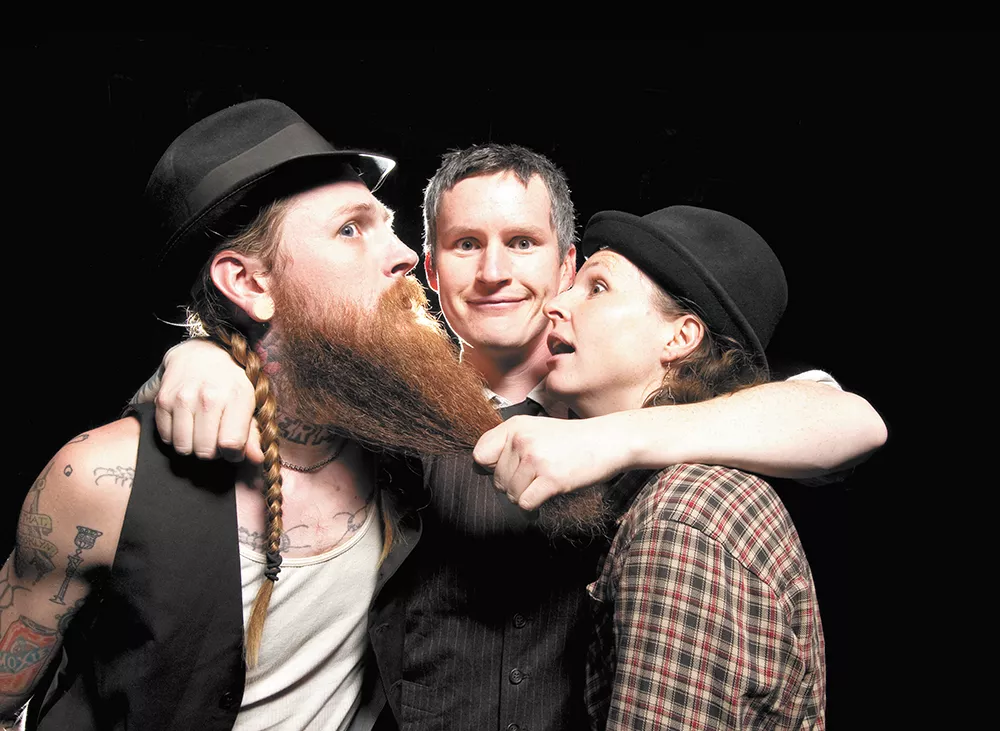 The music of the Devil Makes Three is easygoing and welcoming.
People of all stripes — from young'uns looking to dance a whiskey-soaked night away to boomers and beyond longing for a truer sound — find something to like in the trio's not-too-polished amalgam of folk, blues, ragtime, traditional country and old-time music.
Much is made of TDM3's punk influence, and it does rear its head occasionally. But for the most part, guitarist Pete Bernhard, upright bassist Lucia Turino and multi-instrumentalist Cooper McBean produce all-inclusive roots music when they get together and play.
Which makes it all the more fascinating that this seamless sound sprouts from a band with a fiercely independent streak. TDM3's newest album, 2013's I'm A Stranger Here, was released by roots-music indie powerhouse New West Records, but that doesn't mean Bernhard and his mates have to follow anyone else's rules.
"Record labels always want more and they always want you on the road more. They want more product and they want more albums. They want more content," Bernhard says. "That doesn't really jive too well with my interpretation of what it is to be an artist. It's not like a faucet. It happens when it happens, and when it's good, you let other people hear it. That's my approach."
Bernhard is talking, tangentially, about the U.S. tour that begins in Spokane Friday night and take TDM3 south to Los Angeles, across the southern half of the country and up the East Coast over the next month. It's an extensive run for a band more than two years removed from its most recent studio album — a time when many artists are winding down the tour schedule and looking to record new music.
"We're not really the type of band that puts out a record every year," Bernhard says. "We just don't really have that kind of output, and we try to be really conscious of not putting out something we're not proud of.
"We go on tour just so people can see our live show. It doesn't have much to do with the album. We've always done that," he continues. "We don't really follow the traditional record-label model. Just because it doesn't work for us, you know? I think that model kind of pushes artists to pump out material all the time, and I think that that can lead to the material not being of very high quality."
Indeed, TDM3 follows its own path, and that path hasn't led the band astray yet. Since self-releasing its self-titled debut in 2002, the band has put out three studio albums, a couple of live recordings and a handful of singles, all while touring nearly nonstop (including to thee Festival at Sandpoint in August). They started out playing house shows in California's Bay Area, and have graduated to increasingly crowded club shows and big-time events like Lollapalooza and the Newport Folk Festival.
I'm A Stranger Here makes a fine addition to the TDM3 catalog. It's packed front to back with Bernhard's memorable melodies, Turino's punchy rhythms and the trio's tasteful arrangements, captured perfectly by producer Buddy Miller at Nashville's Easy Eye Sound Studio, owned by Dan Auerbach of the Black Keys. The album has none of the gloss one might fear would come with a big label's budget or a famous musician's studio. Stranger sounds much like TDM3's previous work, which is to say it sounds like you're right there sitting in the room with 'em.
Turns out Miller and the band knew what they were doing.
"Easy Eye is actually a studio where... you have one room and anybody who's gonna be on the record is in that one room. And that's how we did it," Bernhard says. "That was what Buddy wanted to do and... we all agreed. I think over the years we've realized that, for our band, that's really the best way for us to record, and kind of the only way to capture what we do."
Bernhard calls it "the Sun Records approach to recording," and he's sticking with it. "That's how we're gonna do it from here on out," he says.
As for when the next recording of TDM3 songs comes into focus, don't expect anything too soon. The band's next release is an album of covers — Hank Williams, Townes Van Zandt, Robert Johnson, Ralph Stanley, et al. — and Bernhard expects to enter the studio after the current tour.
Yes, there are some new TDM3 songs, but they're in demo form right now. There's more work to be done, and true to form, the band will do that work when the time is right.
"I don't have very much control over it. I write when it comes to me, and when it doesn't come to me, I don't," Bernhard says. "My method is to always write and hope that inspiration strikes." ♦
The Devil Makes Three with Miss Lonely Hearts • Fri, Jan. 15, at 8 pm • $20 • All-ages • Knitting Factory • 919 W. Sprague • sp.knittingfactory.com • 244-3279