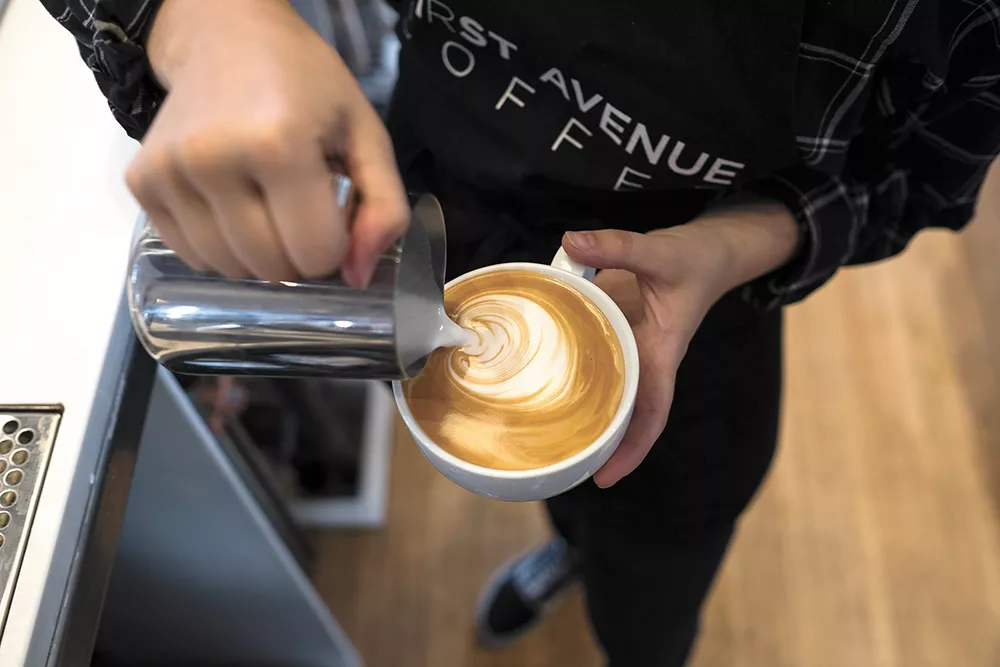 WATCH PARTY RESCHEDULED FOR WADDELL'S ON TRIPLE D NATION
Local restaurants and foodies were abuzz when Food Network star Guy Fieri was in Spokane earlier this summer to film an episode for his new show, Triple D Nation, revisiting favorite spots previously featured on the host's long-running Diners, Drive-Ins and Dives. Fans of #DDD can come together to watch Waddell's Neighborhood Pub & Grille's segment, airing Friday, Sept. 14, at 9 pm; Fieri previously visited in 2010. For the occasion, Waddell's is offering specials on some of the dishes Fieri gorged on, including its smokehouse brisket sandwich and "Pop Rockin'" chicken wings. Head to facebook.com/waddellspubandgrill for all the details.
In addition to Waddell's, Spokane's small plates spot Ruins is also slated to be featured on Diners, Drive-Ins and Dives, in an episode airing on Sept. 21 titled "From Pork to Pasta."
FIRST AVENUE COFFEE GETS GREENER
As part of efforts to reduce its impact on the environment, Roast House's new First Avenue Coffee in downtown Spokane is now a Certified Green Restaurant with the Green Restaurant Association. The designation makes First Avenue Coffee the third such Spokane-area restaurant to receive the organization's stamp of approval (at the one-star level), which requires an establishment to practice composting and recycling and to not use polystyrene foam products, among other standards. Other Certified Green Restaurants in the region include Manito Tap House and the Blackbird, both at the four-star level, and three campus dining facilities at Washington State University in Pullman.
CHEF IAN WINGATE JOINS CULINARY TEAM AT WANDERING TABLE
A familiar face and name is now heading up the kitchen at the Wandering Table in Kendall Yards. Chef Ian Wingate, former executive chef of Table 13 at the Davenport Grand Hotel, and before that chef-owner of Moxie Restaurant, among others in the region, has taken over as acting chef at the Northwest-centric restaurant from chef and restaurateur Adam Hegsted. Wingate started the new role about a month ago after moving back to Spokane, Hegsted says, adding that the two chefs share "a lot of the same ideals" and a desire to showcase local producers and products. "Teaming up has been a really great situation for both of us. Everyone is excited about having him back in town, and we're excited to have him be a partner with us."
TASTE CAFE & FINE ART CLOSES, PLANS MOVE
Fans of Taste Cafe's salads, soups and sweet baked treats will be glad to hear that the downtown breakfast and lunch spot isn't gone for good after closing its longtime Howard Street location this summer. Shortly before its last day, the cafe and catering service announced on Facebook that it's planning a new location in the center of downtown, though the exact spot has yet to be announced. ♦