We are living in the age of a Mr. Rogers Renaissance. Wherever you look there is someone waxing poetic about their Neighborhood memories. At Get Lit! this spring, author Roxane Gay read Mr. Rogers fan fiction to an audience at the Bing. There was the successful documentary Won't You Be My Neighbor released in 2018. And this November, Tom Hanks will star in the Rogers biopic A Beautiful Day in the Neighborhood. The generation that was raised by Rogers is now old enough to make movies and write essays about his influence.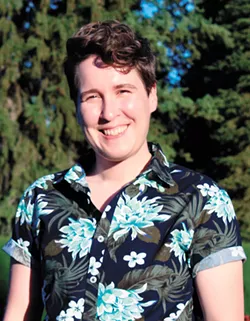 Mr. Rogers was an ordained Presbyterian minister. And a radical. In 1968, when segregation still divided the American people, Mr. Rogers invited Francois Clemmons to join the neighborhood as Officer Clemmons. Clemmons was the first African-American recurring character on a children's television show. In an episode later that summer, Mr. Rogers asked Officer Clemmons to join him in soaking his feet in a small pool in the yard. Officer Clemmons accepted and the resulting image of these two men, relaxing in a pool together, beamed into countless homes across America.
Mr. Rogers knew that if you show a child something, they accept it as fact. No child is born thinking there is anything inherently wrong with a black officer and a white, cardigan-loving man cooling their feet in the summer sun. You have to teach its "wrongness." Mr. Rogers had the spiritual fortitude to stand against cultural bigotry and possessed a moral obligation to share his teachings with children.
But not all was open and free in the Neighborhood. Mr. Clemmons was also gay. And when Fred Rogers learned that the actor would spend time at a well-known gay bar in downtown New York, Rogers quietly asked him to stop. The show couldn't afford to lose sponsors and a gay person on a children's television show, in the words of Rogers, may give "many of the wrong people the worst idea." Mr. Rogers' radical inclusion found a finite limit — in part because of the financial pressure related to the scandal of associating a gay person with children's programming.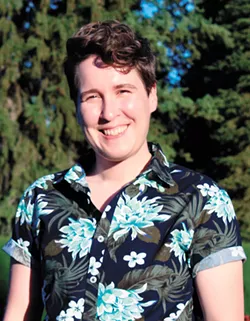 I thought of this story recently when I saw that the Spokane County Library District, which is asking Spokane County voters to approve a $2 million dollar property tax to help fund their system, reiterated via the Spokesman-Review that their libraries were not responsible for the recent Drag Queen story hours. How is it that we are replicating the same tired concerns from 50 years ago for financial backers who have bigoted beliefs about queer people?
I am a huge proponent of libraries. And anytime a public proposal asks us to fund those libraries, I think we should. But does it have to come at the cost of our queer neighbors? Do we have to cater to the prejudices of people who "may get the wrong idea?"
We've had to endure many inane and dangerous ideas over the centuries — that is, unfortunately, how human society functions. But we can also evolve. And the way we advance is by taking a public stance, at the risk of financial cost, asking people to reach for kindness even when it is uncomfortable or risky to do so.
Our public institutions, like Mister Rogers' Neighborhood, have an opportunity to teach a lesson about equality, fairness and inclusion — and to demonstrate the Rogerian principle of "I like you just the way you are." Hopefully, in another 50 years, we can look back and be proud of the way we stood up for the inherent humanity of every person in our Spokane neighborhood, a testament to Mr. Rogers' lasting legacy. ♦
Aileen Keown Vaux is an essayist and poet whose chapbook Consolation Prize was published by Scablands Books in 2018.