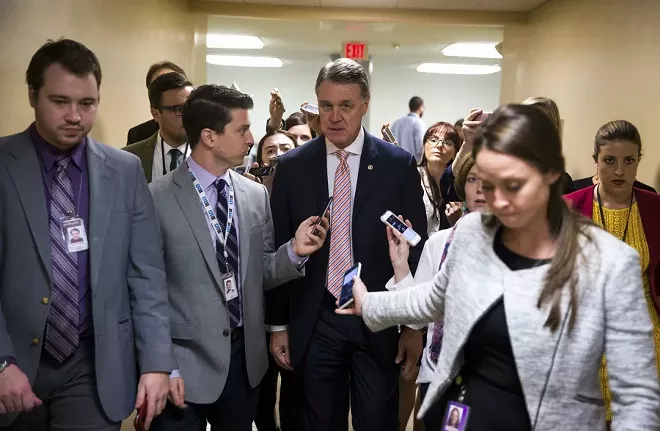 By THOMAS KAPLAN and NOAH WEILAND
© 2018 New York Times News Service
WASHINGTON — After three days of denunciations from around the world, President Donald Trump declared that he is "not a racist" on Sunday, even as the uproar over his vulgar remarks on immigration overshadowed critical issues facing the capital, including efforts to protect young unauthorized immigrants and avert a government shutdown.

Trump also insisted that he had not made the inflammatory comments in a White House meeting Thursday, part of a newly aggressive defense and a counterattack on Democrats by the president and his allies. But his remarks on Sunday were a departure from the White House's initial statement last week, which did not deny the comments.
"I'm not a racist," Trump said Sunday night as he arrived at Trump International Golf Club in Florida for dinner with Rep. Kevin McCarthy of California, the House majority leader, who attended the meeting last week and has not spoken publicly about it.
Earlier Sunday, Trump declared on Twitter that the Obama-era program shielding young unauthorized immigrants from deportation was "probably dead," while a Republican senator who attended the Thursday meeting where the president discussed immigration denied that Trump had used the phrase "shithole" in describing African nations.
The senator, David Perdue of Georgia, also accused another participant in the White House meeting, Sen. Richard J. Durbin, D-Ill., of a "gross misrepresentation" of what the president had said at the session.
Perdue and another Republican senator at the meeting, Tom Cotton of Arkansas, had previously said they did "not recall the president saying these comments specifically." But by Sunday, their recollections appeared to have sharpened, and Cotton joined Perdue in disputing Durbin's account. The two senators' latest assertions also seemed to conflict with the account of another Republican senator who was at the meeting, Lindsey Graham of South Carolina.
The rift over Trump's comments risked further eroding trust between Democrats and Republicans at the beginning of a critical week for Congress. Government funding is set to expire Friday, and lawmakers will need to pass a stopgap spending measure to avoid a government shutdown Saturday.
Ben Marter, a spokesman for Durbin, suggested that Perdue and Cotton should not be believed.
"Credibility is something that's built by being consistently honest over time," Marter wrote on Twitter. "Sen. Durbin has it. Sen. Perdue does not."