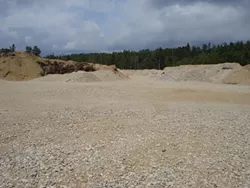 A 41-acre property in the Wandermere area once used as a gravel pit could soon turn into a development with residential and commercial buildings.
Spokane County plans to sell the property so it can become a MIXED-USE DEVELOPMENT, with the bidding process beginning next month. The land is located at 12807 N. Mayfair Road, off U.S. Highway 395. It's surrounded by a shopping area, homes and Mead High School.
"We'd love to see kind of a north-side version of a Kendall Yards or some other type of mixed-use development," says County Commissioner Josh Kerns.
The county has owned the land since the 1970s and historically has used it as a gravel pit with a maintenance shop on site. But eventually the county stopped using it as a gravel pit, so it's turned into a piece of land it doesn't need.
Kerns says the Mead School District expressed concerns about turning the property into a apartments, alone, since the influx of population growth could put a strain on the district. That's why in recent months, the county settled on using it for a mix of apartments and commercial uses. The county will choose the winner of the bidding process on that basis. Kerns says it's also an opportunity for the county to generate more revenue growth to help balance the county's tight budget.
Chad Coles, Spokane County engineer, says turning it into a mixed-use development would fit the character of the surrounding neighborhood.
"It would be nice to generate some more revenue for the county, but I think the major driver is to build up the neighborhood to have a destination where folks want to go and be," Coles says.