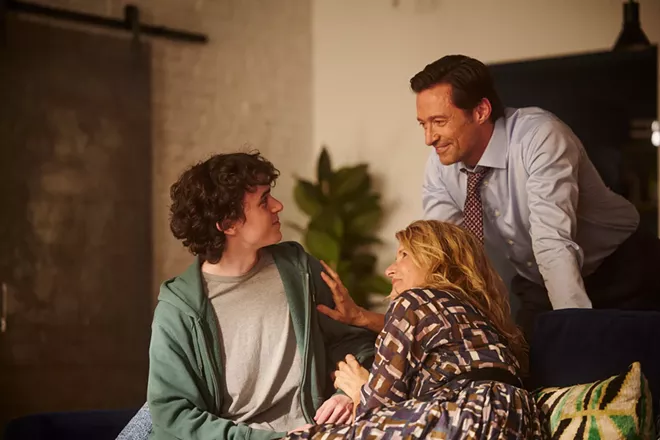 In his 2020 directorial debut The Father, French playwright and novelist Florian Zeller created an elegant, cinematic adaptation of his stage play about a man suffering from dementia and the strain it puts on his family. Zeller used inventive shifting set design to immerse the audience in the lead character's perspective, delivering a sensitive and often devastating portrayal of living with mental illness, for both patients and caregivers.
Starting with its title, The Son is clearly set up to be a thematic sequel to The Father, as another intense, intimate drama about the toll that mental illness takes on a family. Zeller once again collaborates with screenwriter Christopher Hampton to adapt his own play, and Oscar-winning The Father star Anthony Hopkins even puts in a one-scene appearance. But in nearly every way, The Son fails where The Father succeeded, and whatever insights and innovations that Zeller brought to The Father are entirely missing from this follow-up.
The subject this time is adolescent depression, which appears to come on rather suddenly for 17-year-old Nicholas Miller (Zen McGrath). Nicholas has been living with his mother, Kate (Laura Dern), who reaches out to her ex-husband, Nicholas' father Peter (Hugh Jackman), for help when she can no longer deal with him. Nicholas, who's been skipping school and engaging in self-harm, says that he'd feel better if he could live with his father. He moves in with Peter and Peter's second wife, Beth (Vanessa Kirby), who's just given birth to a baby boy.
Peter, a high-powered lawyer of some kind who's in line to work on a major political campaign, doesn't understand Nicholas' feelings of despair and emptiness. The movie's treatment of depression is similarly superficial and simplistic, and Nicholas expresses himself in broad, generic terms that sound like something out of a psychology textbook. The characters regard depression as some strange, alien phenomenon, not a well-known condition that elite New York City professionals would undoubtedly be familiar with.
The dialogue is stiff and stagey, proving a challenge for even the experienced cast members, and McGrath seems totally defeated by it. Rather than holding the movie together, his performance drags every scene down with its unconvincing simulation of depression and suicidal ideation. Nicholas blames all of his problems on his parents' divorce, and he comes across as a manipulative jerk rather than a troubled teen crying out for help. Hopkins' title character in The Father could also be inconsiderate and obnoxious, but that movie balanced frustration with sympathy, and the balance is completely off here.
Jackman and Dern fare only slightly better, stuck with characters whose obliviousness borders on stupidity. The movie's title applies as much to Peter as it does to Nicholas, and the story is more about how Nicholas' family members handle his depression than about Nicholas' own experience of it. Peter has problems of his own, including an antagonistic relationship with his cruel, judgmental father (Hopkins), and Jackman plays him as haunted and weary. Those subtler emotions tend to get buried in the clumsy, overwrought scenes, in which characters loudly declare the obvious to each other.
Unlike the visually impressive The Father, The Son never quite transcends its stage origins, with scenes set in unremarkable apartments and offices, and major events occurring offscreen. The movie is slathered in Hans Zimmer's oppressive score, and Zeller never misses an opportunity to underline and repeat his already belabored points. The result is a parade of monotonous misery, culminating in a drawn-out, heavily telegraphed climax followed by a cheap, contrived epilogue. Rather than cultivating empathy, it just inspires scorn. ♦
The Son
Rated PG-13
Directed by Florian Zeller
Starring Hugh Jackman, Zen McGrath, Laura Dern