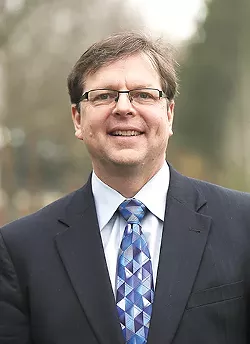 While Andres Gonzalez was being arrested for driving on a suspended license, one of his two cellphones rang. It was his girlfriend, and he asked Sunnyside Police Sgt. Scott Bailey to answer, according to court documents. His car was going to be impounded, and Gonzalez wanted his girlfriend to keep the items in his car safe — including nearly $6,000 in cash.
Gonzalez's girlfriend would never get the money, and more than three years later, Gonzalez still does not have the car back, either. Shortly after he was arrested in September 2013, a second officer arrived "to assist with impounding the car," court documents say. A drug-sniffing dog came along with him, and alerted the officers to drug residue on the cash. Gonzalez also told police about the "user amount" of cocaine in the car, according to his attorney Douglas Garrison.
Police in Sunnyside, a small city less than an hour's drive southeast of Yakima, seized the silver BMW and the cash. In April 2014, a municipal court judge there ruled that police could keep everything under the controversial practice known as civil forfeiture.
The judge in Sunnyside ruled that the car and cash were used in a drug sale, based not on Gonzalez's guilt or innocence, but in part on the fact that Gonzalez had two cellphones, and that the thousands of dollars in cash contained traces of cocaine. But that's not proof that the money was drug money, Garrison argues, pointing to studies that show 90 percent of U.S. currency has traces of cocaine. Plus, he adds, Gonzalez had an explanation for why he was carrying that much cash. The case is being appealed to the state Supreme Court.
Under Washington state and federal law, police can seize property and cash they believe is linked to some felony crimes, such as drug sales and sex trafficking. They can keep the property and cash without a criminal conviction, or even without bringing criminal charges. "Policing for Profit," a recent study by the nonprofit civil liberties law firm the Institute for Justice, found that forfeiture action nationwide has "exploded" since 2001. Washington state's laws earned a "D-" grade in the Institute for Justice's analysis.
It was Gonzalez's case, and the Institute for Justice report, that Rep. David Taylor (R-Moxee) pointed to during his recent testimony in support of a bill that would require a felony conviction and a link to the crime before police in Washington could keep seized property and cash. Representatives Matt Shea (R-Spokane Valley), Bob McCaslin (R-Spokane Valley) and Jeff Holy (R-Cheney) as well as some House Democrats, also sponsor the bill.
Two more bills — one sponsored by Sen. Mike Padden (R-Spokane Valley) — also attack the issue, though each does so from different perspectives. The Spokane City Council has been discussing its own ordinance that pushes for more transparency in the Spokane Police Department's asset forfeiture program as well. Together, the proposed laws grapple with accountability, due process and the fundamental definition of a police officer's job.
Currently, no one tells Spokane police how to spend civil forfeiture money, outside of the restrictions under state law. Spokane City Councilman Breean Beggs wants to change that, submitting a draft of an ordinance last December. Police responded tepidly.
Beggs' proposal would require Spokane police to get city council approval before they spend asset forfeiture money, which can amount to hundreds of thousands of dollars per year. In the past five years, SPD has taken in an average of $178,231, according to numbers provided by the department.
"This makes sure the money is spent according to budget priorities approved by the council," Beggs tells the Inlander.
The draft ordinance also lays out the council's priorities for the funds, including engagement with at-risk youth, more police involvement with the city's therapeutic Community Court and chronic offender programs, and more resources dedicated toward combating human trafficking.
Spokane Police Chief Craig Meidl says he has no problem asking for the council's approval, but questions whether some of those uses fall outside the state's definition of "law enforcement activities," putting Spokane police at odds with state forfeiture laws.
"It's just different than traditional law enforcement, but it's still effective," Beggs says. "My budget priorities ... are spending it on programs that are going to be effective for law enforcement, if you define law enforcement as fewer victims and less crime."
Beggs notes that the ordinance is intended to silence criticisms that police use forfeiture money as a slush fund. He acknowledges that the department already undergoes an annual audit through the state, and in 2014 the department implemented changes to its policies. Now, for example, SPD can only forfeit a person's property after a felony conviction in non-drug-related cases.
"I feel that it adds another layer of bureaucracy to a process that is already regulated by the state," Meidl says of the ordinance. "However, if this allows city council to feel more comfortable with what the police department is spending seizure money on, then it's something we're more than willing to do."
Similar to Beggs' ordinance, Padden's proposal would shed more light on exactly how much forfeiture money is coming in statewide, and where it's being spent. The Institute for Justice estimates that figure is an average of about $8.3 million per year. SB 5255 would require police agencies to keep detailed records and submit quarterly and annual reports to the State Treasurer's Office, which would publish the records on a public website.
Generally, civil forfeiture reform is opposed by police and prosecutors, who see the practice as a way to take the profit out of criminal activity.
Beggs, who is also a civil rights attorney, acknowledges that some of these proposed changes would make it more difficult for police to keep seized items, and could mean that drug kingpins will keep their ill-gotten gains.
"It's always the question: 'Is it better for nine guilty people to go free than one innocent person go to prison?'" he says. "We err on the side that it's better for guilty people to go free than an innocent person be punished." ♦