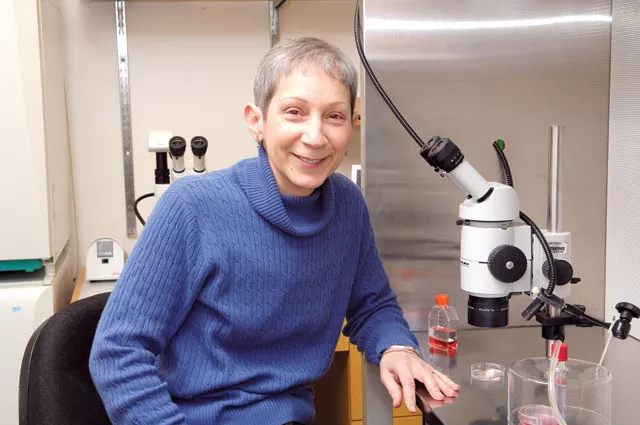 While plastic industry experts continue to find no reason for concern, Washington State University's Patricia Hunt, a professor in the School of Molecular Biosciences and head of a laboratory focused on reproductive biology, isn't convinced.
"I find these chemicals of great concern," says Hunt from her lab in Pullman. "They've managed to work their way into every corner of our lives. They have hormone-like actions." And when those pseudo-hormones go to work, lots of processes in the body can be disrupted. "Certainly if you look at the mouse and rat data, it can impact the brain and behavior, the developing uterus, the ovaries and developing eggs. It can affect the development of breast tissue and of prostate tissue in males," Hunt says. "It could set up an increased risk for cancerous changes in the future."
Hunt's latest research shows exposure to bisphenol A (BPA) early in a pregnancy can affect the developing fetus, and if the fetus is a female, can affect the quality of her eggs in the future. So the results of exposure could affect three generations.
Worse still, "It just takes a tiny bit of a hormone to cause these effects," says Hunt. And that has provided a bit of a conundrum for research. Generally when the toxicity of chemicals is considered, it's a safe bet that if a little bit of a substance causes an effect, more of that substance should produce an even bigger effect. That's just not how these hormone-mimicking chemicals work, says Hunt. The fact that such tiny traces of the compound can cause effects that may not be apparent for generations is another problem. And then consider that bisphenol A is just one of a number of endocrine-disruptor chemicals in the modern environment. Many times research has considered exposure to just one compound, when it is well known that most people are exposed to a whole variety of these substances.
"I like to say, 'How much of a birth control pill would you like to give your child?'" says Hunt. "Half? How much is OK? I don't know how much is OK. I'd like to say none."
All plastic products aren't created equal, though. The recycling numbers on the bottom can aid consumers. "Number One is a better choice," says Hunt. "We have to say right off, nobody can say this is completely safe, they all have the potential to leach those chemicals." How the plastic is treated is also important. "The key is to think about how you treat them. I would never put them in the dishwasher, I'd never put them in the microwave," she says. "You know if you taste the plastic, it's a bad sign."
And though it might not be apparent, canned goods can be a bigger problem than plastic food storage containers because they may be lined with a resin containing BPA. "That's one of the things I find of most concern," says Hunt. "The consumer has no way of knowing. There's no mandate to the manufacturer to put on the can what it is lined with."
That's where the power of the consumer may spur change faster than government regulation. "Call the manufacturer and ask them [what their cans are lined with]," she suggests. "Some are actually stating that it is not lined with a resin lining."
It may come as a surprise to consumers that who pays for the study seems to influence how it turns out. Ninety percent of government-funded studies — and there have been a lot of them — found problems with low-dose BPA. None of the relatively few studies funded by industry found any problems. Yet regulatory panels remain stacked with industry scientists. Still, Hunt remains hopeful. "It's kind of good for us. We kind of tend to stay in our labs, but we need to find our voice. Regulatory decisions can't be made by throwing out studies like ours. It is making us figure out how to be vocal."