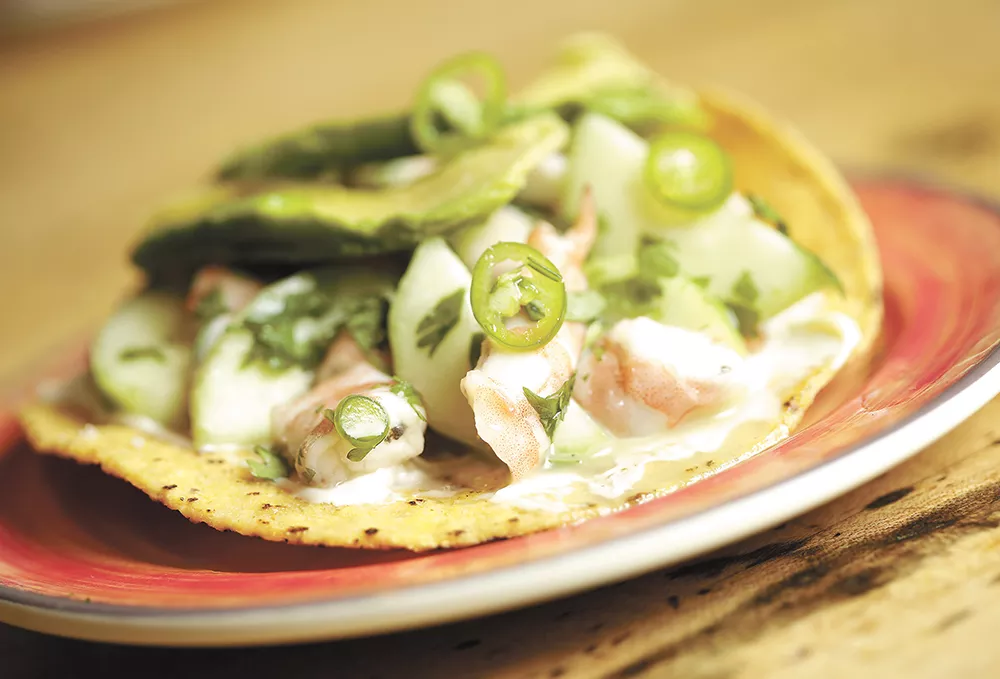 We all have our restaurant ruts, those dishes and drinks that we always order, even when other things look tempting. I've put together this hypothetical ideal meal out of a few of my stand-bys (though believe me, I could go on). Part of the reason for my ruts, I think, is that they remind me of favorite flavors from childhood. Growing up in San Diego, I fell in love with spicy food, avocados, fresh seafood and plentiful citrus. I got used to big weekend breakfasts, pancakes and Dutch Babies with powdered sugar and fresh fruit. You'll see echoes of all of this below.
BEVERAGE
Hemingway Daiquiri ($9)
DURKIN'S LIQUOR BAR
415 W. Main Ave., 863-9501, durkinsliquorbar.com
Long before the blended versions served on cruise ships and at all-inclusive resorts, the daiquiri was among the most classic cocktails. Invented in Cuba and named after a local beach, all you had to do was mix citrus, rum, and sugar and you had a daiquiri. Ernest Hemingway, an alcoholic and diabetic, loved to drink daiquiris, but couldn't handle the sugar. He created his own recipe with extra rum and maraschino liqueur and grapefruit juice instead of sugar. The Hemingway Daiquiri was born. Even though it's no longer on their menu (which began with all classic cocktails), you can order a slightly less boozy version at Durkin's. The fresh grapefruit juice balances the lime, and the maraschino liqueur (they use Luxardo; it's nothing like what you'd find in a Shirley Temple) adds a level of complexity that kicks this drink up a notch. Served in a classy coupe glass with a lime wheel garnish, I always feel just as cool as Hemingway.
APPETIZER
Sinaloa Shrimp Ceviche Tostada ($9)
ZONA BLANCA
154 S. Madison St., 443-5427, limefishsalt.com
The Sinaloa was the first ceviche tostada I ordered at Zona Blanca. Though I've gone back several times, I still usually end up with this one. It's classic Mexican ceviche, marrying the heat of Serrano chiles with the pucker of lime juice. Both are mellowed by the avocado and enhanced by cilantro. My first few visits, I stuck to the Mexican shrimp listed on the menu, but when I was feeling more experimental, I asked if I could substitute snapper instead. My sushi-loving soul collided with my California roots; now I don't order it any other way.
ENTRÉE
Curry Bowl ($14.50)
PICABU NEIGHBORHOOD BISTRO
901 W. 14th Ave., 624-2464, picabu-bistro.com
Many years ago, I went to Picabu Bistro for the first time with a friend. She recommended the curry bowl, if I liked things spicy. I've been back, even living down the street at one point, and I'm pretty sure I've never gotten anything else. The only thing that changes about the dish is the actual curry, which comes from Taiwan and differs in heat depending on the batch and the season. Other than that, it's a blend of bell peppers, mushrooms, large slices of red onion, and tender zucchini with either tofu or chicken (sometimes I ask for half of each, for even more varied texture). The curry peanut sauce surrounds a jasmine rice pyramid, sprinkled with cilantro. That rice comes in very handy about halfway through, when my mouth starts to pleasantly burn. It's a big serving, so I do my best to save half of it for lunch the next day (it reheats like a dream), but sometimes my bowl is empty despite my best intentions.
DESSERT
Mont Blanc Crepe ($9)
THE IVORY TABLE
1822 E. Sprague Ave., 474-1300, ivorytable.com
I'm not sure if I like my breakfast to be like dessert, or my dessert to be like breakfast, but either way, Kristen Ward's Mont Blanc crepe works for me. It's deceptively simple at first; she freestyles a buckwheat crepe, the sort you'd find in the Brittany region of France, on a grill. She adds chocolate chips, and some swirls of housemade salted caramel sauce, making a giant, thin pancake before folding in half twice. Once the crepe is on a plate, she adds more caramel and a dusting of powdered sugar before creating the "white mountain" out of fresh whipped cream, sprinkled with a few chocolate chips. Although Kristen spent time in northern France, this crepe is her own creation. "I thought of the three most delicious things I could combine together into a crepe," she says. This crepe is decadent without being too heavy, the chocolate is perfectly melted, the hint of salt adds just enough contrast, and the whipped cream isn't overly sweet. Though it's big enough to share with a friend, they'd have to be pretty far into my inner circle to get a bite. ♦