"I'm a woman and I'll be damned if they take my rights away!" 85-year-old activist Sally Jackson yells into a mic. "Together, we are women. Hear us roar!"
The Spokane Convention Center can't hold the roughly 8,000 people who showed up for Saturday's Women's March on Spokane, but from the main hall, the cramped hallways, the overflow room and the masses outside, a roar of approval comes anyway.
Women, men and children are wearing pussyhats and pink clothes and holding signs, a lot of which jab a finger at President Trump: "Make America COMPASSIONATE Again" or "This Pussy Grabs Back" or "We Shall Overcomb."
Back in November, national organizers quickly addressed the elephant in the room: This is not an anti-Trump rally, they said, but a march to protect and raise awareness of women's rights, like health care, racial justice and LGBTQ rights.
So why the signs? And why, then, are people marching the day after the inauguration?
Carol Bryan, 68, has her own reasons. She's one of the marchers who can't make it inside the Center, so she simply waits outside under the overcast sky till it's time to take to the streets. A longtime feminist at her first women's rights march, Bryan remembers that, not so long ago, she couldn't add her voice to the roar.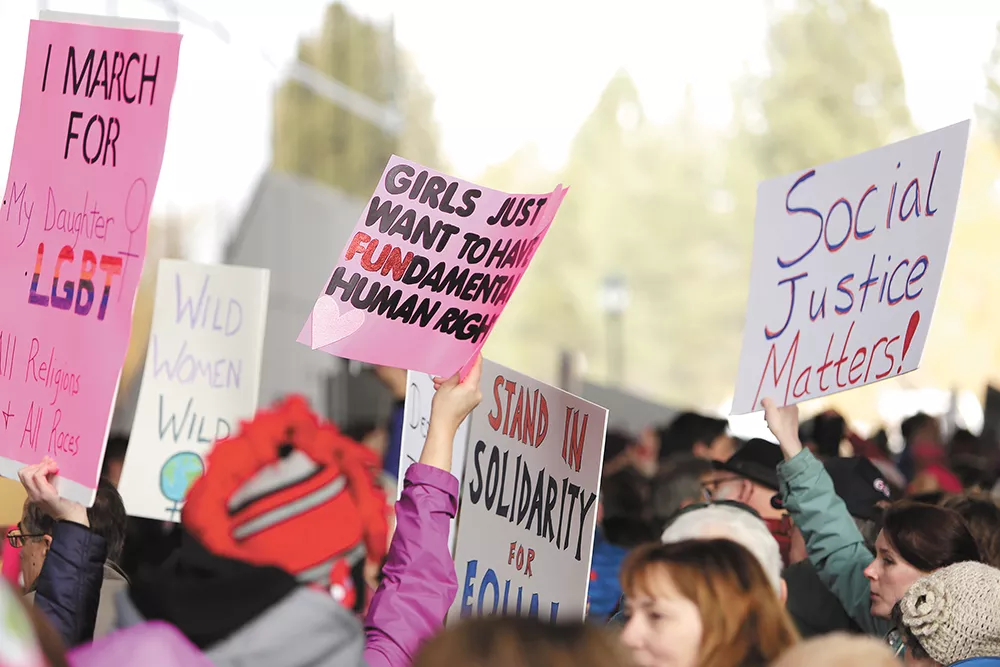 Growing up, no one told her how to argue when her female P.E. teacher told the class that girls' internal organs would be damaged if they played basketball, or that girls shouldn't play drums. She also didn't know how to confront the unsettling feeling that she hadn't learned very much after graduating from Whitworth University with her Home Economics degree.
She didn't know what to do when people asked her at job interviews, "What does your husband do for a living?" and "Can you make good coffee?"
Jackson spends much of her speech reminding everyone of what life was like as a young woman in the '50s, when "it was OK for a guy to grab your butt, grab your boob," often as a condition of employment. She tries to stand there as living proof that this type of behavior happened — and still does — as a warning of how easy it is to normalize that attitude and slide backward.
"We just didn't have the words then," Bryan tells me. "There was just an icky feeling, but there was no talking about it, there was no sharing. You just took it in as truth."
"Where do those feelings go?" I ask Bryan. "You didn't talk about them, it wasn't seen as wrong... "
"It went into shame, self-hatred. It came out at the therapist years later," Bryan says, laughing. "It didn't go anywhere; it just stayed stuck for a lot of us until we found other women."
Other women like Talia Ashton, 37, a fellow first-time marcher there with her husband Brent and their four children, all under 10 years old. Ashton is marching because she's upset about the election, but especially to make sure her two girls, Kenna and Kylie, aren't treated any differently because of their gender.
"I felt this calling," Ashton says, pushing their 8-month-old son's stroller as she marched. "For the first time in my life, I want to contact my representative. I want them to represent us and equality."
Afterward, after all the speeches and marches and roars from the masses, people linger in the streets and nearby coffee shops, not wanting to let go of this feeling that together, they are heard — and to start planning for the next time they'll sound off. ♦