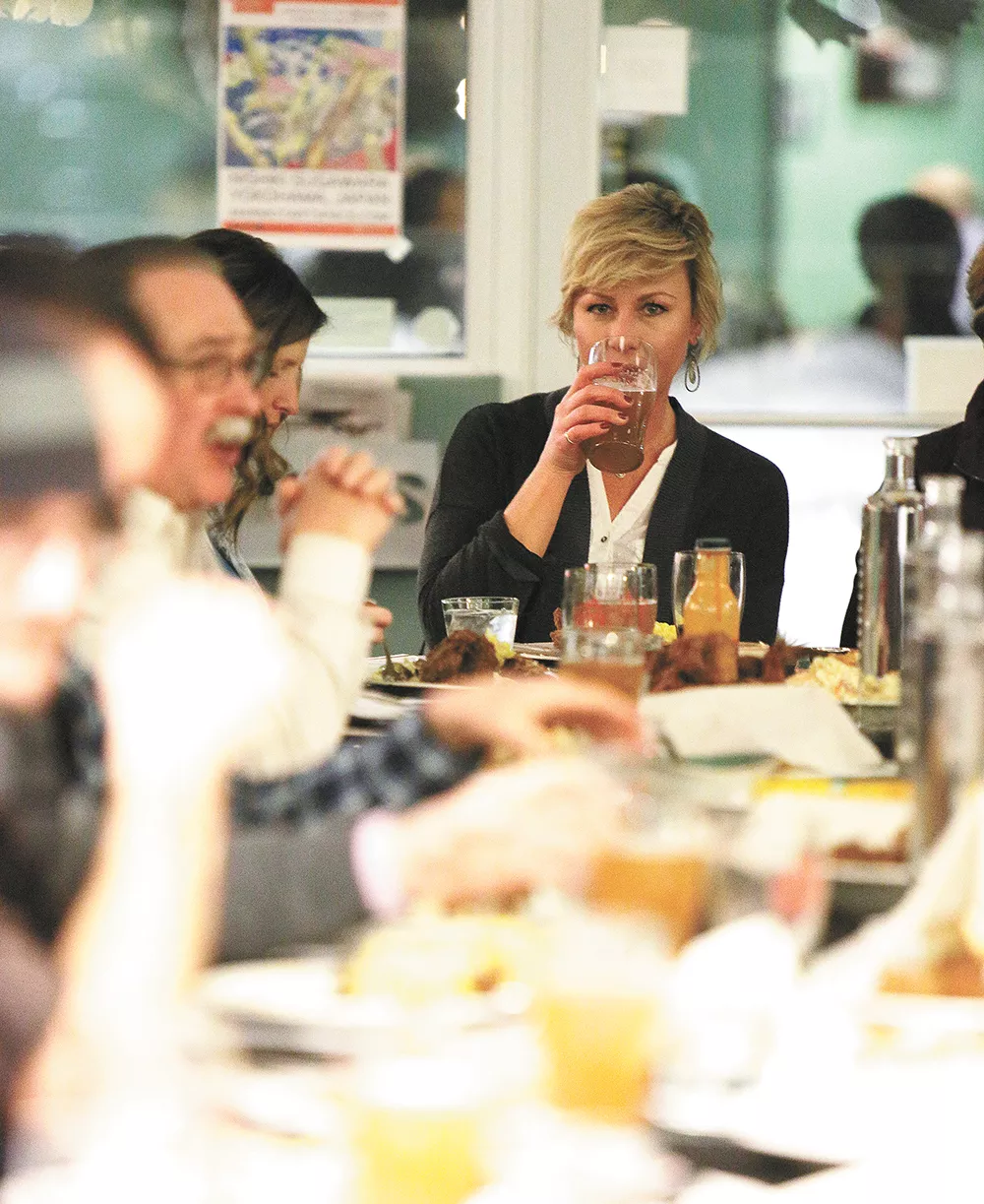 "Who doesn't like fried chicken and beer?" That's a sentiment most carnivorous diners can get behind, and it's what attracted Deerdra Bash of Spokane to the Yards Bruncheon on a chilly January night for the first of Chef Adam Hegsted's Fried Chicken & Local Beer nights.
Perhaps you've been to a pairing dinner, where your favorite restaurant teams up with a winery, distillery or brewhouse, delivering a series of plates and drinks designed to showcase the flavors of each. Sometimes they're great, but they can be a little stiff, offering a lot of talk about the booze or the food, but little interaction with your fellow diners.
Hegsted's inaugural fried chicken feast was anything but stiff. The first edition of the new monthly event matched Hegsted's food with beers from River City Brewing, and attracted about 30 people who filled one giant table and several booths. Rather than the tiny plates of food introduced one by one with sips of booze — the sort of pairing dinner you might have experienced before — this one was done family-style.
What does that mean, practically speaking? It means mounds of freshly made double-fried chicken, roasted corn, garlic-tinged mashed potatoes by the bowlful, delivered en masse. Oh, and hot-from-the-oven biscuits that might have been the highlight of the night if the chicken weren't so tasty, soaked in a light brine for four hours, as Hegsted explained, and then soaked in buttermilk for another four before hitting the fryer.
"I've been in a fried-chicken-and-waffles mood for the last month or so," says Spokane's Robyn Sciuchetti, who considered the coleslaw her favorite dish of the night.
Next to them is Heather Bender, who says that she's been to several pairing dinners with the tried-and-true, one-dish-and-one-drink presentation, and she's finding the family-style dinner to her liking.
"I like that it's more casual," Bender says. "I love the family-style; this is so much more social. I think the experience itself is kind of nice. Any beer dinner you go to, you don't know who is going to be there, who you'll be sitting across from."
This casual pairing dinner is evidence of the maturation of Spokane's food and craft brewing scenes, says River City Brewing owner Gage Stromberg. His brewery takes part in dinners with all manner of restaurants to deepen their connection with area beer lovers, and to support the restaurants as well.
"Looking back, when beer dinners got started, as a brewery we were really working at gaining respect for the complexity and depth of what we're trying to do with beer," Stromberg says. "Wine dinners were already a thing, they were big and popular.
"Over a decade now, there's been lots of ways of putting together courses and beers, and it's been around a while, and it's time to reinvent it. To me, this event works really well because instead of 'Let's have one specific piece of food and one specific beer,' this is an overall 'Let's drink beer and eat food in a very social way.' It still gave us an opportunity to talk about the food and talk about the beer, but it was a little more casual mix."
That's what they were going for, according to Ken Dupree, who manages special events for Hegsted's restaurants. They do multicourse wine dinners monthly that are great, Dupree says, but Hegsted "wanted to do something more fun, less stuffy. Adam's thing is that a meal should always be friends, family and fun, and I think this really captures that philosophy."
The Fried Chicken & Local Beer nights are the second Wednesday of every month; the next one is Feb. 8 and features No-Li Brewhouse serving Slacker brass ale, Crony brown ale and Red, White and No-Li pale ale as the three beers.
Judging by the number of people at the first dinner sitting back after multiple rounds of grub, sipping on a "dessert" of River City's VB Stout (as in Vanilla Bourbon), there might be a few folks ready to hit the big table again. Call it a family-style reunion.
"I know Adam and I know his food, and I like food and I like beer," says Boyd Foster as the meal winds down. The Alabama native and Gonzaga professor has been in Spokane for 17 years, and likes how the restaurants and breweries have grown together. "I'm always looking for events and interesting things to do. It's kind of cool it's family-style." ♦
Fried Chicken & Local Beer • Wed, Feb. 8 at 6 pm • $35 includes tax and tip • The Yards Bruncheon • 1248 W. Summit Pkwy. • 443-4410 for reservations