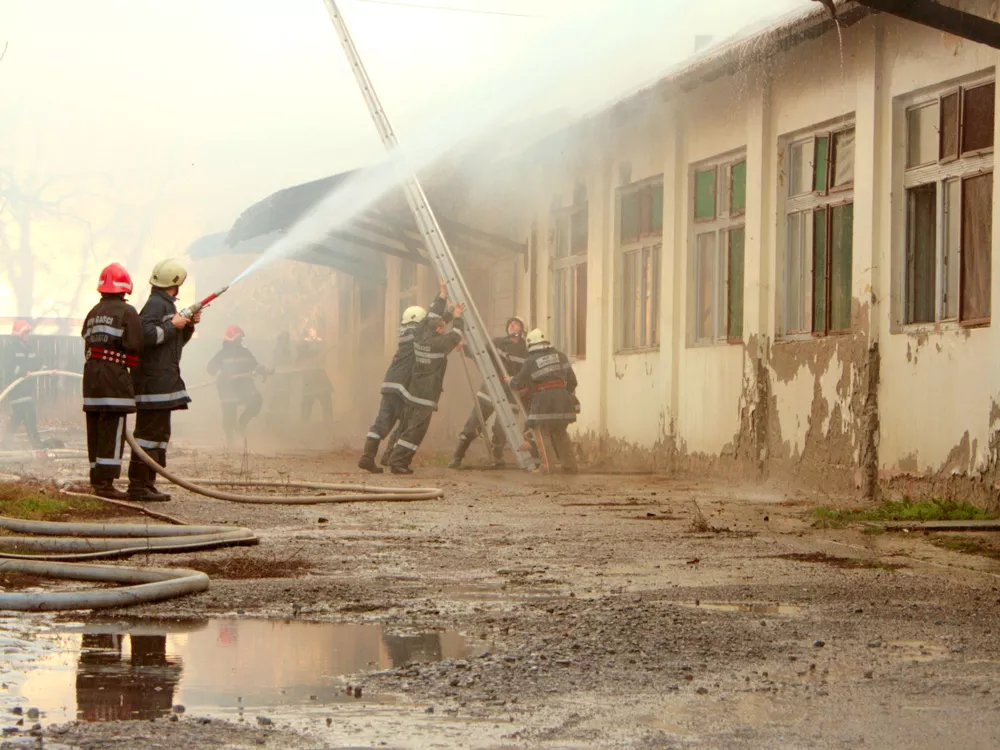 says.
A (MULTI) STORIED TRIUMPH
Think fast: Is there a single tall building in Spokane Valley? Tall-ish even?
The fact that they live in the kingdom of split-level ranchers did not prevent a hardy band of Spokane Valley firefighters from winning an international stair-climb race in one of Seattle's cloud-piercing office towers on Sunday.
"I think the tallest building in the Valley is our own training tower. We don't have anything above five stories — maybe eight — but nowhere near tall enough," says Spokane Valley firefighter Paul Kimball.
Kimball, 27, Mark Knokey, 39, and Cameron Smith, 29, finished in the top 38 places Sunday, and their combined times lifted Spokane Valley Fire to the championship of the 20th-annual Scott Firefighter Stair Climb that drew 118 teams from all over the world to Seattle's 69-story Columbia Center.
The Valley firefighters practiced at the tallest building they could find — the Bank of America building which towers, er, looms somewhat over downtown Spokane at 21 stories.
They would run up its stairs three or four times, taking the elevator back down each time, Kimball says.
Doing 69 stories without an elevator break was a gasping, leg-burning ordeal, Kimball says. "I had to stop three times. I was completely out of breath."
Pounding up 1,311 stairs in a confined space "is a fun race in a weird way. By the time you're done, you never want to do it again," Kimball says. Except that they will, he says. (Kevin Taylor)

DUELING TOWN HALLS
Eight miles and a major political divide separate the two town hall meetings this Saturday in Spokane.
First up are the Democrats of the 3rd Legislative District: Sen.
Lisa Brown and Reps. Timm Ormsby and Andy Billig. They'll be on hand at the Northeast Community Center, 4001 N. Cook St., beginning at 10 am. They've reached the halfway mark of the long legislative session, and they're going to give an update. They'll also be answering questions. A second meeting with these three will be held the same day at the Northwest Museum of Arts and Culture in Browne's Addition at 2 pm.
At 10:30am, Republicans of the 6th District will be at the Northwood Middle School gymnasium, 13120 N. Pittsburg St. Sen. Michael Baumgartner, with Reps. Kevin Parker and John Ahern, will also be giving an update and answering questions.
Attendees to the 3rd District's meeting should RSVP to 3rdDistLegis@leg.wa.gov. No response necessary for the 6th. (Nicholas Deshais)
IDAHO: MINIATURE WISCONSIN?
It's been nearly two months since Idaho Superintendent Tom Luna presented his series of dramatic educational reforms, which would bump up class sizes, add thousands of classroom laptops, mandate online courses and make it easier to fire teachers. Since then, the din of protests has been almost non-stop.
A month ago, Boise's state Sen. Nicole LeFavour had already received over 1,700 e-mails on the subject. Students organized walkouts.
A YouTube clip of a student lambasting Luna racked up over 27,000 views. And now retired secretary Nancy Berto is leading a fledgling recall effort.
"'Where do I sign?," Berto says people ask her. "'I voted for this bozo, and now I want to vote him out of office.'" For now, the Legislature's grappling with three bills concerning Luna's plan. One, reducing bargaining rights and eliminating teacher tenure, has already passed the Legislature and awaits the governor's signature. The other two bills, as of press time, were still being hashed out. (Daniel Walters)