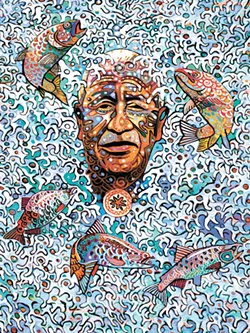 Prepare for your eyes to be drenched in the vivid, gem-hued tones of Alfredo Arreguín's heavily detailed, tapestry-like paintings. The Mexico-born and Seattle-based artist is showcasing his work in Spokane for the first time this weekend as part of September's First Friday arts celebration. Arreguín's work is a treat to the senses, with its deeply layered, complex textures and kaleidoscopic colors and patterns.
"The result is an exuberant, phosphorescent visual interplay in which images combine to form other images, yielding a potent narrative power and pointing up the profound, ambiguous symbiosis between human beings and nature, fiction and reality, and the natural and supernatural worlds," according to a description of Patterns of Dreams and Nature, a 2007 book featuring the renowned artist's work.
Don't miss the chance to see Arreguín's exquisite visual interplays during their brief display here. His stunning paintings — influenced by his native Michoacán, lush rainforests, Japanese ukiyo-e prints, sacred and endangered animals, gods, and other icons — are also part of the Smithsonian's esteemed collection. ♦
Alfredo Arreguín • Fri, Sept. 1 from 5-8 pm • Marmot Art Space • 1202 W. Summit Pkwy (at Adams Alley) • marmotartspace.com
---
Receptions on Friday, Sept. 1 from 5-8 pm, unless otherwise noted. For additional information, visit firstfridayspokane.org.
1900 House and Home, 114 W. Pacific
Found-object jewelry and ink drawings by Megan Holden; steampunk-inspired industrialized art by Robert LaMonte.
Auntie's Bookstore, 402 W. Main
The store hosts its first Friday poetry open mic with "Remember the Word" featured reader and poet Maya Zeller. Guest poets can share up to 3 min. of material.
Avenue West Gallery, 907 W. Boone
Scratchboard art and watercolors by artist Robert Karr in a show titled On the Wild Side, on display through the month.
Barili Cellars, 608 W. Second
Mixed-wood pieces by Brazilian-born artist Rebeca Abdala.
Barrister Winery, 1213 W. Railroad Ave.
Watercolors by Spokane artist Jeannine Marx Fruci.
Bellwether Brewing Co., 2019 N. Monroe
The brewery displays stylized representational and mixed-media art by Jaymie Crafts.
Bistango, 108 N. Post
Art by Casey Ryan in a show titled Reema.
Bon Bon, 926 W. Garland
Art by Alleyworks Photography, from 6 pm to midnight.
Chase Gallery, 808 W. Spokane Falls Blvd.
Opening reception for Dislocated Memories, an installation by Julie Gautier Downes examining the artist's childhood memories and past trauma.
Community Pint, 120 E. Sprague
Upcycled and repurposed metal art by Nick Bradley from Iron Sharpens Iron Studio.
Core Pilates and Wellness, 1230 W. Summit Pkwy.
Canvas prints by Amy Jennings, founder of the brand Spokaloo. Reception from 4-8 pm.
Craftsman Cellars, 1194 W. Summit Pkwy.
Contemporary photography by Mike DeCesare. Tasting room open from 2-9 pm.
Hills' Restaurant & Lounge, 401 W. Main
Live music by the Front Porch Trio, from 6:30-9:30 pm.
Iron Goat Brewing Co., 1302 W. Second
Watercolors by award-winning Spokane artist Stan Miller.
Kolva-Sullivan Gallery, 115 S. Adams
A guest show featuring the sculpture work of Missoula, Montana-based ceramicists Beth Lo and Trey Hill, both with the University of Montana.
Kress Gallery, 808 W. Main (third floor)
A Brush With Watercolors featuring Joy Gruenewald, Kim Gardell, Greg Pritchett, Jan Lytle.
LeftBank Wine Bar, 108 N. Washington
Photography by Chad Ramsey and traditional batiks by Nicholas Sironka.
Marketplace Winery, 39 W. Pacific
Three-dimensional relief art by Shannon Niles Caruso and live music by Kevin Gardner and Scott Randall, from 5:30-9 pm.
Missing Piece Tattoo, 410 W. Sprague
Photography by Grace June.
Object Space, 1818½ W. Sprague
Connecting the Dots, a group exhibition of socially and politically charged work, from 5-10 pm.
Nectar Catering & Events, 120 N. Stevens
Acrylics on canvas by E.L. Stewart. Reception from 5-10 pm.
New Moon Art Gallery, 1326 E. Sprague
A preview of artists featured in the upcoming Little Spokane River Art Tour (opening on Sept. 30.
Patit Creek Cellars, 822 W. Sprague
Art by Liz Calderwood.
Philanthropy Center, 1020 W. Riverside
Photography by Robert (Bob) Charlo of the Kalispel Tribe.
Robert Karl Cellars, 115 W. Pacific
Paintings by local artist Megan Perkins.
Scout Real Estate, 429 W. First
An open house featuring art by Seattle-based artist Jorden Heidal.
Spokane Public Library, 906 W. Main
A live concert by participants of this year's Girls Rock Lab workshops, from 6:30-8 pm.
Steelhead Bar & Grille, 218 N. Howard
Photography by Nick Nelson in What I See: Photographic Art of Life and Landscape.
Trackside Studio Ceramic Art Gallery, 115 S. Adams
The gallery hosts Seattle guest artist Loren Lukens' show Squirt Bottle Art Marks. On display through Sept. 22.
V du V Wines, 12 S. Scott
A collection of watercolor paintings by San Francisco-based artist Alex Harris.
William Grant Gallery and Framing, 1188 W. Summit Pkwy.
Funky Chickens, original watercolors by Bari Federspiel. ♦