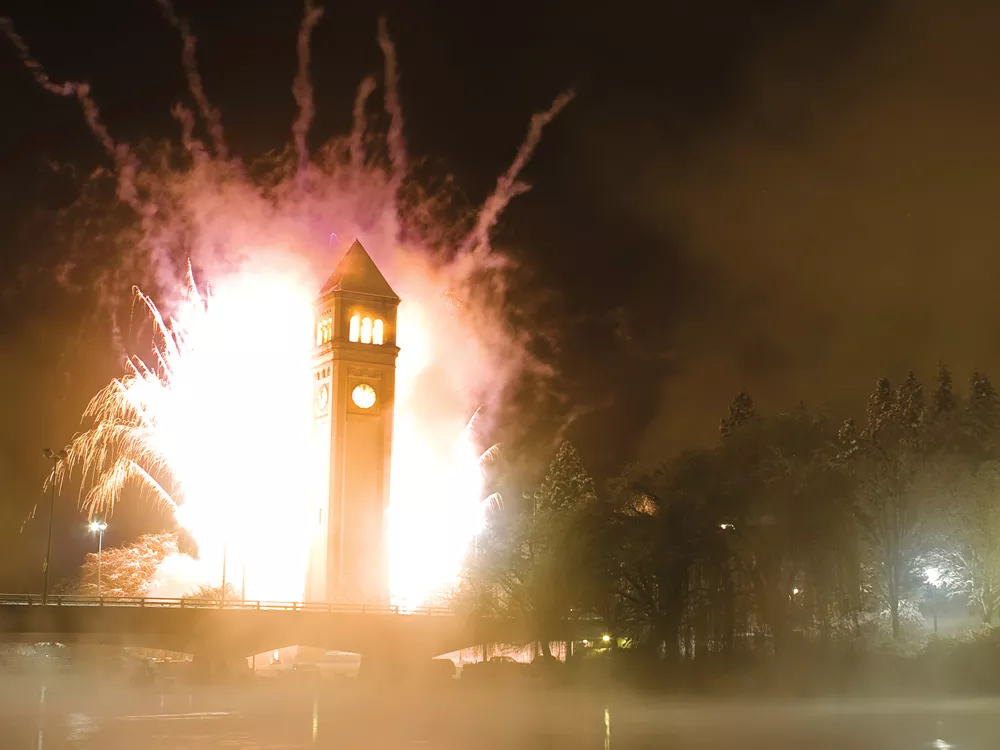 Spokane sure knows how to throw a party. Now in its 11th year, First Night Spokane, the annual New Year's Eve celebration, may be the only event of its kind in Washington state. According to Lois Irwin, First Night Spokane's volunteer chair, cities like Seattle and Tacoma are simply too big to hold an event like this.
"Bigger cities are too big because there are so many different things going on, so the market is small for an event like this," she says.
First Night began in Boston in 1976 as part of their bi-centennial celebration and is now held in more than 200 North American cities as well as several countries. The Arts Committee of the Spokane Chamber of Commerce started the award-winning First Night Spokane in 2001, drawing in more than 15,000 attendees its first year. In recent years, the number of attendees has grown to more than 30,000.
HOT NEW YEAR'S EVE PARTIES
EUPHORIA NEW YEAR'S EVE
B Mega and DJ Kowax will host a party featuring a cash drop at midnight on Dec. 31 at 9 pm. Cost: $10. Knitting Factory, 919 W. Sprague Ave. sp.knittingfactory.com (244-3279)
FUNKIFY YOUR NEW YEAR'S
Spokane nine-piece horn band, Soul Proprietor will be rockin' on New Year's Eve from 9 pm-1 am. Doors open at 8. Full dinner available, and free champagne at midnight. Tickets: $25. The Luxury Box, 1512 E. Sprague Ave. theluxurybox.net (999-4472)
BLING IN THE NEW YEAR
Enjoy prizes, DJs, music from VIBE and the Flying Spiders, laser light shows, prizes, drink specials, a prime-rib dinner buffet and more on Dec. 31 at 9 pm. Cost: $50 party rooms, $75 prime rib dinner, $100 VIP tickets. The Lincoln Center, 1316 N. Lincoln St. thelincolncenterspokane.com (327-8000)
ROCKABILLY RIOT
Listen to Brian Setzer during a New Year's Eve party on Dec. 31 at 9 pm. Cost: $150. Northern Quest Casino, 100 N. Hayford Rd. Airway Heights, Wash. northernquest.com (242-7000)
BALLET AND BUBBLY
Enjoy an evening of chocolates and elegant dancers, presented by the Ballets Arts Academy on Dec. 31. Performances at 7:40 and 9:30 pm. Cost: $12-$15. Bing Crosby Theater, 901 W. Sprague Ave. mettheater.com (227-7638)
SPOKANE SYMPHONY CHORALE
Eckart Preu will conduct the New Year's Eve concert of Beethoven's Ninth on Dec. 31 at 7:30 pm. Cost: $22. $14. Fox Theater, 1001 W. Sprague Ave. foxtheaterspokane. com (624-5992)
Volunteer
Volunteers are still needed for First Night Spokane! Interested? Call Lois Irwin at 535-3256. Volunteers will receive a free First Night Spokane button after working one shift.
— JORDY BYRD
Despite the continually rising attendance records, Irwin is worried that people won't come to First Night Spokane because of the chilly temperatures.
"That is one of the messages we're trying to get across to the public," she says. "Most of it is inside and warm — you don't have to be outside to enjoy it."
She also worries that people who have been to First Night Spokane in the past won't come out this year because they think they've seen it all. Not the case: Nearly every act is new to First Night Spokane this year.
"They don't really understand that [keeping First Night going] requires a base of community support that is somewhat consistent," Irwin says.
Here are some of the things you won't want to miss during this year's event.
WHO: Bryson Andres
WHAT: Violin 2003
WHERE: Crescent Court Upstairs - A from 7-9 pm; Sterling Saving Bank Lobby from 9-11:40 pm
WHY YOU SHOULD GO: Andres isn't your typical violinist; he prefers Top 40 hits from artists like Lady Gaga, Train and Coldplay over classical pieces. Using a looping pedal, Andres plays different parts of a song, adding layer after layer until you'd swear there was an entire band behind him. Check out Andres' YouTube page, Violin2003, to see a cover of Florence and the Machine's "Dog Days Are Over" from his January appearance at the Empyrean. And who knows? He might take requests.
WHAT: 48 Hour Film Festival
WHERE: Spokane City Hall Council Chambers from 7-11:40 pm
WHY YOU SHOULD GO: The 48 Hour Film Festival is the definition of "pressure." Local filmmakers were given two days to incorporate the First Night Spokane theme of "The Dawn of Time: Year of the Dinosaur," a red prop, a person doing "The Metal Sign," and the following line of dialogue: "To you this might look suspicious, but let me explain," into their short film. Sounds tough, right? During First Night Spokane, the top eight films will be shown with viewers voting on their favorite film throughout the night. At 11:30 pm, the People's Choice and Judges' Choice awards will be presented. After First Night Spokane, all entries will be posted on the 48 Hour Film Festival website. Check out firstnight48.com.
WHO: Donzell Milam
WHAT: 3-Minute Sketches
WHERE: Crescent Court Upstairs - C from 7-11:40 pm
WHY YOU SHOULD GO: Local studio owner Milam, who can often be found sketching at local restaurants, will race against the clock to create realistic sketches of attendees. A multi-talented artist, Milam works with watercolor, acrylic and pencil. Check out donzell-milam.com for examples of his work.
WHAT: "Countdown to the Eggstravaganza" Closing Ceremonies
WHERE: Riverfront Park from 11:50 pm- midnight
WHY YOU SHOULD GO: After enjoying all the sights and sounds that First Night Spokane has to offer, ring in the New Year the right way, with what Irwin calls Spokane's version of the Times Square ball, a dinosaur egg, signifying that 2012 is here. After the egg drops, stay and watch the Midnight Fireworks Spectacular sponsored by the Spokane Tribe of Indians.

First Night Spokane • Sat, Dec. 31 from 3 pm-midnight • $12; $15, day of • Downtown Spokane • firstnightspokane.org • 456-0580