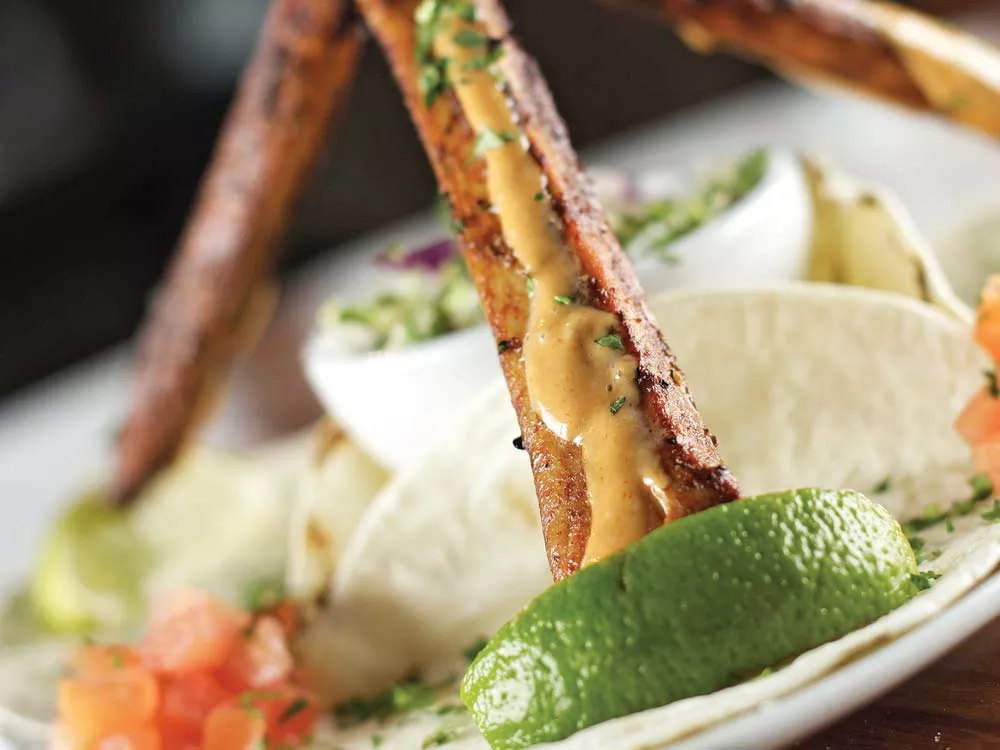 The history of the fish taco is as ancient as it is illustrious. It all began with Paleolithic man, who baked thin, flat bread on a hot stone and smashed raw fish on it. Loved it. St. Augustine ate fish tacos. Pirates ate fish tacos.
And, of course, we eat fish tacos.
But for those future fish taco eaters who are wondering where to devour the freshest fish, the tartest sauce, the crispest cabbage and the warmest tortilla — we hear you.
We want to know the same damn thing.
METHODOLOGY
Chris Bovey, The Inlander's art director, is known around the office for destroying food. He's taken a shotgun to gumbo and dynamite to burritos, so naturally I thought: Who better to embark on a massacre of the sea with?
After I let him out of his cage, I told him that a fish taco generally consists of five things: grilled or fried fish, cabbage or lettuce, a tart creamy sauce, a lime for squeezing and a tortilla or two.
Simple enough, we agreed. And it was perfect. Like the cave folk before us, we have simple tastes and no money.
Which is why we decided to judge our tacos on these three criteria:
Value — A taco is a taco, yes, but if it costs $100, it probably should be called a taco au poisson, or some other fancy thing. Tacos must be inexpensive. And bonus points for side dishes.

Freshness — Simple food is almost required to be fresh, as you can't cover up stale flavors with 1,000 other ingredients. This is most important with fish, which is already on the edge of disgusting for many people.

Flavor — How did the elements of the taco not only play on their own but also interact with each other? Was the citrus component already part of the sauce, or did we squeeze a fresh lime on the fish? Was the fish fried or grilled? Were the greens limp or crisp?
THE RESULTS
Taco del Mar
($4.50 for two tacos)
River Park Square, 808 W. Main Ave.
With a name that literally means "taco from the sea," this chain was built upon the fish taco. The restaurant is quick, it's cheap and, unfortunately, it's very fast food. The fish in this taco was dry and was deep-fried at some point in its existence — we just weren't sure when. The tortilla, strangely, was the overriding flavor. No fish or sauce broke through the bread-y taste. We ate somberly but left full. At least the price was right. When you want a quick, cheap stomach-filler, swing by here.
Value: 8.5
Flavor: 4.5
Freshness: 3
Total: 16
---
The Two Seven Public House
($10.25 for two tacos)
2727 S. Mount Vernon St.
I admit it. Going into this throwdown, I was smitten. My money was on the Two Seven. I have eagerly eaten these tacos, while blissfully quaffing an IPA, so many times that I was already prepared to offer a full slate of 10s to this plate of tacos de pescado, as the menu calls the dish.
And I almost did give them a perfect score, as they're close to a perfect taco: lightly fried fish on a tortilla, with a pile of cabbage and a tart sauce lathered on. The two tacos come with great sides — a radish, some roasted peppers, black beans. And as anyone familiar with the local Elk-chain knows, there are so many hot sauces to choose from, it's really not fair to compare the Two Seven with other taco-pushers.
Bovey had a different impression. The fish was fresh — he and I agreed there. But he didn't like the fried breading. He thought the flavor was unsophisticated, and he was thoroughly unimpressed with the taco-to-dollar ratio.
We left in disagreement but full of fried fish.
Value: 6.5
Flavor: 7
Freshness: 9
Total: 22.5
---
Taquería Guerrero
($3 per taco)
8021 E. Sprague
"The taco warrior." I like the sound of that. Taquería Guerrero is what you'd call auténtico. It's a colorfully painted Mexican food oasis on sprawling, bustling East Sprague Avenue in Spokane Valley. Spanish is spoken behind the counter.
When we pulled up, I knew we had come to the right place. A little square of cardboard was taped to the window. "Fish Tacos," it read.
We ordered two apiece. Like almost all traditional tacos, each individual taco came with two tortillas. There was a slab of lightly grilled fish in the center, topped with some shredded lettuce and a generous amount of cilantro.
These tacos had an amazingly clean, fresh taste. The fish, which I had just watched sizzle on the griddle moments before, was still piping hot, and the citrus-y sprigs of cilantro emphasized the freshness of the fish.
But it was so simple that it was totally one-dimensional. These were the only tacos I kept squeezing salsa verde on, just for a bit of complexity.
Value: 8
Flavor: 6.5
Freshness: 9.5
Total: 24
---
Twigs
($10 for three tacos)
River Park Square, Level 2, 808 W. Main Ave.
Twigs markets its tacos as being Argentinean. Now, I've never had Argentinean food, but if it all tastes like this, yo soy argentino.
I have it from a very good source that Argentineans are like Midwesterners in that they hate any sort of spice or flavoring. These wonderful tacos are flavorful, spicy and complex. They are not Argentinean.
First off, this plate is allegedly an appetizer. But really, Twigs? I know it's not a massive meal, but three large fish tacos on one plate is substantial. And for 10 bucks? Yeesh. Pair these with a beer and you have yourself one cheap, tasty dinner.
The tacos come to you deconstructed and in the form of pyramid. It looks cool, and building your own tacos is pretty fun. The fish — grilled and delicious — is on a skewer, and the cabbage — almost a coleslaw — is in a bowl in the middle. Put it all on a tortilla, which is drizzled with a sweet red sauce, squeeze a lime all over it, and chow down. Bite after bite, the sweetness of the sauce contrasts perfectly with the salty fish.
So wherever in Argentina Twigs unearthed this recipe, please tell us. We need a vacation.
Value: 8
Flavor: 9.5
Freshness: 8.5
Total: 26