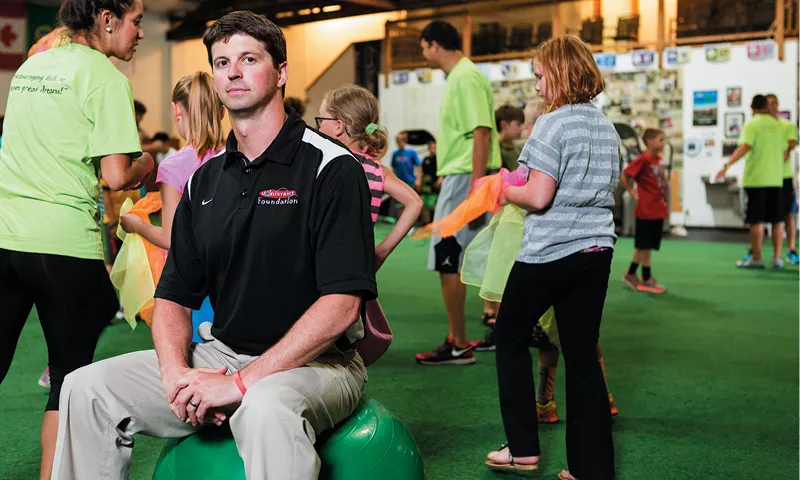 Brian Cronin thinks it's never too early to get kids used to fitness as a way of life. With two young sons — a 2-year-old and an infant — Cronin says he and his wife make an effort to eat healthy and to take daily walks together. And while Cronin watches the kids, his wife goes to exercise. His wife watches the kids when Cronin does his workout.
"[We] make it a point to the kids that they know mom or dad is going to exercise," Cronin says. "So that is going to be part of their upbringing, and I think it will be very natural for them."
Both Cronin and his wife work as physical therapists at U-District PT. Along with two others, Cronin owns U-District PT and oversees the U-District Foundation, a program that works to inspire kids to live healthier lives.
The foundation was born out of a need the owners of U-District PT saw, a need to teach young kids about fitness. Just like with his own kids, Cronin says it's not OK for kids to wait until they're adults to figure out how to live healthy.
"We think that kids are very impressionable, and we have the chance to teach them at an early age, and that's why we targeted this group," he says. "We certainly think adults need to learn this too, but we felt like the best way to impact the future would be to go right after kids, the young kids."
When Cronin was growing up in Spokane, he was quite active. He played many different sports — basketball, football and track — acquiring a handful of injuries along the way.
Between his numerous ankle sprains, pulled muscles and three knee surgeries, he was exposed to a lot of physical therapy, which showed him where he wanted to head career-wise.
"I always thought I want to go into some type of medicine, but the more I was exposed to physical therapy, it combined everything that I like: medicine, sports and exercise," he says. "So I got to combine three of my passions into one profession."
Nine years ago Cronin decided to start his own facility, so he made contact with the other two owners of U-District PT and started the business. A couple of years into it, they began to think about how much the Spokane community contributed to their business. They began to ask questions.
"What if we started a nonprofit that could help raise money to give back to the community and help utilize the knowledge and the skill set of the people that work here?" Cronin says. "And how can we use them to provide this great education and training opportunities to kids? That's how we came up with the idea of starting a foundation."
The main goal? Teaching kids that exercise is fun.
"Exercise is a part of healthy living when you're a kid all the way through adult," he says. "[We] have to try to combat the childhood obesity problem, the childhood inactivity problem. We have to combat that. And we felt that was just kind of our niche."
The U-District Foundation's programming is sixfold, with each aspect helping kids learn and experience the enjoyable side of pursuing fitness.
The aptly named Fun and Fitness Camp and the Summer Series Fun Run — both free of charge — help kids mentally meld exercising with fun and success. Several local schools also benefit from the foundation's physical education program. Certified fitness coaches assist in schools' P.E. programs or step in to teach at schools where P.E. classes have been cut for budgetary reasons.
The other three U-District Foundation programs help kids individually. Kids are awarded sports training scholarships and the Family Challenge brings in family members, along with an obese child, to work out and learn about nutrition. The Mentorship Program utilizes a big-sister/big-brother approach to pair healthy-living mentors with a child from a single-parent home or low-income family.
Even though Cronin now tends to work behind the scenes of the programs, he still feels the positive impact of the U-District Foundation, whether it's through a thank-you email from a grandmother appreciative that her granddaughter has a role model or remembering the years he worked hands-on with the Fun and Fitness Camps. Cronin recalls the growth he saw in kids' abilities over the course of just a four-day camp.
"The self-esteem and how excited they are is just really encouraging to watch," he says. "It's really powerful, through the form of exercise, to be able to create self-confidence and encourage these kids to grow. And exercise can be a great driver for that."