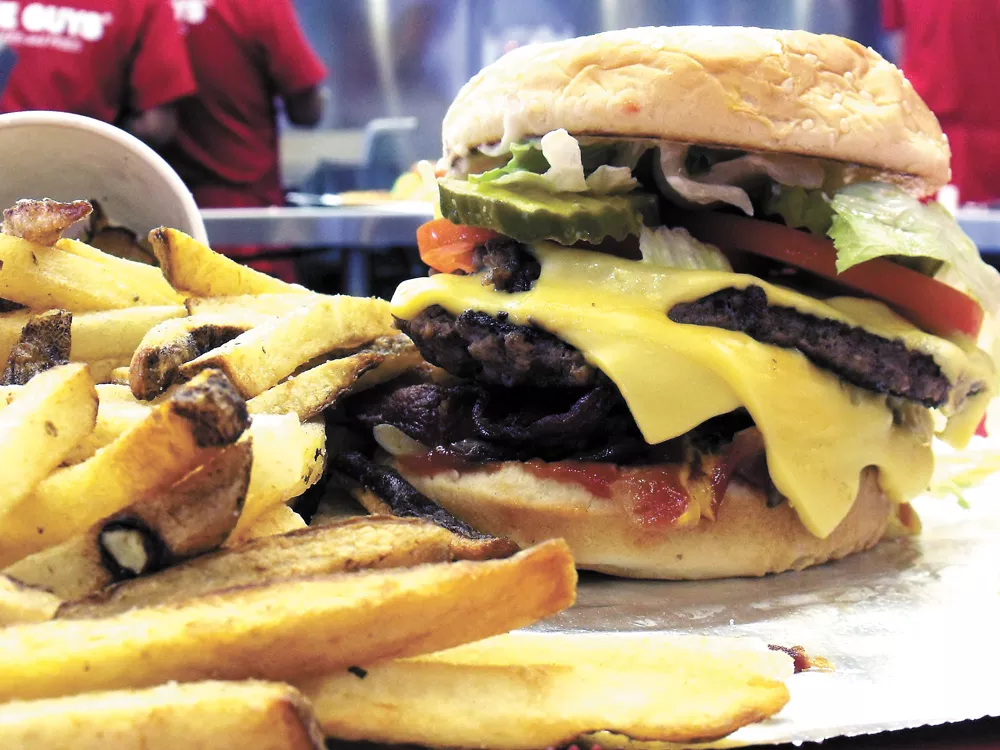 The first thing I noticed walking into Five Guys Burgers and Fries on opening day were the 50-lb. bags of Idaho potatoes stacked waist-high. A good sign: no frozen fries here.
The second thing I noticed was the energy level. There was lots of hooping and hollering among the cooks in the open kitchen as the orders were relayed, and the volume was cranked on the overhead music. The staff was amped-up — all smiles, and very friendly. A server explained that the music and high energy level was part of the Five Guys atmosphere.
Five Guys Burgers and Fries
2525 E. 29th Ave.
Spokane, WA
MORE INFO >
In their first hour of business, the line was 10 deep. Apparently the word was out that the Virginia-based hamburger franchise was moving into Eastern Washington, adding to the more than 600 locations nationwide.
Five Guys is an old-fashioned hamburger joint, complete with red-and-white-checkered tiles and barstool seating. Bulk bins of peanuts are placed around the store, free for patrons to munch on. Reviews of other Five Guys locations figure prominently in the décor, one describing Five Guys as the "Willy Wonka" of burger-crafting.
The franchise prides itself on fresh, custom-made hamburgers and hand-cut fries. The menu is simple, with four burger choices, a few hot dogs and a veggie sandwich ($2.50-$6.50).
The regular hamburger is actually a double patty (about eight ounces of beef), which made me thankful that I ordered the "little" cheeseburger. Each burger is made to order with your choice of the usual toppings, or you can kick things up a notch with hot sauce or jalapenos. Grilled mushrooms and onions, fresh tomatoes and green peppers are a nice addition at no extra charge, and a cut above the standard fast-food burger fare. All burgers are cooked well-done.
Fries come in two styles: Five Guys style or Cajun style. The Five Guys fries were hot, and lightly crispy with just the right amount of salt. They tasted like real potatoes, unlike some fast-food offerings that don't even deserve to be called "fries." (Kirsten Harrington)
Five Guys Burgers and Fries, 2525 E. 29th Ave., is open 11 am-10 pm, 7 days. Call 533-1005.
Embracing the Fat
Fatburger
Northern Quest
100 N. Hayford Rd.
Airway Heights, WA
MORE INFO >
Surrounded by the persistent music of slot machines, Travis, the Fatburger cashier on duty, calls out "Large fat, onion rings!" From the open grill, the fry cook flourishes a spatula and echoes at the top of his lungs, "Large fat, rings, yep!" In no time at all, a juicy, never-frozen burger and made-from-scratch onion rings are delivered tableside.
"It's a really fun environment," Travis grins, "and I like yelling out stuff." And there is rarely a lack of customers at the Fatburger counter to chuckle at the contagious enthusiasm and savor the drool-inducing food.
Established in 1952, "The Last Great Hamburger Stand" arrived in the Inland Northwest in May 2009 when the Kalispel Tribe opened its Fatburger franchise in the food court of the Northern Quest Casino and Resort.
"The Fatburger culture includes fun and entertainment, a perfect fit for our entire property," says Aimee Hubbard, director of franchise operations for the Kalispel Tribal Economic Authority.
But atmosphere isn't the only thing Fatburger has going for it. With generous made-to-order burgers, toasted buns, hand-scooped ice cream shakes and reasonable prices (burgers from $2.75 for 2.5 oz. to $9.50 for 24 oz.), this popular Southern California chain deals in deliciousness.
Each 100-percent pure-lean-beef burger comes with traditional toppings like lettuce, tomatoes and onions. But why go traditional when you can order add-ons like cheddar cheese (50 cents), crispy bacon ($1), or even a hard-yolk fried egg ($1)? Sides vary from homemade onion rings ($3.25) to chili ($3), but many customers save by ordering a deal, which includes fat or skinny fries and a drink ($6.50-$9.75).
With a name like Fatburger (who named this place?), it's a pleasant surprise to find the colorful menu board peppered with a few healthy options: the turkeyburger ($4.25), the Boca veggieburger ($4.25), and the chicken sandwich ($5.25). With 10 grams less fat than the Fatburger, the Turkeyburger is always the choice for local regular named Karen.
"It's helped me lose weight," she chuckles.
She can be found at Fatburger most weeks. "Especially on Tuesdays," she confesses, "because you get a double punch on your Fatburger card." In the business, that's what you call adding value. (Michal Bennett)
Fatburger, located in the Northern Quest Resort & Casino food court, 100 N. Hayford Rd., Airway Heights, is open 24 hours a day, seven days a week. Visit northernquest.com/dining/fatburger or call 481-2130.
Beyond the Pool Hall
Black Diamond Billiards
9614 E. Sprague Ave.
Spokane Valley, WA
MORE INFO >
People typically don't associate a pool hall with table-service dining. Usually, when more than one pool table is present in an establishment the fare tends to stay close to the basics of bar food: grease, fried things and beer. At least, until now.
Steve and Kenna Legault are the new owners of Black Diamond Billiards & Eatery, formerly McQ's Billiards and Sports Bar. The Concord, Calif., natives took over the foundering establishment in late July, changing the name and transforming the business model.
And while renovations to the business should be finished by the end of September, the renovations to the menu are already complete — and subject to constant improvement and expansion.
"We want really good food," Steve says. "If we don't have really good food, people won't come."
While Black Diamond still has short-order items like burgers and chicken strips, it also offers "from-scratch" dinner entrees like chicken piccata ($12) — a grilled chicken breast topped with garlic, lemon butter and capers.
For something with a little more bang, try the spicy Asian grilled shrimp ($13). Kenna says it consists of jumbo shrimp sautéed in a spicy Asian sauce, which includes garlic, ginger, oyster sauce, Tabasco and sesame oil. Another dinner worth trying is the Southwestern pork medallions ($12). The dinners also come with salad, garlic toast, and a choice of parsley red potatoes, pasta or house rice pilaf. Peter Vella wines are available for $4.50 a glass.
This is the Legaults' first venture into the food and beverage industry, though Steve has owned other businesses for nearly 30 years. He says that while buying a pool hall was a long-time dream of his, the profit margin for running a pool hall is narrow, so the emphasis at Black Diamond is on the food. (And the margin for food ain't exactly like the margin for Big Oil.)
While searching, Legault was impressed with the place's potential, but thought it needed thorough remodeling. By the end of September, hopefully, the dining area will be separated further from the gaming area and the look will be nice but not stuffy, consisting of warm earth tones. (David Teller)
Black Diamond Billiards and Eatery, 9614 E. Sprague, is open Mon-Thurs from 4 pm-midnight, Fri-Sat from 3 pm-1 am, and Sun from 3-11 pm. Call 891-8357.