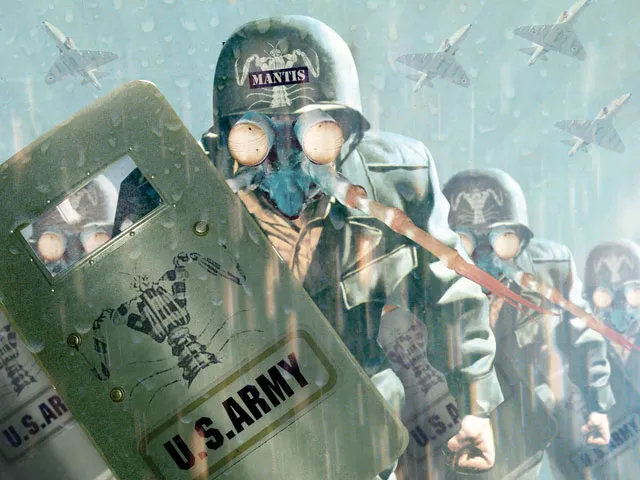 The word "shrimp" shouldn't apply to the peacock mantis shrimp. For starters, though it's a crustacean, it's not actually a shrimp. On top of that, it's anything but meek, mild and tiny.
Go ahead — search for "mantis shrimp" on YouTube. You'll see what I mean. An unsuspecting fiddler crab is dropped into a murky aquarium. From out of nowhere appears this bluish gray blur — all spots and stripes and legs and claws — which descends upon the poor crustacean like a vulture on amphetamines, backing it into a corner and tearing off the crab's prodigious right pincer in about a second and a half. In another video, a spindly-legged arrow crab gets reeled in and annihilated, a snail is sucked from its shell and another crab is bullied and beaten to the sound of a strange, violent clacking.
Truly, the mantis shrimp is one bad-ass crustacean.
The question for evolutionary biologist Brook Swanson is: How can it possibly be such a bad-ass?
Swanson, who did his post-doctoral work on spider silk before coming to Gonzaga University four years ago, studies complex mechanical systems in animals. He was turned on to the peacock mantis shrimp — which is found in shallow, coral-clogged tropical waters around the world — by a researcher from the University of Massachusetts at Amherst.
"She showed these videos of shrimp doing amazing stuff," he says. "Stuff that they shouldn't be able to do."
Like severing a crab's claw in one vicious karate kick.
Swanson takes me to his biology lab, where he shows off his pet shrimp in a small aquarium. The 3-year-old critter is about six inches long, with a row of fluttering fins, or swimmerets, undulating along the length of its underbelly. Six spindly legs serve for walking. A Venus fly trap-like set of legs around the abdomen serves to grab food. There are a couple of mouth parts and feelers, and a surprisingly adorable (and very inquisitive) pair of eyeballs on stalks.
But the important things here are its two dactyls — the hammers it uses to thwack its prey — protruding from limbs folded along its body. You can get a sense of this if you ball your fists up near your collarbones, then fire your elbows upward like you're delivering an uppercut to some ne'er-do-well's jaw.
Try it once slowly. Then try doing it with the force of a .22 caliber bullet. The mantis shrimp brings that 1,000-Newton force to bear upon the shells, heads and appendages of its unworthy adversaries. Swanson has measured this. In delivering such a blow, the shrimp also creates something called a cavitation in the water. That is, the force of the blow dispels in its wake a violent ball of water, creating a vacuum which then quickly collapses on itself, directing at its prey a tiny jet of searing-hot fluid about as hot as the surface of the sun, along with a little flash of light.
---
---
"That's the same way that shaped explosives work," says Swanson. "When you hear about the high-tech IEDs in Iraq and Afghanistan, that's a bunch of explosives around a little cone of copper. And when the explosion goes off, it collapses that copper and turns it into a jet of high-energy liquid. The damage you get from a shaped explosive is actually the same sort of damage you get from a cavitation."
So how, Swanson wondered, can the mantis shrimp hammer its prey and shoot fireballs without breaking itself to bits and burning itself to a crisp?
He and a group of undergrad students at Gonzaga found their answer this year under a microscope.
Looking at the dactyls through scanning electron microscopes, they found a thick outer layer that was exceedingly hard and mineral, covering layer after narrowing layer of plywood-like fibers — overall, an order of magnitude tougher and harder than anything found in other crustaceans.
"They looked a lot different than they were supposed to," he says. "They weren't put together like a shrimp shell should be."
And, perhaps to no one's surprise, it was only the hammering dactyl part of the shrimp that had these qualities — this bruising hammer of limestone and proteins. The rest of the body is quite normal. "Just that specific structure that needs to be like that is structured like that," gushes the evolutionary biologist.
Swanson and the students cut up a number of the shrimp and bashed their dactyls with a pendulum, noting how much force it would take to crack them. Then they poked the pieces with a tiny diamond nib, measuring their hardness.
"What we first noticed was when you poke the surface of these things, they're really stiff and hard, about like stainless steel. But when you started breaking them and measuring the energy absorbed before breaking, they acted more like wood. That's really surprising," he says. "They have that really hard surface, so they're able to transfer those hard blows, and they don't pit. But if they get a little crack in them, it doesn't catastrophically break apart, which is what would happen if it was built out of [something like] porcelain."
That structural dynamic (along with the shrimp's IED-like cavitation) may account for the U.S. Air Force's interest and investment in Swanson's project. Right now, the Air Force builds planes from aluminum, which is light but not very protective. They could instead build planes — or Humvees, or body armor — from protective steel, but it would be prohibitively heavy.
"They're really interested in being able to build things out of something that's really lightweight yet really resistant to damage," he says.
"It should be advantageous for all vehicles and personnel to be able to have some level of armoring to resist damage. This need has become evident in Iraq and Afghanistan," Swanson wrote in his grant application to the Air Force. "Biomaterials provide an opportunity to solve some of these challenges and provide materials and structures to meet the ever-changing challenges faced by the modern military. High-performance biomaterials such as spider silk and crustacean cuticle provide us with models for complex, nanostructured materials with exceptional mechanical behavior."
And even if the mantis shrimp teaches us nothing about how to protect ourselves in combat, it's worth studying just to watch it go to town on a fiddler crab.