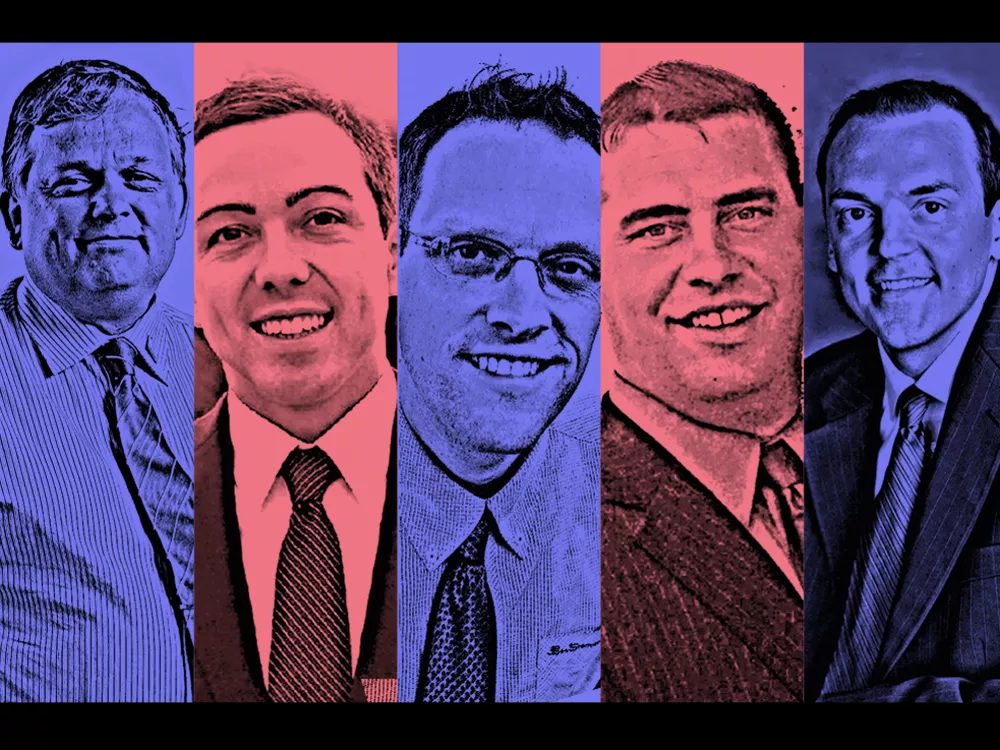 When state Senate Majority Leader Lisa Brown surprised politicos this spring by announcing her retirement, she set off a power scramble.
The same day, 3rd District Rep. Andy Billig stepped up to run for Brown's seat, and then, almost immediately, candidates began jumping in to replace Billig.
Three Democrats and two Republicans are vying to represent a swath of central Spokane. The 3rd District encompasses the city out east as far as Havana Street, south as far as 29th Avenue, west as far as the Spokane River, and north as far as Francis Avenue. It's been known historically as the poorest legislative district in terms of income, with the second highest number of families living in poverty.
In the five-way race to become the new 3rd District representative, the candidates include men in their 20s to their 50s, former and current City Council members, small business owners and a political operative.
THE DEMOCRATS
Sitting in his campaign office, you can't forget Bob Apple's surname. There are apples in a star-spangled bowl on the coffee table and apples on the lawn signs that line his street-front campaign office on East Sprague.
A former contractor and two-term Spokane City Council member, Apple, 56, is not known for being shy about his opinions. And right now, his opinions are decidedly focused on jobs and government regulations.
"Jobs, the economy," Apple says, when asked what voters are talking about. "Nothing else, that's it, and they're mad at government. … They think the government's responsible for not holding Wall Street account able."
As a state legislator, Apple says he'd focus on doing away with state construction regulations that he says are hampering the economic recovery. He also talks about reforming the state's Child Protective Services and touts his time as a board member of Washington Families United.
Apple says his greatest achievement on the council was helping to get rid of the old YMCA building in Riverfront Park.
"Everybody … fought me on that, including Jon Snyder," Apple says, referring to the current councilman and campaign opponent. "It was a horrible building in that location."
Apple's blunt presence and regular-guy appearance — today he's wearing a Hawaiian shirt speckled with convertibles, martinis and tropical beaches — is what one of his supporters likes most.
"I hate guys in ties," says Apple supporter Teresa Simon. "It pretty much to me means they're going to jack you."
Marcus Riccelli loves politics.
"My senior year at Gonzaga, my friends noticed something in my house," says Riccelli as he stands near the corner of Garland Avenue and Driscoll Boulevard, where he's knocking doors on a Friday evening. "They were wondering why I was watching C-SPAN and drinking beer for pleasure."
Riccelli, 34, began in politics by working on Tom Keefe's unsuccessful 2000 campaign to unseat former U.S. Rep. George Nethercutt. Riccelli went on to work for former state Sen. Chris Marr and U.S. Sen. Maria Cantwell. Most recently, he served as a senior policy advisor for state Sen. Lisa Brown. The day she announced her retirement, Riccelli announced his bid for the House seat.
When he speaks on how he'd do right by Spokane as a legislator, Riccelli entwines the issues of jobs and education.
"I think that with Boeing landing the [military contract for more mid-air refueling tankers], that our subcontractors around here have a real shot at getting some of that work," he says. "But we need to make sure we have a skilled workforce."
He says he'd like to see more apprenticeships, and more resources for vocational and technical schools.
Riccelli describes himself as "somebody who has been working to navigate Olympia" and stresses that that is a quality he can bring as a representative. That, and finding consensus among the warring political factions.
"I believe you should be able to sit down with folks and discuss things," he says, adding, "And step aside from the rhetoric."
Pounding sun and 80-degree heat doesn't keep City Councilman Jon Snyder, 43, from his Sunday doorbelling. Snyder, publisher of the newspaper Out There Monthly, is intent on hitting as many doors as he can. He's already sent off 10 volunteers into South Hill neighborhoods — including City Council President Ben Stuckart.
Snyder, who helped shepherd through last year's Complete Streets ordinance — which requires pedestrian and bike infrastructure to be included in some street construction — rattles off transportation needs.
"The North-South Corridor has not been adequately funded by the state," he says. "We've had other megaprojects around the state pass us in priority, even though ours has been around longer."
He also sees transportation infrastructure as the way to lure the aerospace industry to the region.
"When it comes to trying to build the aerospace industry on the West Plains, there's a lot of things the state can do," he says. "Transportation infrastructure is the beginning of that."
Snyder says he's not going to lie to people and pretend that state government can just "wave a magic wand and create jobs." To improve the economy, the state must pick its projects.
Follow the Money
Bob Apple has raised $5,625 through a handful of contributions over $500.
Tim Benn has raised $4,712 through small donors, including donations from Rep. John Ahern and Spokane City Councilman Mike Fagan.
Jon Snyder has raised $25,937 including donations from former Mayor Mary Verner and Spokane Firefighters Local 29 and Greenstone Corp., the developer of Kendall Yards Marcus Riccelli has raised $62,921 including large donations by Avista, WA Education Association and SEIU Healthcare.
Morgan Oyler has raised $2,710, all from Californians with Oyler surnames.
— JOE O'SULLIVAN
"I think now we've got to provide construction jobs, we've got to provide access to employment opportunities, and we've got to make sure that the private sector will match some or all of our public investments," Snyder says. "If any infrastructure project or any transportation project can't meet all that criteria, now ain't the time."
THE REPUBLICANS
Tim Benn, 34, is a former auto shop owner who has spent time volunteering and helping at his wife's home daycare. It was through that that Benn became involved in pushing back against new state daycare regulations, which he and others allege are killing home daycares.
Benn — like Apple, the former councilman — says that regulations for health care, worker's compensation and other mandates are stopping local businesses from growing.
"We don't have a job climate where companies are hiring," Benn says. "We just don't have the climate to create those jobs."
But on a Sunday night fundraiser, he has to rein in some of the conservatives who have shown up.
"The people really need an efficient, effective government," he says.
Civic gadfly George McGrath, and others are complaining — about regulations, about wolves, about everything and anything government-related.
"[McGrath] pops in there with some pretty harsh [comments]. He's a little more forward than most people," Benn says the day after, adding that others in the room weren't well informed.
Still, Benn believes slimming down government is the route to bring prosperity to the 3rd District.
"When you go to parks, they say don't feed the animals, right? To sustain themselves, they'll just want more food from us," Benn says. "Our government's become that animal. … We're feeding the largest animal, so what we have to do is trim it down, put it on a diet so it doesn't gain weight."
As Morgan Oyler, 29, talks in his campaign booth at the South Perry Street Fair, McGruff the Crime Dog loiters in the sun and a kid in a facemask tosses beanbags nearby. Oyler — who owns a coffee stand in the downtown Public Market — lost an attempt in 2010 to unseat the other 3rd District representative, Democrat Tim Ormbsy.
A transplant from Los Angeles, Oyler got an undergraduate degree from Gonzaga University and then worked with foster care children. That, he says, is one of his advantages as a candidate.
"There are not a lot of Republicans with social-service experience," Oyler, says, adding, "I'm the youngest in the race."
As he stands a stone's throw from Grant Elementary School, Oyler ticks off a slew of education reforms he'd like to see: prioritizing school funding to meet the state education-spending mandate, giving principals more control over their schools, making it easier for mid-career professionals to become certified teachers, and having year-round classes.
"These are some of the lowest-income kids in the state," Oyler says, nodding to Grant School, "And they don't gain anything by … taking the summer months off."
He'd also like to reform business taxes. Oyler wants the state's business and occupation tax to cover only the profits of businesses, rather than their entire revenues. And he'd like a B&O tax exemption for small businesses in their first two years.
Oyler also talks about becoming competitive with the high-tech western side of the state.
"Let's bring people here to do their start-ups," he says.