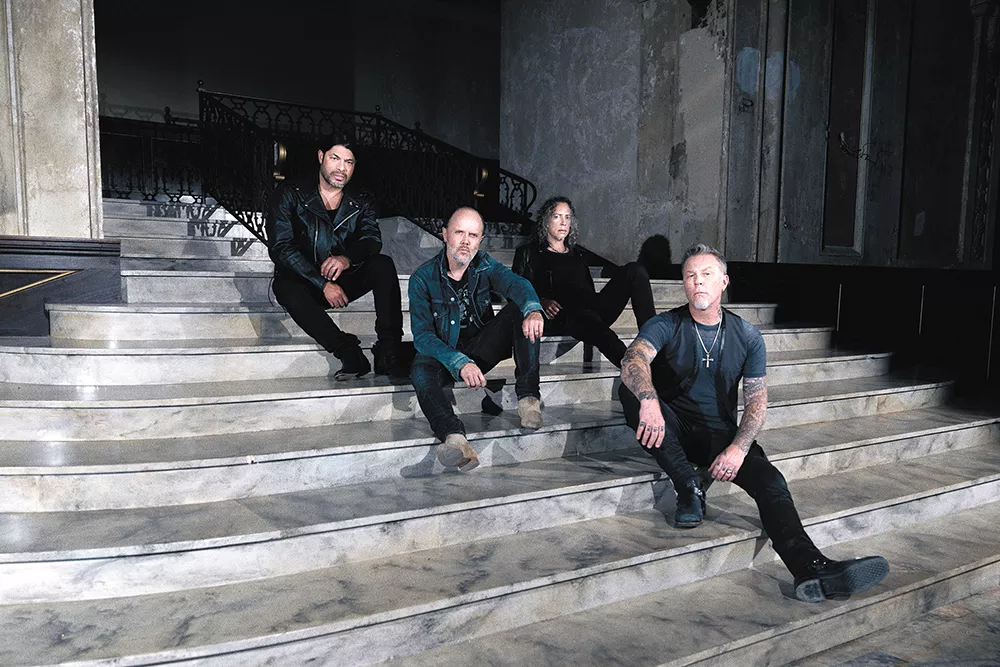 Thirty years ago, my buddy Nick and I made a deal: If he'd go with me to see a band I loved but he didn't care about, I would go to see a band he loved and I didn't care about.
My band was Van Halen, on tour with its then-newish second singer Sammy Hagar. His band was Metallica.
In retrospect, the Van Halen show was fine. It was my first chance to see Eddie Van Halen do his thing, and I liked it even though I would have preferred seeing them in the David Lee Roth era. But the Metallica show was incredible, the kind of gig that made me a lifelong fan.
I had no idea at the time, but that Damaged Justice Tour in 1988 was the thrash-metal pioneers' first-ever headlining arena run, and it would prove to be the beginning of an incredible streak that turned the one-time underground metal heroes into stadium-packing global superstars. Metallica had a massive stage, complete with a giant Lady Justice statue that would collapse and explode as the band played the title track of their then-new album ...And Justice for All.
Justice became the first Metallica album I ever bought, although I've since purchased everything they've put out before and after, and it's kind of a weird one to start with. It's full of long songs about government corruption and the perils of war, and for a guy who leaned more pop when it came to his burgeoning metal fandom (Van Halen fan, remember), listening to Metallica's shifting time signatures and rapid-fire riffs was ear opening to say the least.
As Metallica swings through Spokane Sunday night on its WorldWired Tour, they're also celebrating the release of a remastered ...And Justice for All. Who knows if that means they'll play more songs from it — Metallica has always been pretty good about hitting songs from all eras of their career — but I hope so.
Metallica hasn't rocked Spokane since 2004, and here are the five songs I hope they play during their return this weekend.
"Blackened." The first song on ...And Justice for All is a monster, and served as a perfect introduction when I was a new fan. A great one to get the mosh pit into a proper frenzy.
"Sad But True." This track is arguably the heaviest on the so-called Black Album released in 1991, the collection where Metallica shifted from the thrash of their early days and proggy excursions on Justice to deliver compact, catchy tunes. The change in direction worked, as the album sold more than 16 million copies in the U.S. and made Metallica the biggest band on the planet for a while.
"Leper Messiah." 1986's Master of Puppets is Metallica's masterpiece. The last album before original bassist Cliff Burton died is leaps and bounds beyond their raw first two albums, and every song slays. While you can bet they'll play the title track, hearing this scathing-if-dated tune about televangelists would be a treat.
"Stone Cold Crazy." Metallica has delivered some good cover tunes over the years, and on this tour guitarist Kirk Hammett and bassist Rob Trujillo have been paying tribute to musicians from the towns they play in (maybe some Bing Crosby for Spokane?). And while I'd love to hear their take on the Misfits' "Last Caress," their cover of Queen's "Stone Cold Crazy" is a killer, too.
"Spit Out the Bone." While longtime fans criticize basically every album since ...And Justice For All (some of them justifiably so), their most recent release was a thrilling return to form. 2016's Hardwired...to Self-Destruct was the band's sixth straight album to debut at No. 1 in America, and it topped the charts in 57 countries. The double album has a lot of great tunes, most of them reaching seven or eight minutes like the old Justice days. "Spit Out the Bone" is the last song on the album, but it's my favorite. ♦
Metallica: WorldWired Tour with Jim Breuer • Sun, Dec. 2 at 7:30 pm • $65-$135 • All ages • Spokane Arena • 720 W. Mallon • spokanearena.com • 279-7000