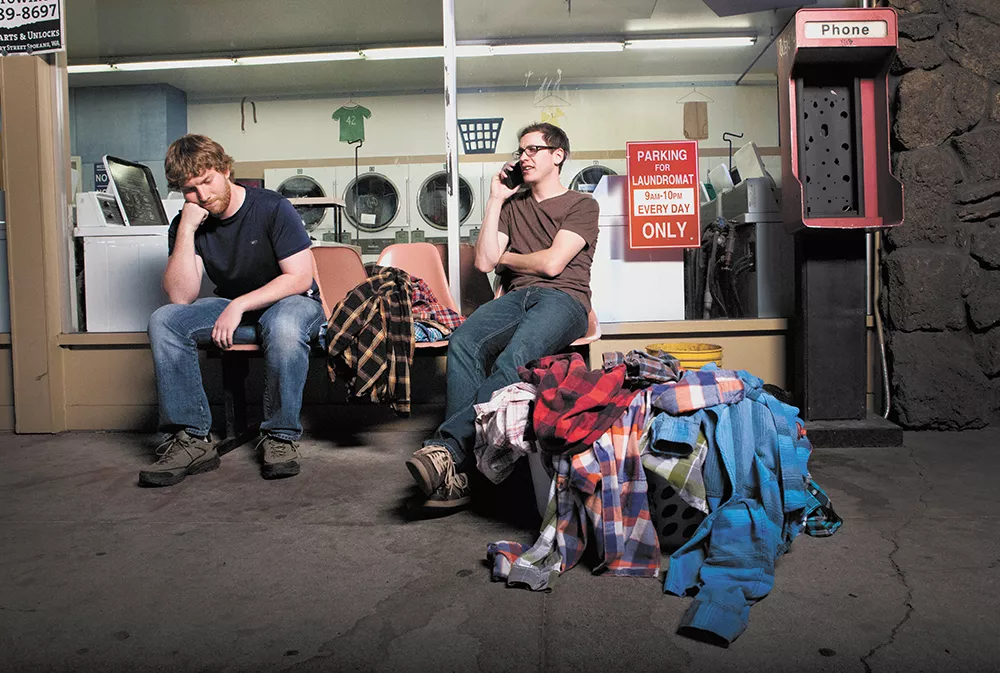 On the surface, the musical connection between Flannel Math Animal's two members seems obvious.
Both guitarist Nick Palmieri and drummer Bradley Spracklin are trained audio engineers. Both listen to complex jazz and math-rock artists who partly inspire their band's sound. And both hail from small Montana towns with populations of about 5,000 — Palmieri from Polson, Spracklin from Sidney — that fueled their dedication to their instruments because, well, there wasn't much else to do besides practice.
"We're both mellow, passive-aggressive Montanans," Palmieri says with a laugh over beers at Iron Goat Brewing, acknowledging that he and Spracklin probably would be friends even if they didn't have the band.
The duo's path from the Treasure State to becoming one of the Inlander's Bands to Watch isn't quite so simple, though.
Palmieri was basically self-taught via YouTube clips, and never took a proper music lesson until he moved to Missoula after high school. Spracklin studied concert performance in North Dakota, getting into jazz a bit before his own move to Missoula. In the college town, they never met while playing in separate metal and indie-rock bands. That had to wait until they moved to Spokane for audio engineering school at Spokane Falls Community College and met through a mutual friend.
Flannel Math Animal was born shortly thereafter, through some informal jamming that quickly led to three songs of the intricate instrumental rock that has become their calling card. That speedy composing isn't necessarily a rule, though; Palmieri will often hand off riffs to Spracklin, and he'll take days working on different sections, trying different drum parts.
Their debut album, Steve the Dog, arrived earlier this year, and includes seven songs of ever-shifting time signatures sprawled across 40 minutes. Most of the songs were recorded live, in one or two takes with no overdubs.
"We like recording that way because it keeps the magic," Spracklin says.
Now, they figure they have about two hours of original material and plan on recording a new album this summer and possibly touring in the fall.
Listening to Steve the Dog, the casual observer hears everything from Moog-fueled prog-rock to groovy funk to traditional jazz licks erupting from the speakers. "Math-rock" is as a good a catch-all as any label in trying to define Flannel Math Animal's music, and one the band embraces, although Palmieri notes that U.S. audiences aren't quite as up to speed on that multifaceted genre as others.
Pulling their music off live is something both Palmieri and Spracklin take pride in, and both note the incredible focus required to play on stage what they deliver in the studio and at rehearsal. Beers have to wait until after the show so they can tackle the complex, exhausting performances. Their effort has been rewarded with audiences stunned that two guys can pull off the sound they hear coming from the stage.
"I find it pretty exciting because the reactions we get are pretty rewarding," Palmieri says. "Usually, people are shocked."
There are some drawbacks, though. Both know it would be fun to have some bombastic rock moves to bust out, but there's no way they'd be able to keep their songs intact if they were worried about extraneous movements on stage.
"We can't dance and play at the same time," Palmieri says. "It's very conflicted between [being] the performer and musician. Sometimes, even tapping a pedal is too much and can make me lose focus."
Spracklin adds that they do build some free-form sections into the songs, a time for what he calls "collaborative improv," and when he uses a violin bow on a cymbal, Palmieri says it's "for show and fun."
The duo has thought of adding more members to Flannel Math Animal, but believe that finding someone who could keep up with their arrangements and well-developed alchemy as a duo could be too challenging to ever happen.
"There's a lot of telepathic communication with this," Palmieri says. ♦
Flannel Math Animal plays Volume on Sat, May 30, at 6:15 pm at The Bartlett • 228 W. Sprague • All-ages