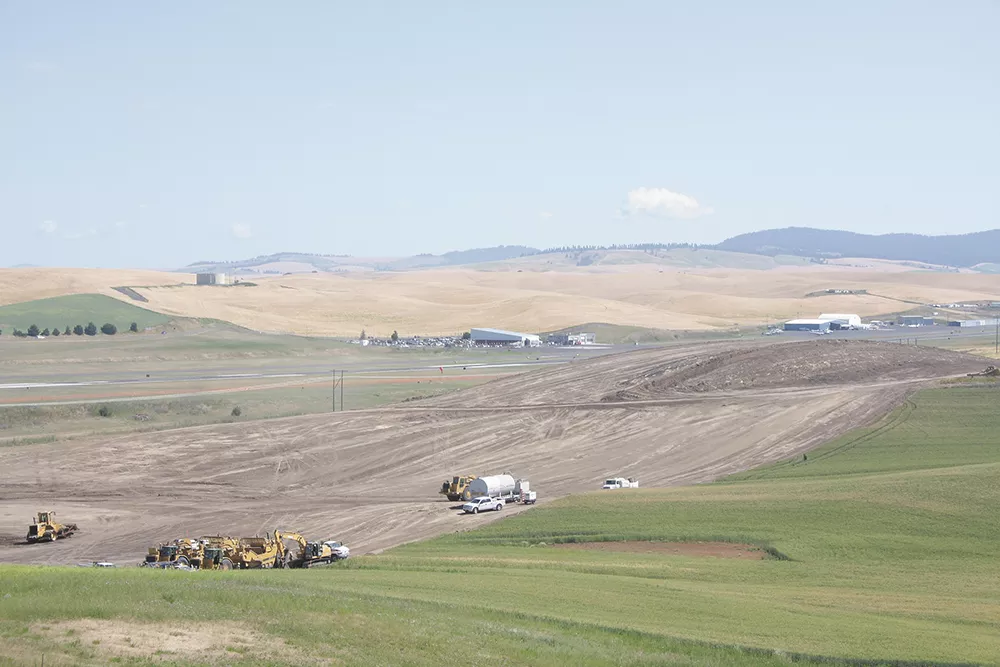 The yellow earth movers digging into the ground by the Pullman-Moscow Regional Airport can't move any farther west, for now. The hill above still belongs to Washington State University's Tukey Horticulture Orchard, where the roots of the fruit trees have been digging into the ground for decades.
"Most of those trees are just going to go under the blade," says Richard Koenig, dean of WSU's Department of Crop and Soil Sciences.
Though the airport started construction weeks ago on a $119 million runway realignment project, a chunk of land needed to complete the project still belongs to WSU. That land holds two-thirds of the 70-acre orchard, about 40 buildings and hundreds of animals used by WSU and the U.S. Department of Agriculture for research — research that, like the fruit trees, is not so easy to move or replace.
The exact value of that land, however, is in dispute. The university says the airport's offer to purchase it was far too low; it's now working on a counteroffer.
The runway project is necessary so the airport can be in compliance with FAA standards, says the airport's executive director, Tony Bean. But while the school sees the necessity, giving up that land likely will have lasting impacts on WSU's research, even if both sides agree on a dollar amount.
"This is a very unique situation in the United States. I don't know how many times research and airport construction have interfaced. I would bet this might be it," says Don Knowles, research leader for the WSU College of Veterinary Medicine's animal disease research unit. "And I think it's challenging us all."
Olivia Yang, WSU's vice president for facilities services, says the importance of the research facilities in question cannot be overstated. The runway project could affect grants for fundamental research at WSU — a school with a new president, Kirk Schulz, who has announced a goal of becoming a top-25 research university in the nation.
Since 2006, Yang says, WSU received $91 million in federal grants for research done with the USDA, most of which was conducted on the land in question.
"This is not some chump change. This is serious stuff, and this is federal money," she says. "We don't want to be careless about how we are stewards of this money."
Yang, like others at the university, says she supports the runway project. She says air travel is important for day-to-day business. "We need to get to Seattle, Olympia, all those things," she says.
The airport's offer was for fair market value, not replacement cost, per federal land-acquisition policy. That has caused a gap between the two sides, but they can now negotiate replacement value, since the first offer has been made. The university is now working on an appraisal, which Yang says has become much more complicated than the school originally thought it would. The negotiations have stalled until the appraisal is finished.
Neither side will disclose how much the original offer was for.
The livestock on the property includes horses, goats, cattle and sheep, including big-horned sheep. The research, often conducted over the course of several years, centers around infectious diseases, says Knowles. WSU was heavily involved in developing diagnostics for mad cow disease, for example. Right now, researchers are studying how diseases are transmitted among big-horned sheep and domestic sheep, providing insight into whether public land should be used for grazing.
The animals could be moved to another area owned by WSU, but the move itself would have to be factored in as a variable in the research, Knowles says. New facilities and infrastructure would be needed in that new location to accommodate the animals.
"The key is the timing of it all," Knowles says. "It's being able to have facilities that meet the care and use requirement for the animals to move to."
Some research at WSU, no matter the timing, will inevitably be delayed by the purchase of school land. Koenig, from the Department of Crop and Soil Sciences, says there will be a "significant impact" on research and teaching at WSU.
Though some fruit trees are young enough that they can be removed and replanted, most are too large to move. Some hold value in their genes, which are analyzed for their traits and disease resistance. Researchers have salvaged germplasm from some trees, but it could take up to eight years to grow them to the point of producing fruit, Koenig says.
The orchard is also used for teaching. While Koenig doesn't see the college nixing any courses because of a potential move, it would shift the focus of those classes from managing a mature orchard to designing a new orchard.
"I believe WSU is the heaviest user of the airport, so obviously we're interested in seeing that realignment go through to create more opportunity for more flight, more travel," Koenig says. "We're hoping we can come to some mutually agreeable solution."
The runway realignment project has been in the works for more than a decade. The design standards of the current runway have long been out of compliance with FAA standards, and the airport has been operating under an FAA exemption since 2006.
The plan the airport settled on is the cheapest and most responsible use of money, says Bean, the airport's executive director. Other options, like moving the entire airport, were not feasible, he says.
The issue for WSU is not so much the runway itself, but a trapezoidal piece of land called the "runway protection zone" that would encompass about 40 buildings, mostly barns or warehouses, and a majority of the Tukey Orchard. What would happen to these buildings if acquired by the airport is yet to be determined: Bean says it's possible that the FAA could offer an exemption to let WSU keep many of these buildings, but WSU says they may have to be vacated because low-flying planes could bother the animals and impact research. Trying to prove such an impact has become part of the negotiations, Yang says.
"That's what we're afraid of. I don't know if we can prove it, but there's a lot of concern," says Yang.
The plan is to have a runway that meets standards by 2018. The full project is slated to be completed in 2020, Bean says.
"You've got these two things that appear to be in conflict," Yang says. "And what we need to do — working with the rest of our neighbors in the community — is to find that fine line that says: You can have the runway, and you can protect our research." ♦