Eric Guidry has a long history of beating on stuff with sticks.
As one of those drummers with a cliche-sounding "pots and pans" sort of backstory, his parents bought him a mini drum kit from Toys"R"Us when he was 7 years old. And he's always had a flair for performing: He was known to run around the neighborhood in a full-on Garth Brooks outfit and throw concerts in his driveway.
"I had an older brother who had a guitar, so we'd jam out," Guidry recalls. "The drums took a serious turn for me in high school, just growing up in New Orleans, where drumlines and marching bands are king, you know? That backbeat and those loose, bounce-hop kind of grooves are instilled in me."
Guidry is one-half of the rhythm section in the New Orleans-based folk-rock band Motel Radio. Along with bassist Andrew Pancamo, he creates a groovy backbone for co-frontmen Ian Wellman and Winston Triolo, who are responsible for the band's rootsy Americana vibe, story-based lyrics and multipart vocal harmonies.
"It's super singer-songwriter-y with a little New Orleans dirt rubbed on it," Guidry says. "Ian and Winston just click so well and have such an awesome ear for melodies."
Guidry is talking to the Inlander in advance of Motel Radio's show at the Big Dipper on Wednesday, June 20, as part of KYRS 92.3 FM's 15th anniversary party. He says all of the guys in the band attended Louisiana State University in Baton Rouge and relocated to New Orleans after graduation. They've since spent altogether too much time together on the road, crisscrossing the country every few months.
"People say you're closer to whoever you're in a band with than your biological brothers and sisters, and that's true," Guidry says. "We go weeks where we spend all day, every day, together. You see everybody at their best and their worst."

The band has released two EPs — Days and Nights and Desert Surf Films — and is in the process of recording its debut full-length, which isn't actually made up of all-new music. They've been touring many of the songs for almost a year, in fact. Unreleased tracks make up a good two-thirds of their live setlist.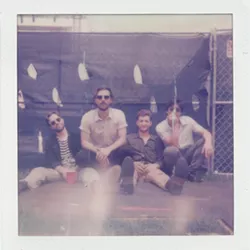 The band is delving into new territory, however. The recording sessions for Days and Nights were relatively basic, mostly because the group lacked the gear and wherewithal to manipulate sounds the way they wanted. Now they've graduated to playing synthesizers and the Mellotron, and running experiments like cloaking a harmonica in layers of delay and reverb effects, but they're not getting carried away with adding bells and whistles.
"We're very cautious and aware that we can't let all of that get in the way of the song and the harmonies and stuff," Guidry says. "We're just having a lot of fun."

They hope to drop the as-yet untitled record late this year or early the next, and Guidry is curious himself to see how some of the new sounds translate onstage. Keyboardist David Hart left the band months ago, and the band moved forward as a four-piece with two guitars, bass and drums. A lot of bands do so much in the studio that they're forced to "run track" — play along with programmed sounds — but Guidry says Motel Radio probably wouldn't pull that move.
"We're a live band," he says. "We play about 150 shows a year, and you work up a certain chemistry that you want to come through. You don't want to muddy it up too much."
Indeed, lyrics and vocal harmonies are given priority over all else, and for that they take an all-hands-on-deck approach. Guidry usually sings the highest harmonies from behind his drum kit — a real one, not a toy — a challenge that has pushed his musicianship to a higher level.
"I am expected to, and have learned to enjoy, singing the majority of the songs," he says. "If you come see us, you'll hear an extra voice. The whole thing with us is the more voices, the merrier."
One of Motel Radio's earliest songs, "Streetlights," remains perhaps the best example of the band's airtight harmonies. The lyrics evoke the longing of living in a small town somewhere in the middle of America: "Found the courage / Run away from home / Hit the open road / Like a rolling stone / On the radio."
The song has grown into a setlist staple and a fan favorite that is catching people's ears as far away as the Pacific Northwest.
"We had a crazy night during Treefort [Music Fest] in Boise, Idaho, a couple of years ago," Guidry says. "We started playing 'Streetlights' and everybody started cheering and singing the chorus over us. We're all like, 'Where are we? What's happening?' It was pretty unbelievable. For a band our size, it kind of knocks you on your heels for a second." ♦
KYRS 15th Anniversary Party with Motel Radio, Matt Mitchell and Cursive Wires • Wed, June 20 at 7:30 pm • All ages • $10 advance, $13 day of • The Big Dipper • 171 S. Washington • bigdipperevents.com • 863-8101