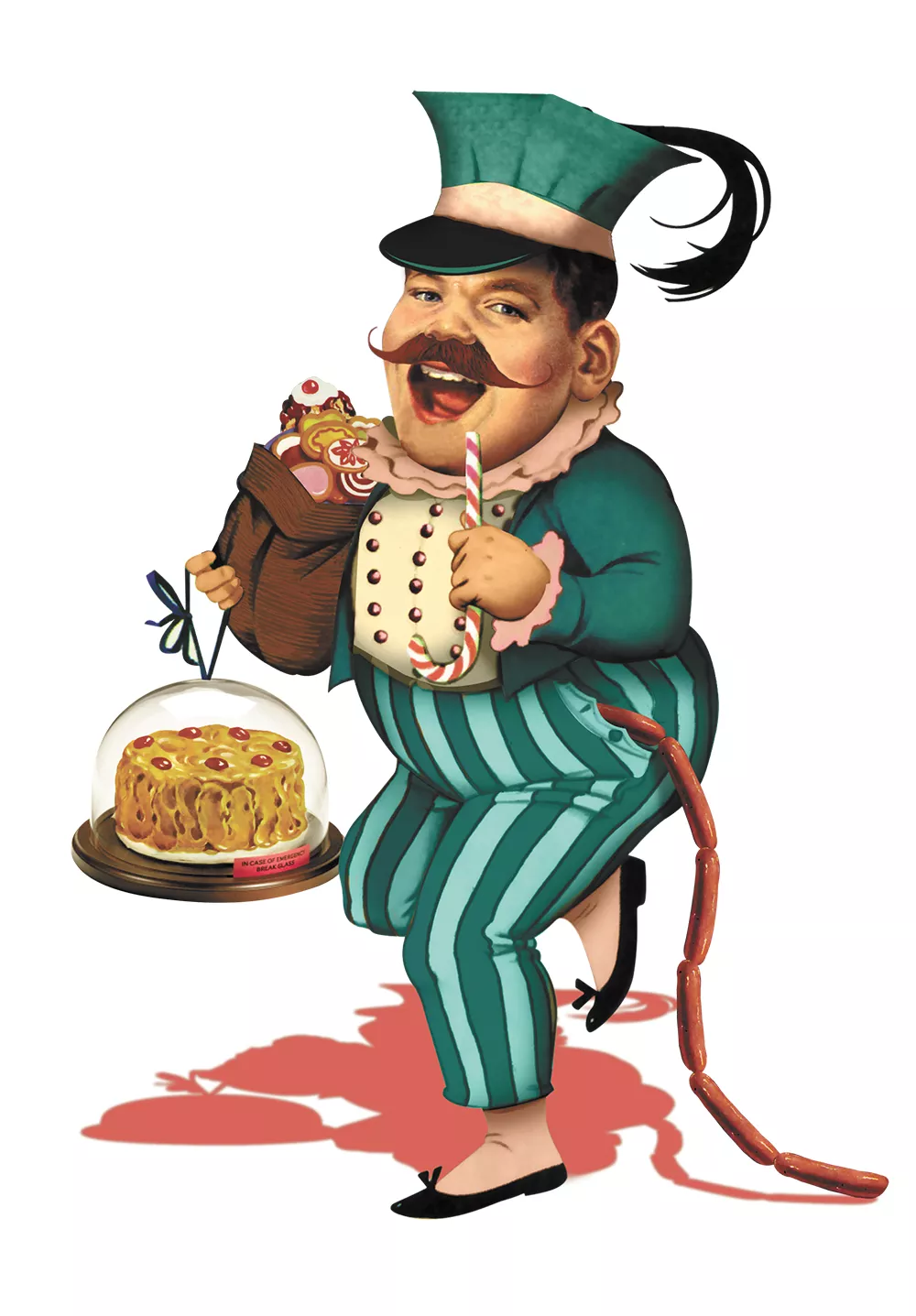 Best Breakfast | FRANK'S DINER
There's a reason Frank's Diner is a frequent choice of Inlander readers for the best spot to enjoy the first meal of the day. Maybe it's the hashbrowns. Maybe it's the seemingly endless list of egg dishes. Maybe it's the satisfaction of indulging in a plateful of blueberry muffin French toast. Either way, the charm of eating in a cozy vintage train car never gets old. (JO MILLER)
2nd PLACE: Chaps; 3rd PLACE: Old European; NORTH IDAHO'S BEST: Michael D's
---
Best Sandwiches | DOMINI
Lunch is that special time of the day when you put your trust in some tasty fuel to get you through what's still ahead. Domini definitely does the trick. Their deli-style sandwiches are massive and filled from a meat list that ranges from ham and corned beef to Thuringer sausage and liverwurst. It's no wonder this is Domini's 21st win for Best Sandwich Shop. (JM)
2nd PLACE: High Nooner; 3rd PLACE: Stella's; NORTH IDAHO'S BEST: Meltz Extreme Grilled Cheese
---
Best Pub Food | MANITO TAP HOUSE
It might seem like Manito Tap House is all about the brews, seeing as their tap count comes in at a whopping 50 handles. And that's true. But it's also true that someone is just as likely to recommend Manito as a spot to get an excellent meal. The menu boasts gastropub fare built around seasonal and local ingredients, like scratch-made soups, hearty burgers and beautiful cuts of meat. (JM)
2nd PLACE: Waddell's; 3rd PLACE: The Elk; NORTH IDAHO'S BEST: Capone's&nbsp
---
Best Barbecue | LONGHORN BARBECUE
Whether it's the rib tips, El Paso chicken or rib-eye steak, it's all smoked Southern pit-style on cherry, apple, birch and alder woods. Then there's the signature barbecue sauce and the country-western atmosphere. Longhorn Barbecue may have gotten its start in Texas in 1946, but since it moved to the Northwest, Washingtonians have claimed it as a favorite. (JM)
2nd PLACE: Chicken-N-More; 3rd PLACE: Red Lion BBQ; NORTH IDAHO'S BEST: Porky G's
---
Best Thai Food | 2015 Hall of Fame Inductee THAI BAMBOO
Fourteen years ago, it all began quite modestly with Thai Bamboo opening its first location, a quaint restaurant along Sprague Avenue in Spokane Valley.
Owners Tom and Matavee Burgess first met at Jai Thai, the restaurant Matavee used to own in Seattle. After the couple moved to Spokane in 2000, it was only a year later that they signed a lease to open the first Thai Bamboo. Tom, who grew up on the South Hill, did the marketing. Matavee, who is from Thailand, ran the restaurant. Now they're celebrating 10 Best Of wins and membership in the Hall of Fame.
"She had the skills and the recipes and we started out with a big menu," says Tom.
Every few years, they added a new location: South Hill, Coeur d'Alene and their flagship restaurant in North Spokane. The latter is the most grandiose of the four, with a pagoda-style building pointing to the sky over Division Street and an interior overflowing with Thai décor. During trips to Thailand, Tom shops at the markets and brings back items like granite elephants, wood-carved statues, tapestries and sandstone murals, and he commissions artisans to make things like their embellished steel tabletops.
"That's just kind of the icing on the cake," he says. "It's all about the food."
Matavee, the head chef of the restaurants, came from a family of nine in southern Thailand. She was the cook of the family and the dishes at Thai Bamboo represent southern Thai cuisine, which tends to be a little spicier and have lots of curries and seafood.
The enormous menu doesn't end there. A bevy of noodle dishes, soups, rice dishes, salads and even Chinese dishes keep the list going. The pad Thai has been the No. 1 bestseller over the years, says Tom, with the spring rolls, the Mongolian beef and the fried bananas drizzled in caramel following behind.
Tom chalks up Thai food's popularity to the fact that it's healthy and easily caters to gluten-free and vegetarian dietary restrictions. Thai Bamboo makes it available in four locations across a sizable geographic spread.
"A lot of people like that," he says. "They might live one place and work in one place. They like knowing the menu."♦ (JO MILLER)
2nd PLACE: Bangkok Thai; 3rd PLACE: Linnie's
---
Best Pizza | THE FLYING GOAT
At the Flying Goat, they celebrate the char. Your pizza comes out of the 600-degree oven a little blackened and a little crispy, and that's exactly how Neapolitan-style pies are supposed to be; textured and aromatic. The toppings go well beyond the mundanity of marinara, mozzarella and pepperoni. Try yellow coconut curry with potato, jalape&ntildeo and carrot or heavy cream with bacon, pears and Gorgonzola. (JM)
2nd PLACE: Pizza Rita; 3rd PLACE: Fire (Spokane and CDA)
---
Best Burritos | NEATO BURRITO
This downtown spot is beloved in Spokane for its behemoth, mission-style burritos that make for a perfect lunch-break meal or late-night gorging for both the meat lover and the vegetarian. And that's not all Neato has going for it. Wander in there after the sun sets and soak in the ever-hip vibe, often accompanied by live music, open-mic comedy and poetry readings. (JM)
2nd PLACE: Atilano's&nbsp (Spokane and CDA); 3rd PLACE: Slick Rock
---
Best Sushi | SUSHI.COM
Dwelling inland might make one think that finding excellent sushi would be hard. But Sushi.com proves that wrong. Their extensive list of rolls, hand rolls and sashimi feature everything from tuna and salmon to geoduck and urchin, flown in fresh from places like Hawaii and Korea. Pair that with great service and a solid sake selection, and Inland Northwesterners are hooked. (JM)
2nd PLACE: Ginger Asian Bistro; 3rd PLACE: Syringa
---
Best Food Truck | TACOS EL SOL
It's bright and yellow and quite hard to miss. Since 2008, the Tacos El Sol truck has been providing a tasty fill-up for the downtown workforce by day and the late-night bar-goers into the wee hours of the morning. At their two locations - 29th and Regal or First and Washington - the fragrance of authentic Mexican tacos, burritos and more hangs in the air. We dare you not to stop. (JM)
2nd PLACE: Couple of Chefs; 3rd PLACE: Bistro Box; NORTH IDAHO'S BEST: Best Sandwich Shack
---
Best Patio Dining & Best Appetizers | TWIGS
The argument isn't whether Twigs has the best patio dining. It's which Twigs. So while Best Of voter Kris DeVries argues for the South Hill location, with its music and water feature, Tracey Henning makes her case for the Wandermere Twigs, with its relaxing pond and nighttime fire pits. "It's my Zen Place," she tell us. Then there's the ongoing debate argument over the best appetizer at Twigs. "I especially enjoy the fries with their Gorgonzola sauce," Henning writes. Me, I like to go fancier and a bit more invertebrate: Bring on the calamari. (DW)
Best Patio Dining
2nd PLACE: Anthony's at Spokane Falls; 3rd PLACE: Clinkerdagger; NORTH IDAHO'S BEST: Bardenay
Best Appetizers
2nd PLACE: P.F. Chang's; 3rd PLACE: The Wandering Table; NORTH IDAHO'S BEST: (tie) The Oval Office, Post Falls; Seasons of Coeur d'Alene
---
Best Phò | PHÒ VAN
Pho, the hearty and healthy Vietnamese soup rich with rice noodles and meat, is truly an independent thinker's meal. In the mood for a dash of Sriracha and a squirt of hoisin? Have at it. Looking for texture? Toss in a few slices of raw, spicy jalapeño and a handful of mung-bean sprouts for snap. Don't forget the aromatic Thai basil and cilantro garnishes and squeeze of lime. Or leave them out. It's your choice, and the combinations are endless. Starting with delicious broth, however, is key, and this is where Pho Van excels.
Pho Van owner Henry Cao has been dishing out pho to enthusiastic Spokanites for 10 years. Along with the best pho in town, Inlander readers devour Cao's perfectly crispy fried ch gio (egg rolls), bún (vermicelli noodles) and follow it up with dessert in a glass, cà phê á (iced coffee with sweetened condensed milk).
But the pho is the star, and the selections of pho are compelling enough to keep your belly full year-round. Variations of pho tai (beef) dominate the menu, but Cao also offers pho ga (chicken) and pho tom (shrimp). Traditional pho broth relies on the harmonious marriage of ginger, cinnamon, star anise, clove, fennel and coriander.
"Every family has their own recipe for broth. It's very healthy. My dad eats two or three bowls every day. He looks young, but he's not!" laughs Cao.
Meat selections run the gamut from tame (eye of round steak) to the more adventurous (soft tendons and meatball).
"We add all different kinds of meat. Pho tái nm (with eye of round steak and well-done lean meat) is the most popular," says Cao.
As Pho Van's popularity continues to grow, so does the menu. Specialty soups, including barbecue pork and shrimp and duck with bok choy and fried shallots, provide a break from the norm, though they still have deep roots in tradition.
"We try to add something new [to the menu] every year. We have a lot of customers from Vietnam. And kids love pho! A mom and son will come here and share a small bowl of soup. Next time, they will order their own bowl. I have a lot of repeat customers," smiles Cao. ♦ (AMY MILLER-KREZELAK)
2nd PLACE: Vien Dong; 3rd PLACE: Vina Asian; NORTH IDAHO'S BEST: Pho Thành, Coeur d'Alene
---
Best Single-Location Coffee Shop | ATTICUS
Spokane loves Atticus. Just stop by on a weekend, and good luck finding a seat not already taken by the lifelong friends, precious couples or biology-test crammers. Central Food chef David Blaine says the reason for their popularity is obvious: "I like people and businesses that don't have to explain to you why you should like them. Atticus is one of those places. It embodies the person-to-person connection that I love about Spokane." (DANIEL WALTERS)
2nd PLACE: Coeur Coffeehouse; 3rd PLACE: Indaba; NORTH IDAHO'S BEST: Vault Coffee, Coeur d'Alene
---
Best Drive-Thru Espresso | DUTCH BROS.
Yes, self-appointed espresso experts pretend like they can tell every nuance between one blend or another. But taste is only part of what makes a great drive-thru coffee stand a great drive-thru coffee stand. "The coffee is great, don't get me wrong, but they have some of the best staff around!" says Best Of voter Christina Bennett. "I have to been to several Dutch Bros. locations throughout Spokane and every encounter has been friendly, upbeat and fun." (DW)
2nd PLACE: Wake Up Call; 3rd PLACE: Jacob's Java; NORTH IDAHO'S BEST: Lean Bean
---
Best Coffee Roaster | THOMAS HAMMER
These words you're reading? Their creation is fueled, almost entirely, by Thomas Hammer coffee. That's the coffee I'm drinking right now as I write this. That's the coffee I get up for, every 10 minutes or so, to get a refill from the Inlander kitchen. For me, it's about surviving the onslaught of deadlines. For Inlander reader Jamie Arthur, however, it's all about the Thomas Hammer taste. "I usually find myself searching out the coffee stops that serve it and returning to them," she says. (DW)
2nd PLACE: Roast House; 3rd PLACE: DOMA Coffee
---
Best Brewery | NO-LI BREWHOUSE
Don't mistake consistency for an unwillingness to try new things. Sure, No-Li was built through the steady excellence of regularly available selections like the Born &amp Raised IPA and the Spin Cycle Red Ale, but the seasonal brews like the Winter Warmer Ale and the No Boundaries Pilot Series that allow the brewers to experiment means there are always fresh, tasty options for Spokane beer lovers. (DAN NAILEN)
2nd PLACE: Iron Goat Brewing; 3rd PLACE: Perry Street Brewing; NORTH IDAHO'S BEST: Slate Creek Brewing
---
Best Distillery | DRY FLY DISTILLING
These Eastern Washington pioneers in craft distilling produce all their vodka, gin, whiskey and bourbon using ingredients grown on local farms, proving that world-class spirits can come right from our own backyard. Fans might quibble over their preferred Dry Fly spirit, but can easily put aside those differences to recognize the impact the place has had on Spokane. (DN)
2nd PLACE: Bardenay; 3rd PLACE: 21 Window Distillery
---
Best Ice Cream | BRAIN FREEZE CREAMERY
Whether you're a traditionalist or a serious foodie whose willingness to experiment includes your dessert, Brain Freeze Creamery's handmade ice cream satisfies. The basics like chocolate and vanilla are stellar, and constantly rotating specialty flavors like salted caramel, maple bacon or molasses cookie will thrill those with pliable palates. (DN)
2nd PLACE: The Scoop; 3rd PLACE: Cold Stone Creamery; NORTH IDAHO'S BEST: Roger's Ice Cream
---
North Idaho's Best Breakfast | MICHAEL D'S EATERY
Michael DePasquale knows that feeding someone involves much more than food.
With an associate degree from the prestigious Culinary Institute of America and more than 30 years experience, including as executive chef at the Coeur d'Alene Resort's Dockside and Tito Macaroni's restaurants, DePasquale knows what it takes.
"A warm greeting, a clean atmosphere, a smile, a conversation, a big 'Hello' upon arrival and a big 'Thank you' upon leaving... this all adds up to 'feeding' someone," says the owner of Michael D's Eatery.
That's what brings loyal customers like Rick Carr, who reckons he's been ordering the same breakfast — a modified Pasquale Scrambler — since the restaurant opened in 1998.
"They're the only ones who can make my breakfast the way I enjoy it," says Carr, who owns Mix It Up boutique downtown.
Bruce Nordstrom, who walked over from his home several blocks away, has made Michael D's part of his routine for two years. "It's just a friendly environment," he says, sitting at one of four chrome stools along the counter.
Elsewhere, booths are packed with people of all ages and the room buzzes with happy diners loading up on chocolate chip pancakes, eggs Benedict, overstuffed omelettes and bottomless cups of coffee. On the wall are photos of local landmarks as well as several Groucho Marx-like caricatures of DePasquale and his trademark glasses, similar to the one that appears on the menu and outdoor signage.
And, like a junior high dance, chairs lining the waiting room walls fill up as hungry people help themselves to coffee and wait for their name to be called. DePasquale greets many by their first name.
"We get some old-timers who had their first date here and bring the grandkids," says DePasquale. "Folks who lived here years ago come back and are thrilled to see it still going and, of course, want to share their story." Some of them, he adds, used to come in as customers and now work at the restaurant.
His staff, says DePasquale, is the real reason for the restaurant's success. Nearly half of them have been with the place for more than 10 years.
"These people are Michael D's Eatery," he says, "I just have the mustache that goes with the caricature." ♦ (CARRIE SCOZZARO)
---
Best Winery | ARBOR CREST WINE CELLARS
Arbor Crest could win this category simply on the basis of the stunning grounds of the Cliff House Estate that serves as its headquarters, sitting above the Spokane River and serving as a favorite stop for Northwest wine-tour enthusiasts. But it's the quality of the winery's 15 varietals and blends that lands Arbor Crest atop this category once again. (DN)
2nd PLACE: Barrister Winery; 3rd PLACE: Townshend Cellars; NORTH IDAHO'S BEST: Coeur d'Alene Cellars
---
Best Dessert | DOCKSIDE
The view is incredible, and we're not even talking about the lake outside this Coeur d'Alene Resort restaurant. Rather, it's the eyeful of towering ice cream filling the sundaes and shakes, the bright fruit covering the tarts and filling the cobbler, the array of carefully crafted and intricately frosted cakes. With sugar- and gluten-free options and hands-on cupcake decorating for the kids, it's easy to see why readers love dessert at Dockside. (DN)
2nd PLACE: Clinkerdagger; 3rd PLACE: The Melting Pot
---
Best Bakery | ROCKET BAKERY
The seven Rocket Bakery locations challenge you to think of a bakery as much more than a spot to fill up on cookies or scones. In their respective neighborhoods, each serves as a community gathering place, perfect for quiet study, or catching up with friends over a coffee. It goes without saying you'll want a bagel or slice of cake to go with that. (DN)
2nd PLACE: Boots Bakery; 3rd PLACE: Le Petit Chat; NORTH IDAHO'S BEST: Bakery by the Lake
---
Best Donuts | DONUT PARADE
History oozes from the bricks of Donut Parade as voluminously as the coffee pours as a must-have alongside your maple bars or cake donuts. From the old-timey signs for hot dogs and ice cream on the walls to the logo on the side of the building, there's no mistaking Donut Parade for anything other than what it is - a classic Spokane landmark serving up a staple of American cuisine, typically by the dozen. (DN)
2nd PLACE: Krispy Kreme; 3rd PLACE: Casual Friday Donuts; NORTH IDAHO'S BEST: The Donut House, Hayden
---
Best Cidery | LIBERTY CIDERWORKS
Liberty Ciderworks co-owner Rick Hastings has a near-encyclopedic knowledge of cider.
He can tell you, for instance, that they use one of Thomas Jefferson's favorite apples (the Newtown Pippin) in the eponymous single varietal, the difference between English- and American-style cider (the former uses cider apples while the latter uses all-purpose apples), both of which are offered at Liberty, and what food pairs best with cider (cheese, richer foods, spicy foods, lamb, pork).
He also can break down the cidery's menu so that anyone, no matter how new to the beverage, can understand each varietal's composition.
To name a few: There's Stonewall, the product of what happens when Liberty's English cider meets Dry Fly whiskey barrels; Turncoat, a blend of all-American apples and British hops; Crabenstein, a funky blend of Dolgo crabapples and Gravenstein apples that has stayed on the menu since its Halloween debut; and Jonathan, a customer-favorite single varietal that uses the apples of the same name.
"A lot of people still think cider has to be sugary-sweet," Hastings says. "Craft cideries are making cider and being truer to the apple and being truer to the art form. If you try a cider like that, you'll be impressed."
Hastings, who co-owns Liberty with Austin Dickey, discovered cider after looking for an alternative to beer with his brother and sister-in-law, who are gluten-intolerant. He told Dickey about his find, only to learn that Dickey had been making his own cider for years.
Before opening the tasting room in April of last year, the duo bottled its cider to deliver to local bars and restaurants, while also making frequent trips to the westside to distribute the cider in Seattle, something they still do.
It's been a strong first year for Liberty; last month, Hastings and Dickey hired their first full-time staff member to help with the growing number of sales calls and deliveries, a trend Hastings hopes will continue.
"We'd like to become something that people really appreciate about Spokane," he says. "We've got a really amazing culinary scene that's emerging here. Spokane's getting cool, and cider is definitely in the mix of that urban vitality."♦ (AZARIA PODPLESKY)
2nd PLACE: One Tree Hard Cider; 3rd PLACE: Twilight Cider Works; NORTH IDAHO'S BEST: Summit Cider
---
Best Cupcakes | SWEET FROSTINGS
Judy Beebe, the co-owner of Sweet Frostings, says that she started her business with a simple goal: Make cupcakes that are worth the calories and worth the money. She accomplishes this by making her 58 varieties of cupcakes like they made them in the 1950s: with real butter and no artificial flavorings. (JAKE THOMAS)
2nd PLACE: Celebrations Bakery; 3rd PLACE: Love @ First Bite; NORTH IDAHO'S BEST: Stacies Cakes
---
Best Milkshake | MARY LOU'S MILK BOTTLE
Ed Ritchie, co-owner of Mary Lou's Milk Bottle, can tell you all about the details of the time-consuming process that goes into making their milkshakes, including how they use a Taylor batch freezer from the 1960s that slowly produces their own ice cream. But it's the butterfat, says Ritchie, that gives his shakes the creamy texture that distinguishes them from the others. (JT)
2nd PLACE: Zip's; 3rd PLACE: Hogan's; NORTH IDAHO's BEST: Paul Bunyan Famous Hamburgers
---
Best Fine Dining | CLINKERDAGGER
Remember those heady days when Spokane was the center of the world during Expo '74? Even if you don't, Clinkerdagger, which opened the same year as the fair, is still around and remains the standard for fine dining in the city, providing diners with a majestic view of the Spokane River while they feast on steaks, salmon and pasta. (JT)
2nd PLACE: Churchill's Steakhouse; 3rd PLACE: Beverly's
---
Best Steaks | CHURCHILL'S
To get the best steaks in Spokane, Churchill's takes USDA Prime cuts of beef that have been fattened with grain. They are then aged in cryovac bags to seal in their juices before being cooked on a custom-made ceramic broiler that instantly sears the meat and leaves it with a nice crust. They are seasoned with a proprietary blend of spices before being served. (JT)
2nd PLACE: Wolf Lodge Inn; 3rd PLACE: Spencer's
---
Best Mexican | AZTECA
Sometimes you just want a hearty plate of comfort food, and Azteca has it down. Hungry patrons enjoy platos tipicos - enchiladas, burritos and tacos - while cantina revelers down pineapple jalapeño margaritas and refreshing cheladas. The kids' menu, assorted vegetarian options and heavenly desserts make Azteca a sure thing for all. (AMK)
2nd PLACE: Rancho Chico; 3rd PLACE: Atilano's
---
Best Seafood | ANTHONY'S AT SPOKANE FALLS
Anthony's never fails to impress, with seasonal, local ingredients paired with fresh seafood and fish from the greater Pacific Northwest. With the early winter melt, now is the perfect time to take advantage of Anthony's amazing view of the Spokane River rushing over the falls, all while enjoying early spring's cold-water bounty. (AMK)
2nd PLACE: Milford's; 3rd PLACE: Red Lobster; NORTH IDAHO'S BEST: Fisherman's Market, Coeur d'Alene
---
Best New-To-The-Region Food Trend | FOOD TRUCKS
Tacos al pastor. Wagyu beef sliders. Jerk chicken. Inlander readers worship food trucks, dining al fresco at late-night venues, farmers markets and special events. Food truck devotee Morgann Russell says it best: "I was in desperate need of a life-saving meal when I (literally) stumbled upon the Bistro Box. Great folks and delicious food!" (AMK)
2nd PLACE: Ramen; 3rd PLACE: Tapas/Small Plates
---
Best Burger | WISCONSINBURGER
It hasn't even been a year since Wisconsinburger introduced its menu of Midwestern fare to Spokane, but the city already has decided that its burgers are the best around.
In April of last year, Jeff Nordvall and Laura Paisley opened the retro-style restaurant after traveling through the Midwest — where they're from — to visit family and making some nostalgic stops at mom-and-pop burger shops along the way. Back in Spokane, they used to own what was previously the Lantern Tavern, then a small, 12-seat bar, but after selling it, they wanted to do something bigger, something that harkened back to their Midwestern roots.
"It's kind of fun, we have this pride of where we're from and we're loving it here, too," says Nordvall.
They definitely feel the love from the surrounding South Hill neighborhood the restaurant is nestled into, but Nordvall says they also get customers — especially transplanted Midwesterners — making hour-long drives to come and dine.
Paisley thinks the draw is Wisconsinburger's dedication to freshness. "The biggest thing that makes our burgers delicious is that we fresh-grind the meat every day," she says.
The buns are delivered daily from Alpine Bakery, the fries and chips are hand-cut, the bacon jam found on the Spooner burger is made in-house and of course, the butter and cheese come from Wisconsin.
So far the Wisconsin burger has been the most popular on the menu. When you bite into that simple combination of lettuce, tomato, Wisconsin sharp cheddar and grilled onions, you taste the succulence immediately and a pile of juice quickly forms in the basket below to tangibly prove it.
As Spokanites scan the menu, Paisley says people usually have to ask, "What's a cheese curd?" Tiny balls of differently sized cheese curds — a byproduct of the cheese-making process — are deep-fried in Miller High Life batter. After popping one into your mouth, you know those greasy, golden lumps are dangerously addicting for any fan of things fried and cheesy. They come piled in a basket, or you can bite into them on the Awe Geez burger.
"The formula [for Midwestern food] is always burgers, fried cheese curds and frozen custard — what we're working on now," Paisley says.
That deliciously dense dessert is on its way to the menu. ♦ (JO MILLER)
2nd PLACE: Red Robin; 3rd PLACE: Waddell's; NORTH IDAHO'S BEST: Hudson's
---
Best Asian | GORDY'S SICHUAN CAFE
Don't let Gordy's unassuming storefront fool you: what's happening inside is as groundbreaking as it is popular. Fan Megan Read gets her Gordy's fix as often as possible. "Almost all the dishes are bursting with flavor, but the Gan Bian green beans are my 'must-have' every time - they are completely addictive!" (AMK)
2nd PLACE: Red Dragon; 3rd PLACE: Bonsai Bistro
---
Best Italian | TOMATO STREET
Tomato Street's extensive menu of pizza, pasta, salads and calzones beckons satisfied enthusiasts back year after year. Wood-fired brick oven pizza is a standout, offering classic toppings alongside unique choices like jalapeño bacon and feta. Love pasta but can't eat gluten? With more than 10 gluten-free pasta options, this is the place to indulge. (AMK)
2nd PLACE: Italian Kitchen; 3rd PLACE: Luigi's; NORTH IDAHO'S BEST: Tito's Italian Grill, Coeur d'Alene
---
Best Special Diet Menu Options | BOOTS BAKERY AND LOUNGE
Boots Bakery and Lounge excels at laughing in the faces of dietary constraints. With a revolving and evolving menu that offers vegan and mostly gluten-free meals and baked goods, Boots is a favorite for the early morning and midday set. In the evening, Boots fits right in with a vast selection of innovative cocktails. (AMK)
2nd PLACE: Mizuna; 3rd PLACE: Luna
---
Best Innovative Cuisine & Best New Restaurant | THE WANDERING TABLE
What makes the Wandering Table's cuisine so innovative? "We offer Northwest, Asian, Italian, French cuisine... everything you could find at other restaurants, you can find on our menu," says general manager Paul Dorazi. To get the most out of this diverse menu, corral a group of friends and share as many small plates as you can manage. Or opt for the chef's tasting. (AMK)
Best Innovative Cuisine
2nd PLACE: Nudo; 3rd PLACE: Ruins
Best New Restaurant
2nd PLACE: Nudo; 3rd PLACE: Ruins; NORTH IDAHO'S BEST: MickDuff's Brewing Company, Sandpoint