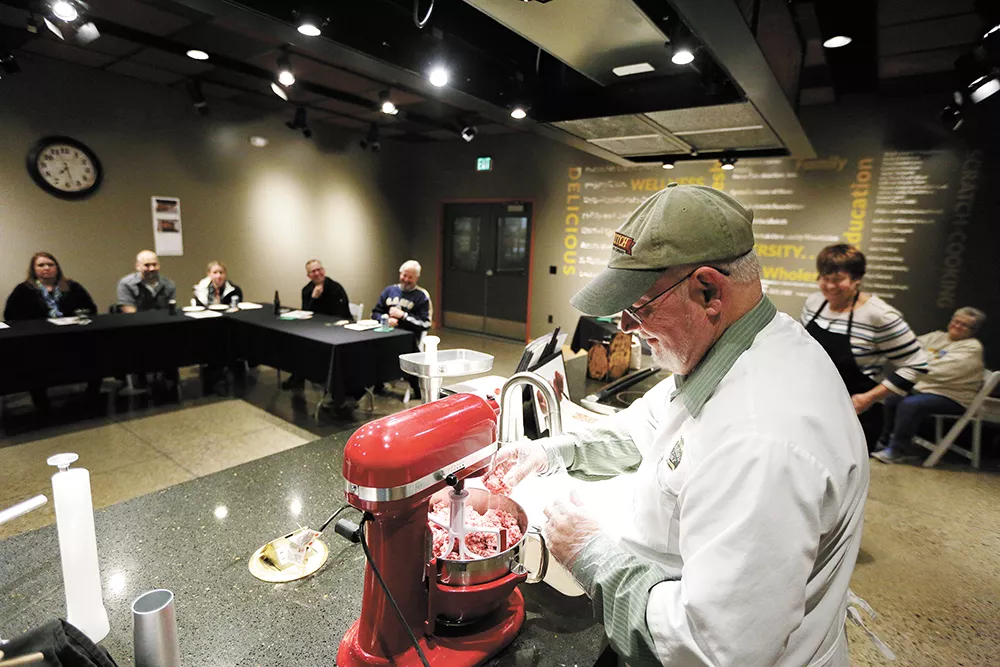 WHAT YOU CRAVE
Last year, a new food and drink event came to Spokane Valley's CenterPlace Regional Event Center. Crave NW brought in 50 chefs over four days with demos, tastings and classes. Whether you went or just heard the buzz, you're probably wondering what's different this year (and what's the same). For one thing, it's moved from June to July 12-15. There are three themed evening events — seafood, world foods and barbecue — and a Sunday brunch, for which chef-created bites are paired with local beer and wine. Grand Tastings on both Saturday and Sunday offer heavy appetizers from local purveyors, with more food than last year, and a selection of libations. Tickets to each individual event are all-inclusive, though now there is a beer, wine and spirits store. A big name on the long list of guest chefs this year is Hugh Acheson, a Canadian-born chef based in Atlanta, who is a judge on Top Chef. Along with Acheson, you'll meet folks from all over the region and the country.
"We're just trying to do it all better," says Karen Stebbins, one of the event founders. "We're here to stay." Come check it out, you just might find what you crave. Visit cravenw.com.
FREE FOOD FUN
You probably don't immediately associate libraries with food, so you might be surprised to find a bunch of free food events at Spokane County and city libraries this summer. Come swap your extra produce at the Spokane County Library District's Medical Lake, Cheney, Otis Orchards, Deer Park and Fairfield branches this August, and find a full list of the dates at scld.org.
Register for a pizza-making class at the Lab at the North Spokane Library (Aug. 15 from 2-3:30 pm for grades 9-12; adults can try out their skills on Aug. 23 from 6:30-8 pm). Also at the Lab, tweens (grades four +) can compete for the best Meal in a Mug on July 24 from 2-4 pm. Registration for both events is required at scld.org.
Bring your picnic basket to the Moran Prairie Library on July 26 from 7-8 pm for the annual Poetry Picnic featuring four local poets, with gelato served by Ferrante's Marketplace Cafe.
The Spokane Public Library also hosts several food education sessions this summer. Get the scoop on starting a plant-based diet at the East Side branch on July 24 and the South Hill branch on June 25; both events are free and start at 6:30 pm.
Locals can learn about food preservation at the Indian Trail branch on July 14 and the Hillyard branch on July 28; both free events start at 2 pm.
Learn the basics of jerky making at the East Side branch on July 10 at 6:30 pm. For more information on these sessions and more, head to spokanelibrary.org.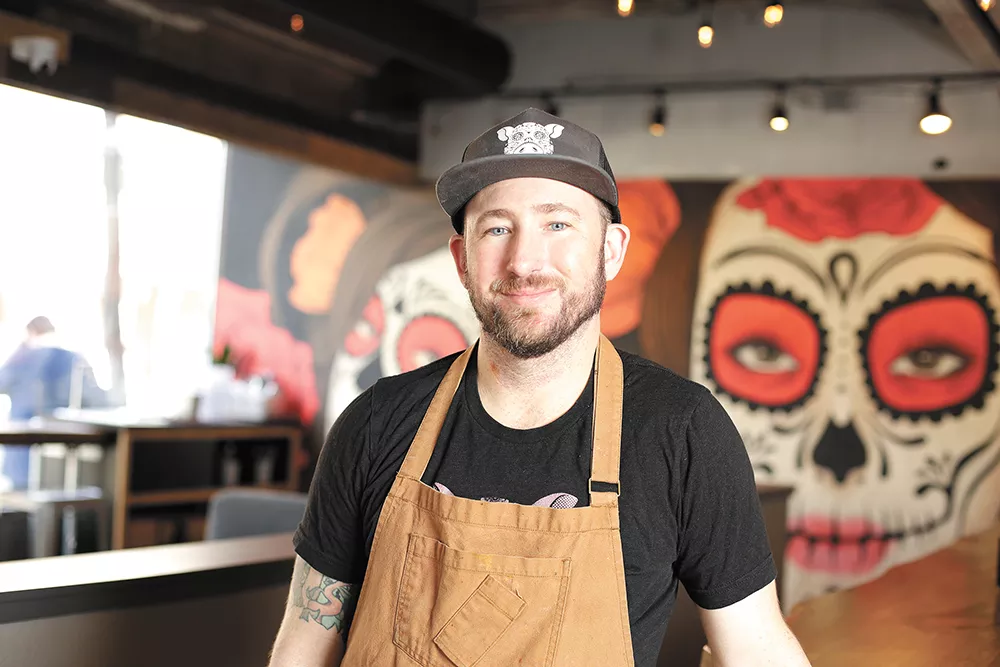 FOOD BY THE BOOK
Though Inland Northwest Food Network's Food For Thought Book Club in Coeur d'Alene takes a break for the summer, there's still time to catch the Spokane club's June meeting discussing Pig Tales on June 25 at the WSU Spokane County Extension (222 N. Havana St.) from 6-8 pm. Both the Coeur d'Alene and Spokane clubs resume reading in September; find this year's complete reading list online at inwfoodnetwork.org.
Batch Bakeshop is starting a bookish lunch club. On July 10, from noon-1 pm, come discuss Buttermilk Graffiti and enjoy a themed lunch. It's $45 for lunch and the book, or $30 if you bring your own book. Future titles for the series are to be announced; registration required at batch-bakeshop.com.
Also check out Batch's ongoing Dessert First cookbook club, featuring Kale & Caramel by Lily Diamond on July 11 and How To Eat a Peach by Diana Henry on Aug. 1. All events are from 6-8 pm (pre-registration required), and $60 gets you a demo class, treats and a book to take home.
KEEP IT CLASSY
There's no better time to brush up on your skills than summer, and you've got options. Learn to put together spectacular salads at the Inland Northwest Culinary Academy on June 14 ($59).
The Kitchen Engine always delivers a wide range of cooking classes year-round. This summer, check out the Farm to Table series on June 27, with more planned, for $49. Participants first head to the Kendall Yards Night Market to pick up produce, then return to the Engine to extemporize a menu. Throughout the summer, locals can also get the scoop on multi-cookers, basil, sushi-making, happy hour bites to make at home and more. Classes often fill up early, so head to thekitchenengine.com for the complete schedule and registration.
Learn to make cheese with the Inland Northwest Food Network on July 19 at the Jacklin Arts & Culture Center in Post Falls. Registration is required and class costs $30 per person, or $25 for members.
Learn to make handmade pasta at the historic Commellini Estate in North Spokane on June 16 or 17 from 10 am-1 pm at $50 per person, including a family-style meal at the culmination of class.
Start your own kombucha with experts at My Fresh Basket in Kendall Yards on June 19 from 6-7:30 pm ($30).
Check out Second Harvest's cooking classes for adults, including a free session on how to take tofu from bland to mindblowing on June 20. Get the kids (ages 8-12) involved, too, with the Kitchen at Second Harvest's first summer cooking camp ($100) from June 25-28, meeting 2-4 pm each day, covering cuisine from around the world. Find more classes and register at secondharvestkitchen.org.
LIMITED TIMES BITES
Chef Nick Pitsilionis is creating a special tasting menu at the Black Cypress in Pullman, calling on the bounty of the Palouse. Make your reservations for June 23, July 7, July 14 or Aug. 4; all dinners begin at 6 pm ($80, add $35 per person for an optional wine pairing).
Come to a tequila and mezcal pairing dinner at Cochinito Taqueria on July 22 at 6 pm ($70, call 474-9618 for reservations). Chef Travis Dickinson says there will be more than tacos on the menu (as if that would have been a problem).
Join Inland Northwest Food Network for its Farm to Table series dinner at Ace of Spades farm in Spokane on July 15 from 4-8 pm. Joe O'Neal, sous-chef at Ruins, is cooking, and guests will get to see exactly where much of the meal's food came from ($75/person).
Sample barbecue by master pitmasters from around the country at July 14's From the Ashes: An American Smoked and Fired Foods Adventure at Settlers Creek event venue in Coeur d'Alene ($15-$83).
Wander through 12 courses by chef Adam Hegsted on Maryhill Winery's outdoor balcony overlooking the Spokane River on June 21 from 6-8 pm for the Chef and Somm Dinner Series ($120/person; call 443-4410 for reservations).
EAT FOR A CAUSE
At the annual Scoops and Bowls on July 16 at 11 am, fill a handmade bowl with ice cream and toppings at Manito Park and support Urban Art Co-op. Bowls start at $10, and you get to take them home.
Enjoy Tuscan-inspired cuisine at Barrister Winery on July 13 at 6 pm to support the YWCA of Spokane's domestic violence shelter at its annual An Evening in Tuscany benefit dinner. Tickets are $85 per person. ♦