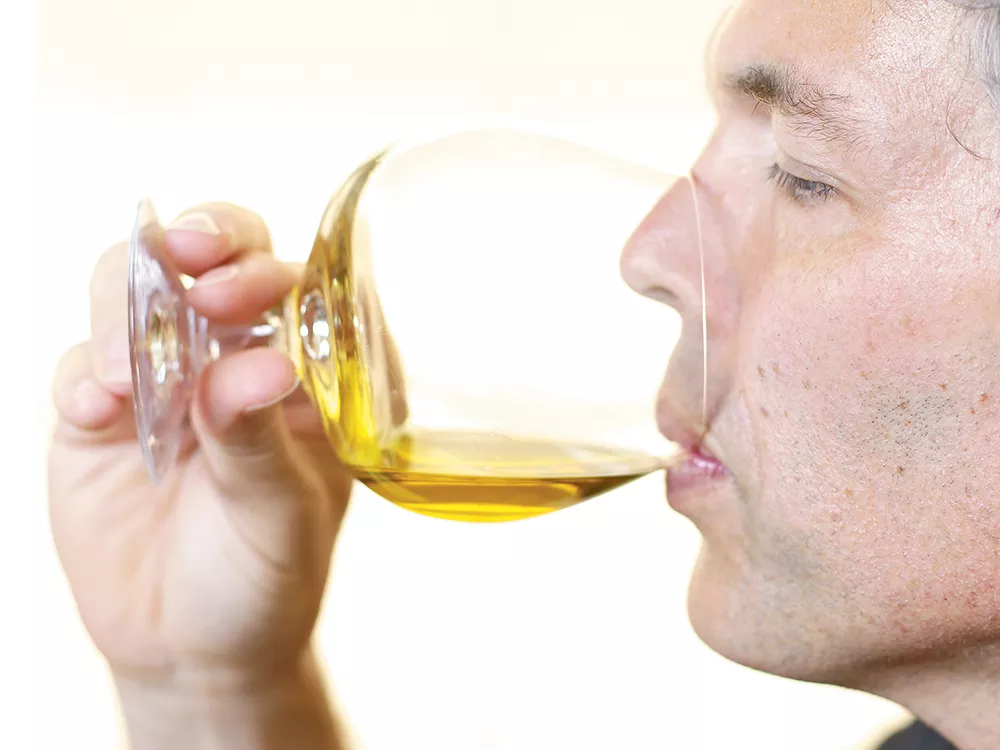 For some, olive oil is a healthful choice on salad or bread.
But author Tom Mueller, who splits time between the Inland Northwest and Italy, the oil has become much, much more than an afterthought in the pantry.
After he found that consumers are often not getting what they pay for when they buy a bottle labeled "extra virgin olive oil," he set out to expose the fraud. Now it appears that his efforts may bear fruit.
In October of last year, the International Trade Commission launched an investigation into the U.S. olive industry to explore what regulations may be necessary to keep American companies competitive in the face of imported oil. It's those two seemingly simple words — "extra virgin" — and the controversy that surrounds them that sparked the investigation.
Mueller is the best-selling author of Extra Virginity: The Sublime and Scandalous World of Olive Oil, a book that exposed fraud and corruption in the olive oil industry. He describes extra virginity as "fresh squeezed fruit juice," processed without the use of high heat or industrial solvents since both jeopardize oil quality, but the U.S. Department of Agriculture has its own voluntary standard for olive oil.
For olive oil to be considered extra virgin, it must have no more than 0.8 grams of oleic acid per 100 grams of oil, among other chemical requirements. It also cannot contain any of 16 standard sensory defects ranging from muddy sediment to rancid wood, according to European Union law.
If properly implemented, Europe's more stringent requirements could potentially raise the price of imports and make domestic olive oil prices comparable, but the situation is cloudy, according to Mueller.
This is especially troublesome when you consider that in 2012, the Spanish Minister for Agriculture, Food and Environmental Affairs said subsidies in that country for olive oil equaled approximately $1.3 billion. These subsidies allow European companies to artificially lower the price of extra virgin olive oil.
But Mueller says that some of this product isn't even extra virgin olive oil.
"A significant amount of olive oil sold as extra virgin, especially in food service, is adulterated with other seed oils. You buy cheap seed oils and you mix it in with olive oil and you sell it as extra virgin and you've just made a lot of money," says Mueller, adding that the voluntary nature of regulatory standards in the U.S. means there is little if any effectiveness to the process.
In June, the federal farm bill did not pass, but the congressional proceedings disturbed Mueller.
Legislators added an amendment to the farm bill that would have essentially exempted imported oil from quality regulation. While the bill didn't pass, Mueller sees the vote as an unfortunate sign of the strong hand of olive oil companies opposed to new quality regulations on imports.
A Trade Commission report, originally scheduled for release Aug. 12, has been delayed indefinitely. But when it is finally released, Mueller is confident that it will drive crucial discussion about olive oil.
"I think the International Trade Commission, the work that I've seen them do is fantastic. I fully expect [the report] to be a really important document that lays clear a number of issues that have been in the dark until now," says Mueller.
The voluntary standard adopted by Australia also set an excellent precedent, according to Mueller. There, regulators adopted a national standard that created stricter measures for chemical and taste tests, so the likelihood of a fresh product in stores improved dramatically.
In April, the North American Olive Oil Association surprised Mueller when it filed a lawsuit against Kangadis Food Inc., a New York-based company that markets Capatriti brand olive oils for alleged deceptive marketing about olive oil quality. Essentially, the company was taken to court for selling olive pomace oil — a waste product from the oil extraction process, produced when an industrial solvent is added to the olive pits, skin and flesh — as olive oil. The ongoing class action suit alleges that the company misrepresented its product, and the value of that product, to consumers.
Mueller says that more and more consumers are becoming aware and concerned about the quality of their olive oil.
"I went to KeHE, which is the No. 1 supplier of supermarkets in America. ... These people invited me to come and do olive oil education at their Chicago convention, and I was booked up. Every 15 minutes of my life for two days was booked up by olive oil and whatever else the buyer and the supermarkets wanted to clue themselves into. ... I guarantee you, two years ago that wouldn't happen," he says.
Locally, Mueller recommends Oil and Vinegar in River Park Square as a reliable spot for high-end olive oil. But he adds that some chain store labels like Trader Joe's now show more detail, and the selection at Huckleberry's is laudable, but quality remains hit and miss. Mueller finds these fraudulent or rancid products by regularly tasting, and in some cases, by adding the authority of lab testing to determine chemical quality.
"The only way to go forward for me is consumer education," he says. "That is literally the only way in which change will come, positive change in olive oil quality, is when the consumer starts saying, 'This is rancid.' All of the regulation stuff comes after the fact."