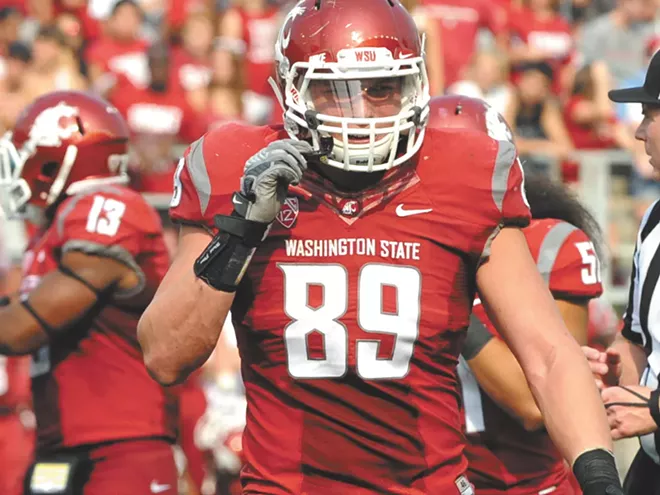 NFL Flag Football League
Teams of 5-10 members can register to participate in this summer league, with practice on Tuesdays and games on Thursdays. June 5-Aug. 8. Coed, ages 5-15. Register by May 24 to participate, more information online. At Dwight Merkel and Southeast sports complexes. $129. spokanerec.org

Vandal Skills Camp
A daily skill camps offer coaching in various aspects and positions. Grades 9-12. June 11-12 from 1-4 pm. At the U of Idaho Kibbie Dome. $50. vandalfootballcamp.com
Vandal Showcase
A one-day, full-contact camp to offer potential high school prospects in the Northwest an opportunity to be evaluated by the University of Idaho football staff. Grades 9-12. June 13 from noon-5 pm. $200.
vandalfootballcamp.com
Vandal Youth Camp
A kids football camp led by U of Idaho coaching staff and players. Grades 2-6. June 14 from 8:30 am-noon. $40.
vandalfootballcamp.com
Vandal Team Camp
Campers experience the same coaching philosophy as the Vandals in a fast-paced, energetic atmosphere with morning individual practice sessions, competitions, team practice and scrimmages, strength and conditioning instruction, and more. Grades 9-12. June 17-19. At the U of Idaho, Moscow. Commuter/resident options. $225-$250.
vandalfootballcamp.com
Whitworth Football Team Camp
An overnight contact football camp designed to give each camper instruction in football fundamentals and techniques, as well as the opportunity to scrimmage against other 8-man teams. Coached by Whitworth head coach Rod Sandberg and coaching staff. Grades 9-12. June 17-19. $225.
whitworthpirates.com
Skyhawks Flag Football
Players learn skills on both sides of the football, including passing, catching and defense, in camps ending with the Skyhawks Super Bowl. Camps are held at local parks and schools throughout the Spokane and Coeur d'Alene area. Coed, ages 6-12. Camps offered June-August; see site for complete list of dates and locations. $69-$165/session.
skyhawks.com
EWU Individual/Team Camp
Improve techniques and game strategies as an individual or with a team, with instruction from EWU coaches. Grades 9-12. Offered June 19-22 and June 26-29. At EWU Roos Field. Overnight/commuter options. $85-$325.
totalcamps.com/EWUFOOTBALL
Vandal Kicking Camp
A one-day session led by former Vandal player and NFL kicker Mike Hollis, along with former NFL kicker Dan Zeidman. Grades 9-12. June 20 from 9:30 am-5 pm. $100.
vandalfootballcamp.com
EWU Specialist Camp
A camp offering instruction and drills for kickers and long snappers with Eastern's ST coordinator Heath Pulver, including film review and evaluations. Grades 9-12. June 22 from 10:45 am-4:30 pm. At EWU Cheney. $65-$75.
totalcamps.com/EWUFOOTBALL/
EWU Big Man Camp
A camp with Eastern coaches and staff for players who specialize as offensive or defensive lineman and tight ends. Grades 9-12. June 23 from 9 am-noon (grades 9-10) and from 1:30-4:30 pm (grades 11-12). At EWU Roos Field. $75-$85.
totalcamps.com/EWUFOOTBALL/


G-Prep Football Camp
A football camp with everything from drills to in-game competition. Kids have an opportunity to be led by varsity coaches and varsity players. Grades 5-8. June 24-27, meets from 8 am-noon. $75.
gprep.com
EWU Quarterback Camp
Join Eastern coaches and players for a non-contact quarterback skills camp. June 29 from 9 am-noon (grades 9-10) and noon-5 pm (grades 11-12). At EWU Roos Field. $100-$125. totalcamps.com/EWUFOOTBALL/
EWU WR/DB Camp
A non-contact skills camp for wide receivers and defensive backs, led by Eastern coaching staff and players. June 29 from 9 am-noon (grades 9-10) and noon-5 pm (grades 11-12). At EWU Roos Field. $60-$80. totalcamps.com/EWUFOOTBALL/
Pirate Youth Football Camp
Players learn and grow in their football knowledge and skills while they enjoy hearing from Whitworth coaching staff and current team members. Camp consists of position instruction with corresponding drills, small group breakout sessions and daily competitions. Grades 2-6. July 23-27 from 9 am-noon. At the Whitworth Pine Bowl. $85. whitworthpirates.com
Cougar Football Mini Camp
After learning the importance of hydration, campers receive instruction as they rotate through a series of agility stations and breakout for position specific individual drills before competing. Also includes tours of the WSU football facilities. Grades 10-12. July 27 from 11 am-3 pm. $50. wsuathleticcamps.com
Cougar Specialist Showcase
Youth receive non-contact instruction from WSU coaching staff and players, and take tours of the WSU Football facilities. Session is specially for kickers, punters and long snappers. Grades 10-12. July 27 from 8-11 am. $50. wsuathleticcamps.com