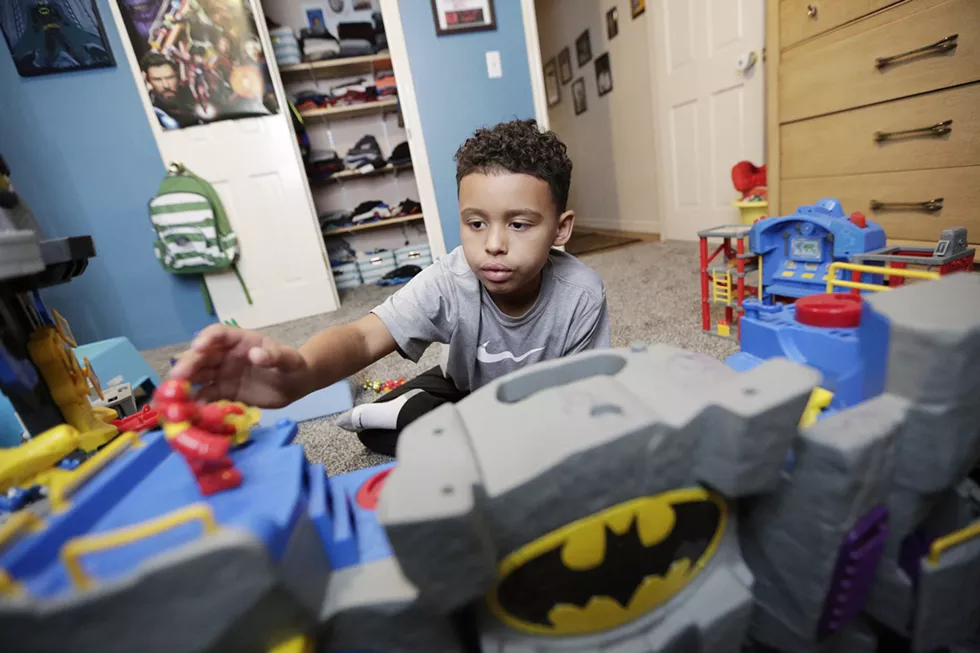 If Isaiah Muse were a superhero, he would be the Flash.
In his room, surrounded by toys, he imagines what he'd do with his powers. He imagines running super fast. He imagines wearing a red suit, his favorite color. He imagines saving people from fires, but only if the firefighters can't. He imagines going someplace nice afterward, like Hawaii.
Flash, in fact, is his middle name. When his dad died, his new parents let him add it on his birth certificate.
Then he remembers one more thing about the Flash: He can go back in time.
"If I could run back in time like the Flash," 7-year-old Isaiah says, his eyes widening, "I'd bring my dad back."
His dad, Alfred, died at Sacred Heart Medical Center exactly three years ago of an overdose, a combination of opiates, meth, alcohol and cocaine in his system, according to an autopsy. His mom, who has battled her own issues with drugs, lost her parental rights, putting Isaiah and his siblings into foster care.
Fueled by America's opioid epidemic, more and more children like Isaiah are losing their parents to drugs and pouring into state foster care systems. In Montana, the number of children entering foster care has more than doubled since 2009, federal data shows. West Virginia, with the highest overdose rate in the nation, saw a 56 percent increase in children entering foster care since 2010.
Already traumatized by losing their parents, these drug orphans become entangled in a foster care system often ill-equipped to handle them. A shortage of foster families leaves children without a home, and states like Washington have taken to housing kids in hotel rooms or shipping them to other communities. The kids are part of a generation increasingly hampered by childhood trauma that can set them up for failure.
Despite losing his father at age 4, Isaiah is one of the luckier ones, experts say. He was adopted by Chanda and MonRá Muse, relatives who had cared for him before. Still, while Isaiah benefits from a stable and loving household in Spokane, they see signs of his troubled childhood every day.
He worries about his next meal. He fears leaving their side. He's sensitive to changes in routine.
"We just don't know what he saw and what he was exposed to," Chanda Muse says.
THREE CALLS
For MonRá Muse, the first call came when Isaiah was a newborn. MonRá's cousin, Alfred, called and asked if he could take care of Isaiah, since the state wouldn't let him or Isaiah's mom have custody.
Isaiah was 10 days old when MonRá (pronounced MON-RAY) and Chanda picked him up from a local foster home. For more than a year, they fed him, changed his diapers and played with him.
"We just got really attached very quickly," Chanda says.
Then social workers brought him back to his biological parents. Chanda and MonRá only saw Isaiah on some weekends. When Isaiah and his younger brother visited them, Chanda and MonRá picked up a few signs of what was going on back home. Isaiah talked about his dad hitting his mom in the stomach, Chanda says. Brand new shoes that Chanda and MonRá bought Isaiah would disappear. One time, Isaiah showed up wearing no shoes and only his mother's socks. If the milk ran out, he'd panic as if he'd never have milk again.
Chanda would stuff Isaiah's backpack with food before he went home. Still, Isaiah and his younger brother would come back the next weekend starving. At 2 and 3 years old, they would split an entire pizza.
But as a toddler, Isaiah couldn't describe what home was really like. It wasn't until years later when, Chanda says, she found out he never had a bed at home. He just slept on the floor.
In summer 2015, MonRá got another call. The police had Isaiah's mom, and she needed someone to take her kids. For about a month, Chanda and MonRá, licensed foster parents at the time, cared for Isaiah and his two younger siblings. But they didn't have enough space in the home for all of them. Chanda and MonRá could only keep Isaiah. The other two children went to another foster family.
Then came the third call. It was MonRá's family. Alfred was in Sacred Heart hospital. He died before MonRá could rush over to the hospital to see him.
"I was just thinking about Isaiah and what I'm gonna tell him," MonRá says. "How do you tell a 4-year-old that his dad overdosed on drugs?"
They opted to tell him during therapy that his dad took the wrong kind of medicine.
Afterward, he was in the car with MonRá.
"He said, 'Papa, my dad died,'" MonRá says.
MonRá pulled the car over. He told Isaiah that he promised to take care of him for the rest of his life.
"He wasn't crying," MonRá says. "But I felt like I was."
A GROWING ISSUE
Overdose deaths across the country have been rising for years. But it wasn't until 2013, when fatal overdoses started to skyrocket, that the impacts of rampant drug abuse finally spilled into foster care.
It's straining child welfare systems everywhere. The number of children in foster care increased each year starting in 2013, up to 437,500 children in 2016, according to the latest government data.
"It's a huge issue," says Chandra Ghosh Ippen, associate director of the child trauma research program at the University of California, San Francisco. "It's a big issue for kids, and for the parents struggling. It's a big issue for schools, for child welfare, for child therapists."
Aside from overdose deaths and hospitalizations, parental drug use is increasingly cited as a reason to remove children from their parents. Since 2015 in Washington, parental drug abuse was a factor in more than 6,000 cases where children were removed from their parents, according to the Department of Children, Youth and Families. That's more than a third of all foster care entries statewide.
Idaho has far fewer children placed into foster care than Washington does, but nearly half of children entering the system had parents abusing drugs. The same goes for Spokane County, where 48 percent of the 642 kids entering foster care last year had drug-addicted parents, state data shows.
"He's always asking about the next meal when he's still eating a meal."

tweet this
Ghosh Ippen studies childhood trauma and co-authored a book on treating children who lost a parent to death. It's traumatic, Ghosh Ippen says, for any child to be separated from a parent they've formed an attachment to — whether it's a child ripped from their mother's arms at the border, or a child taken into the foster care system. And that feeling of loss resides in children later in life, even if they sometimes can't remember moments from their early childhood at all.
"Even when the brain doesn't remember, the body remembers," Ghosh Ippen says.
She cites a book by psychiatrist Bessel van der Kolk called The Body Keeps the Score, which found that childhood neglect, like sexual or domestic abuse, can linger in a kid's body and wire them to be on high alert at all times. It creates mental maps in a child's brain that can skew their view of the world. Another recent study in the Journal of Health Psychology found that children who lose parents at an early age are more likely to experience depression, anxiety and substance use disorders.
Children growing up in unstable households, witnessing domestic violence or experiencing neglect, can be triggered later in life, Ghosh Ippen says. If they're coming from a place where there's chaos and unpredictability, they crave routine. Any change in that may cause anxiety.
In a household lacking food, kids might worry about food later in life. Sometimes a toy or a teddy bear can trigger negative memories or a feeling of danger. It can make it difficult for children to focus in school.
"People might say you have trouble focusing, and you're actually focused on danger," Ghosh Ippen says.
It's not like any child who suffered trauma is "doomed," she says. Each child and each situation is different. There's genetic variability and family variability.
But positive relationships matter. And that's something that can be hard to find in an overwhelmed foster care system plagued by a shortage of foster parents, only getting worse as the drug crisis grips the country.
Washington state, in particular, faces severe challenges. State leaders have estimated a need of at least 1,000 more foster families for the growing number of children entering the system. The state also cites the need for more group homes or facilities for children with serious mental health or behavioral services.
In Idaho, a state audit found last year that "a worsening shortage of foster parents threatens the fidelity of the state's child welfare system."
Yet with a lack of beds overall, the state is placing children in hotels — a costly measure that only furthers childhood trauma. InvestigateWest, a Seattle nonprofit, recently found the state paid for kids to stay more than 1,000 nights in a hotel or office in the last year, at an average cost of $2,100 per night. And the practice of sending children out of state to receive mental or behavioral health services has expanded, with around 100 foster kids currently placed in a different state, InvestigateWest found.
It's the opposite of what foster children need, especially those who may have grown up in an unstable household with drugs. Without solid parental figures, children can have further issues as they get older, says Rhonda Crooker, a public health nurse with the Spokane Regional Health District. It can lead to anything from drug use, to difficulty with romantic relationships, to crime.
It's a cycle that lasts generations. Crooker hears complaints about property crime and drug use in Spokane. But those people should think about why people do that in the first place.
"They forget that those adults used to be children," Crooker says. "And almost all of those children come from some kind of trauma."
REMINDERS OF TRAUMA
A line of kids walk single file out of Ridgeview Elementary School. It's the first day of second grade for Isaiah, and it happened to be one of his classmates' birthdays, so each kid takes a cupcake on their way out.
"Zay Zay!" Chanda says, waving at Isaiah. He waves back and runs over. He's wearing new white shoes, black cargo shorts and an Adidas sweatshirt with a polo underneath.
The first few weeks of school are usually hard on him, Chanda says. It's a change in routine. There's uncertainty. It's also around the time his dad died three years ago.
Isaiah has always loved drawing. In kindergarten his favorite superhero to draw was the Hulk, says his former kindergarten teacher at Ridgeview Elementary, Kate Tomlanovich.
One day three years ago, she noticed he drew something different. It was Isaiah with his dad, just hanging out outside.
"I said, 'Wow, you and your dad got to hang out!'" Tomlanovich says. "He said, 'My dad died.'"
Later, he'd approach her looking for a hug. Sometimes they'd have lunch together if Tomlanovich thought he needed someone to talk to. She's been teaching for 17 years, and she still gets new training on how to teach kids who have dealt with early childhood trauma.
"If kids aren't socially and emotionally well, there's really not a way for them to learn new academic concepts," she says. "They're just inundated with trauma or the emotional experience they're having."
Schools recognize that reality. Spokane Public Schools added mental health therapists for children to talk to in recent years as it emphasizes less punitive ways of handling traumatized kids. But supporting children emotionally can be challenging, especially when teachers only get snippets of what their kids are actually going through, Tomlanovich says.
"Sometimes it's difficult to pinpoint what they're feeling," she says.
Foster families, too, sometimes only get pieces of what their young child went through.
Two weeks after school has started, Chanda watches Isaiah at a Burger King play place. Children's playful screams and sounds of rumbling feet fill the room. At a table next to the giant playset, Isaiah sits with Thomas and Charlotte, his biological siblings who he only gets to see occasionally.
Isaiah, the oldest, wears a Burger King crown next to his brother Thomas. He and Thomas have a lot in common, even though they don't live together anymore. Both love drawing and will sometimes exchange pictures when they get to see each other. Both love superheroes, though Thomas prefers Batman.
Other similarities, however, remind their adopted parents of their troubled childhood. The first few weeks of school, like any change in routine, are hard on them. Both have issues with food. Both ask about their dad frequently.
"He's always asking about the next meal when he's still eating a meal. He'll be eating breakfast and asking, 'What are we doing for dinner?'" Chanda says, watching Isaiah scarf down his burger.
April Burrer adopted Thomas and Charlotte after they had already been to three other foster homes. Burrer is a peer mentor with Fostering Washington, an Eastern Washington University program that provides support and training to foster families. She says when Thomas and Charlotte first came into their care, "they were a mess." To this day, Thomas struggles in school. If he gets in trouble, she says, he can't regulate his emotions.
"Last year I had to come to the principal's office, and he had to be carried kicking and screaming out of the classroom," Burrer says.
Isaiah does OK in school, Chanda says. But he gets anxious when he's away from her and MonRá, she says. He doesn't like sleepovers or long road trips. He brings up how he misses his dad at least once a week. Once he asked MonRá, "do my hands look like my dad's hands?" Other times, people tell Isaiah that they knew his dad, and Isaiah can't handle it. He'll bury his face in his hands.
Children who have lost their parents ask questions that sometimes their foster family doesn't know how to answer.
"They want to know, 'Why am I here? Why am I not living with my birth parents?" Burrer says. "And it's hard because you want to answer as honestly as possible, without giving too much information."
MonRá says there needs to be more foster parents. But he also would urge the system to give biological parents more of a chance, to assume noble intent. No matter what, children feel an attachment with their biological parents. MonRá says Isaiah used to recall his dad wrestling with him, tickling him, tossing him in the air and catching him. He'd take him to see all the superhero movies.
"There's a lot associated with superheroes and his dad," MonRá says.
"His dad," Chanda says, "was his total hero."
CHANGING THE SYSTEM
Last year, Secily Elwess, 29, found herself in a courtroom. Days earlier, her newborn daughter was taken from her arms in the hospital. She had already lost other children to foster care, and after spending two years on the streets using drugs, she feared she would lose another.
"Them pulling her away from me was a big eye-opener for me. I said, 'This is not OK. This is not how I want to live my life,'" Elwess says.
She asked if there was any way she could get her daughter back. To her surprise, there was: A new program in Spokane called Rising Strong, run by Catholic Charities.
Rising Strong aims to prevent children from being separated from their parents in the first place. It provides treatment and services to the entire family, working to solve the underlying issues that could separate them.
"Here, we heal the whole family as a unit," says director Valerie Shayman.
For Elwess, it's saved her from losing her daughter. Rising Strong connected her to domestic violence groups, provided services for mental health and drug abuse, and helps with life skills, nutrition and wellness. It provides therapy to the children, too. Now, Elwess is close to reunifying with her other children who were in foster care as well.
"Being here at Rising Strong has really made me become a better person," Elwess says.
Shayman says dozens of children have already been reunited with their biological parents. The program, which started last year, is looking to expand.
"Them pulling her away from me was a big eye-opener for me."

tweet this
It's the kind of program with the right values of supporting the whole family, says Ghosh Ippen, with University of California. However, replicating programs like Rising Strong on a larger scale typically is not cheap, she says.
The alternative would be to radically change the foster care system. Theoretically, it shouldn't be so hard. Experts have good idea of what a child who experienced trauma at a young age needs when entering the foster care system, says Charles Zeanah, vice chair for child and adolescent psychiatry at Tulane University. It looks similar to the situation Isaiah's in now: Foster parents who become the child's primary attachment figures, treat the child as their own and can provide the support the child needs.
"The question is: How do we get that for them?" Zeanah says.
Foster care systems typically maintain one goal: Ensuring that children are not in physical danger. It can result in short-term placements in foster homes where kids have no chance to form a relationship with their caregiver.
Zeanah, who studies childhood trauma extensively, supports a different approach called the Quality Parenting Initiative. Foster parents are not just temporary homes, they're expected to be committed to the child, while still working with biological parents. The child welfare system, in exchange, treats the foster parents like professionals and works with them collaboratively. That, in turn, attracts more foster care parents overall.
"It changes the nature of the foster care system," Zeanah says.
Carole Shauffer is senior director of the Youth Law Center in California, which designed the Quality Parenting Initiative (QPI). She says it's a philosophy that aims to change foster care: prioritizing healthy development of the child through relationships. QPI started in Florida more than a decade ago, when the state was going through a similar situation as Washington is now, with children sleeping in offices or hotel rooms.
It's since expanded from Florida to several states and jurisdictions including California, Louisiana, Nevada and Texas. QPI aims to evaluate each system and look for policies or practices that could change, providing guidance on how to do so. For example, some states have laws stating new foster parents can't be told anything about why a child was removed from their home. QPI would change that law in order to give foster parents critical information about a child so they can care for them more effectively.
A central component of QPI relies on the belief that children are better served in a family setting, not in a residential facility. Prioritizing relationships for children sounds simple, but it's a big difference. Instead of state systems only making policies that will protect themselves from harm, it requires the system to go beyond and focus on the interests of the child. Instead of finding a child a bed, find the child a family.
"You've got to have one or more adults committed to you all the time," Shauffer says. "Not people committed to you on shift."
Other countries take an entirely different approach to child welfare. Ghosh Ippen consults on child welfare in Norway and Sweden, where she says the idea that a parent would no longer be part of a child's life is a "weird conceptualization." Society tends to choose one way or another: Either children stay with biological parents, or they get new foster parents.
It can be traumatic for a child to lose their biological parent. Likewise, it can be traumatic for a child to lose a foster parent they formed an attachment to. Ideally, all of those adults can form a circle of support around a child, she says.
"We tend to choose," she says. "And I don't think children choose."
BACK THROUGH TIME
Isaiah sits on his knees in his room, forming a circle around himself with superhero action figures.
He adds Aquaman to the circle. Then Cyborg. Then Brainiac. He doesn't remember much about when he lived with his parents any more. That was a long time ago, he says. "But I know I had toys at my old house, too."
He's going to be Captain America for Halloween this year. Last year he was the Flash. Sometimes, he dresses up in his costume and runs around the house. He hasn't actually ever seen a comic book, but he knows which of his action figures are villains. "Bad guy, bad guy, bad guy," he says, pointing to the toys in the circle. Sometimes superhero movies can be boring, he says, because the good guys always win. He adds Captain America to the circle.
Then he picks up "Pizza Man," whose belly sticks out of his clothes. Pizza Man isn't a superhero, Isaiah points out. But he should be. "Pizza Man to the rescue," he laughs.
He picks up a toy dinosaur. In school, he's learning about dinosaurs and how they went extinct. He watched a show once that said aliens came down and made the dinosaurs go extinct, but that sounds unlikely, he says. It was probably a meteor shower.
"I wonder how that meteor shower happened, though," he says.
He looks at the Flash. It's a few feet away, breaking the circle of superheroes he's formed. He thinks again about his dad, the same thought he always has, he says.
"I wonder what would've happened if my dad didn't die," he says. ♦
---
About the Author
Wilson Criscione is an
Inlander
staff writer covering education, child welfare and county government. He can be reached at wilsonc@inlander.com or by phone, 509-325-0634.
---