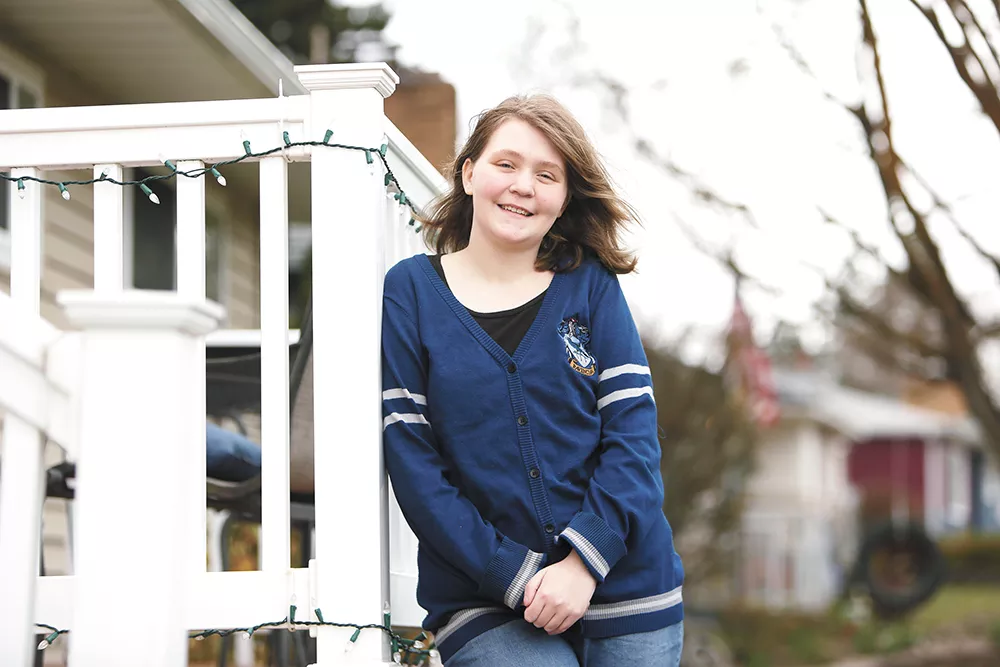 Whenever her mom drove her through downtown Spokane, Elaina Nixon had her sights on the place where she'd one day graduate high school.
"Hey mom!" Nixon would say, pointing out the First Interstate Center for the Arts. "In six years, I'm going to be on that stage graduating!"
She thought the same thing four years ago as she began her freshman year at North Central, where both her parents also graduated from, and then again weeks ago, as she started buying decorations for her graduation party and prepared to send out announcements.
But now, Nixon doubts she'll have the commencement ceremony she always dreamed of. Prom is likely out the window. And she wonders if the day has already passed when all her classmates were together in one place for the last time.
"To know it's all still up in the air, how it's all going to go down, is kind of nerve-wracking," she says.
Among the seemingly endless impacts coronavirus has had on normal life, the pandemic has robbed millions of seniors across the country of their final days of K-12 education. On Monday, Gov. Jay Inslee announced that schools in Washington are closed for the rest of the year. In Spokane, graduation parties are being scrapped, proms are being canceled and grades are left uncertain. And if their path after high school once felt clear, it's only been clouded by a tanking economy.
"We're kind of just stuck at home, and we can't really have the experiences that seniors before us had," says Ariel Hall, a senior at Shadle Park High School.
On top of that, students who are immunocompromised like Nixon — born with cystic fibrosis — still must deal with the constant threat of contracting COVID-19.
Jaden Bowton is waking up a little later than usual these days. Around 11 am on a Thursday, Bowton, a senior at Ferris High School, starts to roll out of bed. His plan for the day: homework, a workout, and a Zoom call with friends. With the extra time he has now, he's even started reading Harry Potter.
In a normal year, Bowton's day would look much different. He'd be in school prepping for his AP tests, playing soccer and getting ready for prom. He'd always heard from his four older siblings how great senior year was.
"I thought it would be my turn to go through what they went through," Bowton says.
Hall, the Shadle student, says she envisioned her senior year to be like something out of High School Musical — celebrating the end of something but ready to begin something new.
"I thought it was literally going to be the best time in my life," Hall says.
Reality, however, is far from what seniors envisioned.
Bowton, who has a scholarship to play soccer at the University of Washington in the fall, was supposed to play the first soccer game of the season on the day Gov. Inslee announced the statewide school closure. He found out about it in his calculus class, when it was announced over the intercom. He says everyone was shocked, disappointed and confused. What would the end of the year be like?
Hall, student body president at Shadle, plays fastpitch softball. Going into the season, she had high aspirations and thought the team had a good chance of going to state. Those aspirations were gone with the school closure. Since then, she's been trying to keep up on school work. She's picked up hobbies that she'd left behind, like piano, painting and writing. While she's tried to keep her spirits up, she admits it's "hard to maintain positivity."
The stakes are higher for Nixon. Cystic fibrosis impacts her lungs and makes her more prone to getting sick. A few years ago, she says she was in the hospital frequently before doctors found out her body wasn't producing antibodies. She gets regular treatment at least twice a day to loosen up the fluid in her lungs.
Nixon kept a close eye on what was happening with coronavirus when it first was spreading in China. Her family has taken every precaution. Even groceries delivered to the house are stored in the garage until any germs go away. She was already away from school by the time the statewide closure was announced. Her dad, a firefighter for the city of Spokane, has been staying in a camper van away from the house so that he doesn't expose her to the coronavirus.
"I'm definitely worried," Nixon says. "Our family has a good handle on contamination protocols and things like that. Other people's families aren't as much. There are people who aren't taking it as seriously, so it makes me nervous because you can't know what everyone else has been doing."
While she knows it's necessary to stay home, she still misses planning for those big senior moments. She had already talked to friends about prom. She planned to wear the dress her mom wore.
"I was getting so excited, thinking that was going to be me," she says.
Nixon's tried to stay busy the last few weeks. She has virtual karaoke sessions with her friends. She practices driving with her mom. But everything feels strange.
"We're trying to have a sense of normalcy," Nixon says. "But it's just kind of in the back of your mind that you're trying to be normal, and it's really not normal."
For the time being, the commencement ceremony remains on the calendar for North Central High School. Principal Steve Fisk says he's crossing his fingers that it can remain.
But it's not just graduation and prom that seniors will miss, he says. It's the last day of school. The yearbook signing. The senior all-nighter.
"Those things are just huge hallmark events in kids' lives," Fisk says. "They forever live in their minds."
Now, it's the coronavirus that will always be riveted in their minds when they think of senior year.
But in Fisk's view, schools can try to create new memories for them. Fisk says the school is doing whatever it can to brighten the day for families and communicate pertinent information.
"Fortunately or unfortunately, I've had to use words like 'Instagram,'" Fisk jokes.
District administration even broached the idea of a "virtual prom," before deciding that might not be feasible, says Shawn Jordan, director of secondary schools for the district. But the district may find a creative way to have a graduation ceremony if it can't be held at its normal time.
"Seniors earning that diploma, that's a major event in someone's life," Jordan says. "We want to preserve that experience."
After that? Many seniors will go off to college in a world still battling the coronavirus. Or they'll try to find a job in an economy ravaged by the pandemic.
Hall isn't so sure things will go back to normal. Her generation will likely be changed by this. But there is one silver lining for high school seniors, she says.
"Everybody else is in the same boat, too," she says. "At least we'll be going through it together." ♦