On Friday, July 1, a wondrous crowd filled the McEuen Park Pavilion in downtown Coeur d'Alene for a "Community Tribute" to two stubborn trailblazers — the late State Senator Art Manley and my recently deceased lawyer husband, Scott Reed.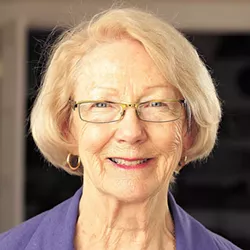 Both men played a critical role in securing public status for the city's treasured asset, Tubbs Hill — a precious plot laced with a network of trails for hikers and rocks for swimmers. The two men also can be credited with maneuvers to protect the land for the now-glorious 15 acres of McEuen Park that loops like a bib around the base of Tubbs Hill.
Speakers at the tribute were very generous in praise of Art and Scott. My family and I were overwhelmed by the outpouring of affection and goodwill.
But I think everyone understood the celebration was bigger than the actions of two men. It was a celebration of their legacy, and the legacy of countless others who cared enough to keep a rare chunk of wilderness free from buildings, cars, motorcycles and other manmade inventions, all situated right in the middle of our small but expanding city.
In his words at the microphone, our son Bruce Reed suggested that Art and Scott would have insisted that they weren't the ones who saved McEuen Field and Tubbs Hill — no, the good people of Coeur d'Alene did that when they voted, 60 years ago this month, against allowing a shopping mall to take over the land that is now McEuen Park.
Bruce also said that both Art and Scott were too modest to have wanted all that attention, and that they would be grateful the event planners scheduled this celebration on a day they could not attend.
Former Coeur d'Alene Mayor Sandi Bloem also spoke of the importance of saving public space. Sandi has been in the middle of the joys and controversies surrounding Coeur d'Alene's downtown for almost 40 years. As mayor, she led the charge for acquisition of the Education Corridor, as well as the development of McEuen Park. Sandi maintains that cities with successful, lively downtowns dedicate some of their most precious property to public use. New York's Central Park is the obvious case in point. Chicago's more recently built Millennium Park is another. Example after example shows that outdoor recreation spaces are as important as business and commerce to the vitality of any city, large or small.
The phrase "sense of place" is shorthand for the special attachment to any unique physical setting that sparks emotions and seals memories. Sandi Bloem believes that the Coeur d'Alene community gets it. Our young people go off to college as children and return eventually as adults to walk on Tubbs Hill and drink in the views of the hill and the lake.
It's also worth remembering that years ago, the beach property around North Idaho College was under consideration as a site for condominiums. Tony Stewart, at that time a new political science instructor at NIC, sent a group of students and senior citizens around with petitions opposing such a takeover. The petitions were presented to the city council, the condo scheme was nipped in the bud, and with the help of grant money the college purchased the beach property, which is popular today with swimmers, kayakers and our resident geese.
Beginning in the early 1980s, the market for North Idaho's lumber dried up and the mills that once dominated the outskirts of Coeur d'Alene began to close. Now in 2016, the transformation from timber town to a different economy is nearly complete. The Education Corridor has replaced one mill with University of Idaho, Lewis-Clark State College and NIC classrooms. These expanding campuses add significantly to the town's public space and to the local economy.
More recently, Northwest Timber's property has morphed into Riverstone, the development led by John Stone that is booming along beside its large pond and city park.
And we can't overlook the good news that the Coeur d'Alene City Council has chosen not to sell the 1.3 acres with access to water on Blackwell Island, that chunk of land on the other side of the Spokane River on the way south to Moscow. Kayakers can launch their watercraft there and paddle out into Cougar Bay.
Environmental advocate Julie Dalsaso, in a recent city council hearing, asserted that even a postage stamp of land, such as that sliver of land on Blackwell Island, is worth saving if it gives the public access to water.
The need to preserve public lands never ends, so it's important to mark the effort to save what my husband Scott always called the city's treasure —Tubbs Hill.
Sandi Bloem is right about public spaces. The mayor, city council and city staff, the members of the urban renewal board of Ignite CDA, and the members of the city art and planning commissions, along with thousands of other Coeur d'Alene residents, also understand the benefits to a city endowed with acres and acres of public space.
Coeur d'Alene is fortunate to be rimmed by public waters — Coeur d'Alene Lake and the Spokane River. It's exciting to see parks and trails and access expanding, not contracting.
Our sense of place overfloweth.♦