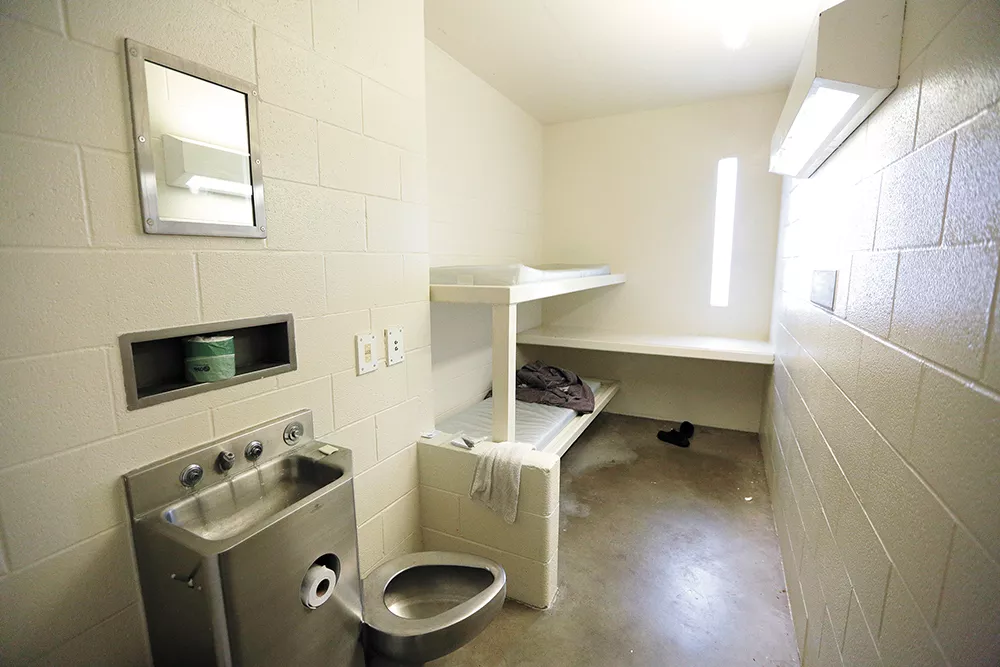 In early June, an inmate died at the Spokane County Jail — marking the ninth fatality in the facility since 2017. While the death is still under investigation, Mike Sparber, now director of Spokane County Detention Services, pointed to a potential drug overdose as the likely culprit.
Speaking with the Inlander in June, Sparber stressed the prevalence of opioid addiction among inmates in the jail: "Spokane has an opioid issue that is really kind of landing on the jail's front door."
When asked about the availability of medication-assisted treatment (MAT) — a medical practice where opioid addicts are given medication to stave off cravings and withdrawal symptoms — Sparber placed the onus on the inmates to enroll in the program: "It's a personal choice by the offender whether they choose to get on the MAT program or not."
What he didn't mention is that from October 2018 through June, Spokane County Detention Services wasn't allowing new admissions to the MAT program provided by the Spokane Regional Health District. And this was when they were receiving two to four inmate referrals per day, according to Misty Challinor, treatment services division director at the public health agency.
"A cease and desist — that's what it felt like," Challinor tells the Inlander, referring to an October meeting where she was informed that they wouldn't be receiving any more referrals for new inmates seeking treatment. "It was no more new admissions from the jail."
The change arose from not having enough correctional guards to escort health district staff inside the facility, health district and corrections staff say.
"It was primarily a staffing issue," says Lt. Don Hooper with Spokane County Detention Services. "There's a demand for more [treatment] than we have capacity for."
Challinor says that the health district's MAT program in the jail — which first got off the ground in early 2017 — has the resources to process "upwards of five or 10 new admissions a week" and can handle a much higher volume of patients.
The problem was that once the health district received a referral for an inmate seeking MAT, they ultimately have to conduct a face-to-face assessment inside the jail's clinic.
A correctional officer has to escort inmates from their cells to the clinic rooms for their examination, wait with them until it is over and then take them back, Hooper says. Health district staff also have to be escorted while dispensing medication to inmates who have been admitted to the MAT program.
"They were running short-handed as it was," Challinor says. "They were having to have sergeants to accompany us."
Hooper says that the jail only has one officer who does all medical-related escort of inmates during the weekdays. Additionally, the clinic space used for the intake of inmates is only available for half a day on Fridays, meaning that health district staff can only process so many inmates each week.
Currently, there are 11 vacant correctional guard positions, according to county spokesman Jared Webley. And Hooper says that they don't have guards to spare for the MAT program: "We don't have one that is just sitting around."
After referrals stopped coming over to the health district, their staff started receiving letters from inmates seeking MAT treatment. "We still had the individuals who were contacting us on their own," Challinor says.
Inmates who were enrolled in the health district's MAT program prior to October still received their medication, and pregnant inmates were still referred to the health district upon booking to the jail, she adds. But everyone else was cut off.
That meant that inmates suffering from opioid addiction were left to go through withdrawals under the supervision of Naphcare staff, who provide Gatorade and moderate amounts of buprenorphine to ease the process, according to Brad McLane, chief of operations at Naphcare. And opioid withdrawal symptoms — which include vomiting, diarrhea and cravings — can be brutal.
"Withdrawals are not a pleasant thing. They are very treacherous, very exhausting. It's essentially the flu times a hundred or more," Challinor says. "I know that there were some individuals that wanted [MAT] services but were placed on withdrawal management protocol because we were not doing any admissions."
She says that their MAT program keeps inmates from going through withdrawals, eliminates cravings, and gets them working with supportive staff. These services continue on even after an inmate is released from jail.
Attempts by stakeholders to revive the health district's MAT program stalled initially. In February 2019, the former director of Spokane County Detention Services, John McGrath, resigned. Simultaneously, there was turnover in management at Naphcare, the private contractor that provides medical care inside the jail.
Finally, in late June, a new policy was established: Naphcare staff would resume sending referrals for MAT treatment along to health district staff.
However, resuming the program doesn't address the underlying staffing issues in Spokane County Detention Services that limit how many inmates can start receiving opioid addiction treatment.
"That's still a roadblock to this," Hooper says. ♦