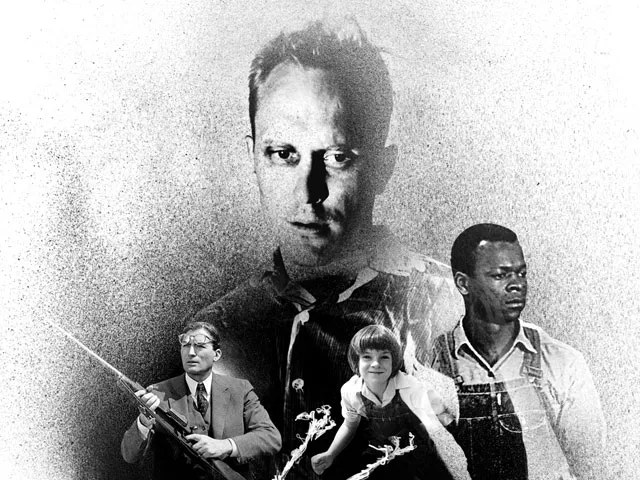 When the Spokane Public Library gets a popular new fiction book in, they usually stock about 30 copies. But SPL says they have 80 copies of To Kill a Mockingbird in its system — and that's not counting the 1,000 copies that the library is planning to give away in the next couple of weeks.
This month, hundreds of Spokane-area readers will be flipping through the pages of Harper Lee's classic story in conjunction with the Big Read — a National Endowment for the Arts-sponsored program focused on re-centering books in communities as a staple of American life.
Readers have loved To Kill a Mockingbird ever since its 1960 publication — but for its entire shelf life, the novel has also been linked to controversy.
Susan Creed, SPL's fiction collection manager — and an actress whose reading of Harper Lee's classic story airs this month on KPBX — says that most objections arise from the book's depiction of racism and use of racist epithets.
Set in Depression-era Alabama, the novel shows how a small town becomes divided after a black man named Tom Robinson is accused of raping a white woman.
On the American Library Association's list of the 100 most banned or challenged books of 2000-07, Mockingbird comes in at No. 23.
"I thought it was interesting that sometime in the early 1980s, there was a group of parents in Indiana who rejected it because of the submissive behavior of Tom Robinson," Creed says.
But despite any controversy, Mockingbird is a cornerstone of American literature. Perhaps it's the innocence of the story, told through the young narrator, Scout Finch, as she is plunged into reality. Or perhaps it's the heroic, ethical purity of her father, Atticus Finch.
Lee's novel is more than just a story. She wove a tapestry of idealism, virtue and justice — an ethical framework that can be understood by readers both young and old.
Creed says that To Kill a Mockingbird is just one of those books that sticks with people.
"It's been interesting to me now — I just finished recording it for KPBX — and I was carrying the book around with me everywhere because I was reading it again," she says. "And I had people in the dentist's office saying, 'Oh! I love that book!'"

---
Scout Appears! Opening Gala with Mary Badham
Tuesday, Feb. 16, from 5-7 pm

Celebrate the beginning of Spokane's 2010 edition of the nationwide, NEAsponsored Big Read program — focused this year on Harper Lee's 1960 novel, To Kill a Mockingbird — with guest presenter Mary Badham. And who is she? Just the actress who portrayed Scout in the 1962 movie and who maintained a friendship with Gregory Peck until his death in 2003. Badham, 57, will speak at the Lincoln Center. It's the kickoff party for the following six weeks of celebrating all things Boo, Dill and Scout. (Lincoln Center, 1316 N. Lincoln St.)
Atticus and Ethics
Wednesday, Feb. 17, from 5:30-7 pm

Law professor Mary Pat Treuthart presents an ethics program focused on Atticus Finch, the main character of To Kill a Mockingbird. (Gonzaga University School of Law, Moot Court, 721 N. Cincinnati St.)
Book Discussion and Coffee Break
Thursday, Feb. 18, from 2-3 pm

With a gift store and a coffee shop named after characters in To Kill a Mockingbird, Spokane is really the perfect place for the Big Read. Where better to discuss the meaning of the novel's title and other Boo Radley-related topics? (Atticus Coffee & Gifts, 222 N. Howard St. See the Calendar of Events, page 52, for more book discussions.)
Carl Maxey: Spokane's Fighter for Civil Rights
Saturday, Feb. 20, at 2 pm; Wednesday, Feb. 24, at 7 pm

Jim Kershner, The Spokesman-Review's columnist and author of Carl Maxey: A Fighting Life, gives a presentation of Maxey's civil rights ight in Spokane — issues that echo those in To Kill a Mockingbird. (Discussions at Shadle Library, 2111 W. Wellesley Ave., on Feb. 20, and at Moran Prairie Library, 6004 S. Regal St., on Feb. 24.)
Gonzaga Law School Mock-ingbird Trial
Tuesday, Feb. 23 at 7:30 pm

Watch the trial scene from To Kill a Mockingbird unfold before you in readers theater format. A discussion by lawyers and law professors will follow. (Gonzaga School of Law, Moot Court, 721 N. Cincinnati St.)
Gonzaga University Readers Theater
Thursday-Friday, Feb. 25-26, at 7:30 pm; Monday, March 1, at 6:30 pm; Wednesday, March 3, at 7:30 pm

The readers theater version of To Kill a Mockingbird presented by Gonzaga University Theater Department actors. (At GU's Jepson Auditorium, 502 E. Boone Ave., on Feb. 25-26. At South Hill Library, 3324 S. Perry St., on March 1. At Barnes & Noble, 15310 E. Indiana Ave., on March 3.)
Film Showings Throughout February and March
Watch Gregory Peck's Oscar-winning performance in the 1962 Mockingbird movie. (See full ilm listings in the Calendar of Events, page 52.)
Atticus Finch Sharpshooting Contest
Saturday, March 6, from 9 am-2 pm
Let your itchy trigger-inger do its best Atticus impression at this event presented by the Spokane Rile Club. You've gotta be at least 10 years old. (Sorry, Jem couldn't have a gun either.) (Spokane Rile Club, 6411 Aubrey L. White Pwky.)
Visit neabigread.org and click on Spokane or call 444-5342.