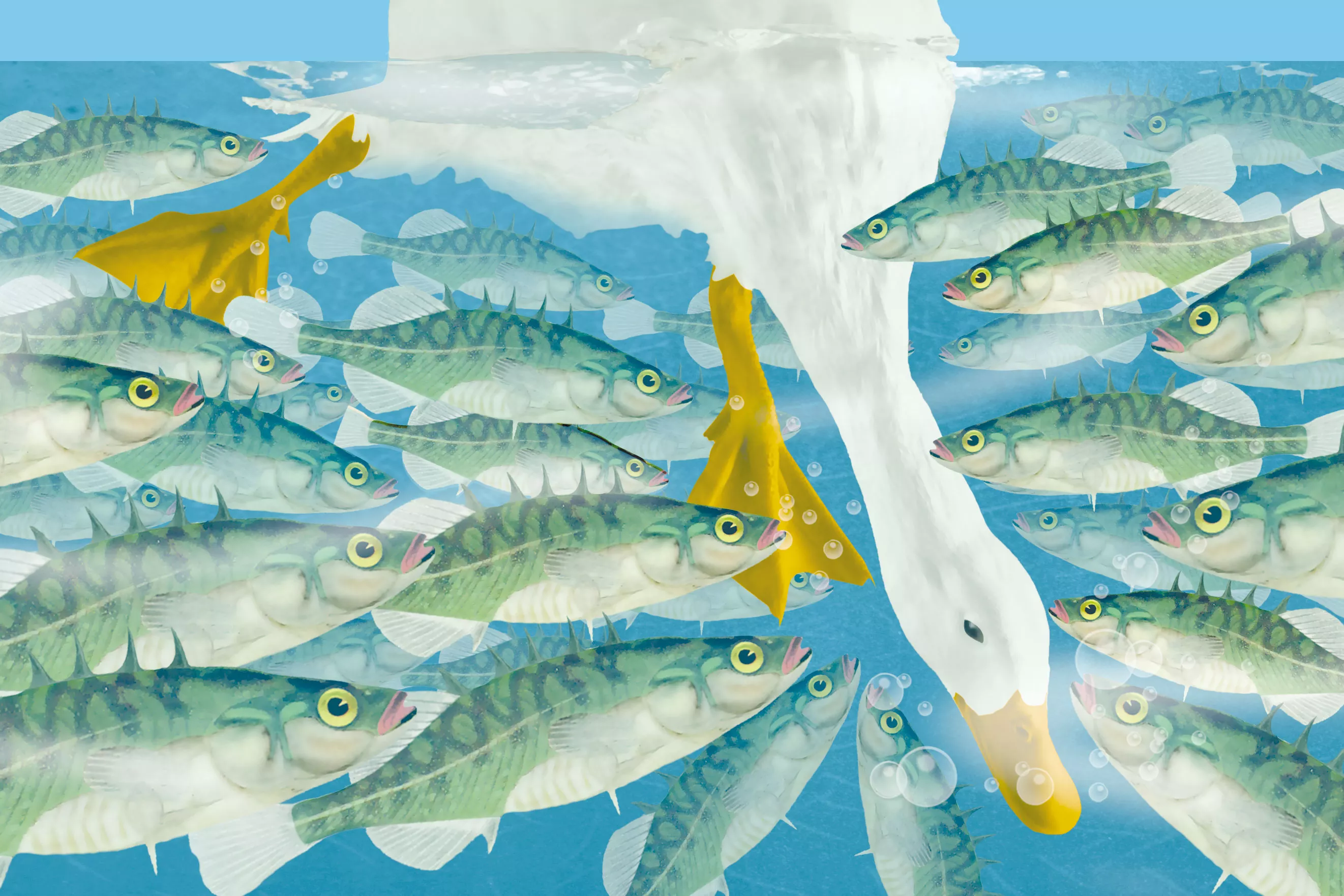 The fish look harmless enough. Their tapered, grayish bodies are no bigger than a pinky finger.
No one's quite sure how the brook stickleback, a fish native to the Midwest, got into the wetlands at Turnbull National Wildlife Refuge, according to Joanna Joyner-Matos, an associate professor of biology at Eastern Washington University, but she says she has enough evidence that they're damaging its ecological system. Now, she says, it's a matter of finding out how bad the damage is and whether it's reached populations of ducks and other migratory fowl, which rely on the wetlands and have already seen their numbers decline.
Last summer, Joyner-Matos, along with two of her biology students and some high school students, conducted research at the refuge seeking to answer a simple question: Are there fewer bugs in lakes that have the stickleback compared to those that don't? The answer, says Joyner-Matos, is yes, and a paper based on the conclusions will be published in the academic journal Northwest Science.
"The water bodies that have stickleback are decreasing in quality," she says. The stickleback prey on mayfly and dragonfly larvae, as well as worms and aquatic arthropods, small shrimp-like creatures. In some lakes, she says, "They're just almost gone. ... We are talking just complete desecration."
The prickly spines that line the fish's backs deter snakes and birds from preying on them, she says, adding that diving beetles, a species with large, strong mandibles, are the only thing that will eat the fish. Stickleback are present in two-thirds of the refuge, and are starting to spread downstream, according to Joyner-Matos.
"There really seems to be a change in habitat quality, and it's getting worse with the drought," says Joyner-Matos, referencing last year's historic water shortage that could be repeated this year.
A study published in the academic journal Science in 2015 found that just 9 percent of 1,451 migratory birds have enough protected areas. Turnbull is the last high quality breeding habitat for fowl in Eastern Washington, and Joyner-Matos says the fish could change that.
Baby ducklings and other birds, says Joyner-Matos, prey on the small insects and could be left with nothing to eat after the fish have eaten them all. The insects, she says, also eat phytoplankton and algae, keeping the water clean enough for plants like coontail and water wheat that birds will feed on or nest in. Now, she says, these plants are absent or struggling, which could affect migratory fowl that use the refuge's 3,000 acres of wetlands to nest.
However, Joyner-Matos, who describes the refuge as "hugely important," says she doesn't have data to conclusively say that the stickleback's presence is having an impact on the birds.
"The big problem with the data set is it's not collected in a way to answer that question," says Mike Rule, wildlife biologist at Turnbull. He says that refuge staff count breeding pairs of migratory fowl every fourth year for 135 bodies of water in the wetlands, and the remaining 65 are counted every year. He says there needs to be more frequent counts of the birds to produce the data needed to draw correlations to the fish.
But the birds are declining, Rule says. He says that the refuge cycles through a dry period followed by a few years where there is more water, which is conducive to birds breeding. Numbers provided by Rule show that there were about 1,000 breeding pairs of ducks in 1994, peaking at about 2,400 in 1999. But by 2014 they had declined to about 800.
"In the last 10 years the dry and wet cycles are much more frequent, and they are oscillating at a much more frequent period," Rule says. "Now it seems like we are only getting a couple years in between, and they are not recovering. In those dry years, birds just don't produce young."
Joyner-Matos says it'll take years of data to get the non-native fish labeled as invasive, which will bring federal and state resources to eradicate them.
"It's really hard to prove some of those causations without a long period of time," says Christi Norman, program director for Audubon Washington, who notes that the refuge is a particularly large one that brings in out-of-town birdwatchers who pump money into the local economy. "But it doesn't meant it's not happening."
Rule points to one upside of the drought. Some lakes, which naturally contain fish, have dried up, causing the stickleback to die off.
"We are looking at some systems being fishless," he says. "And that's good." ♦