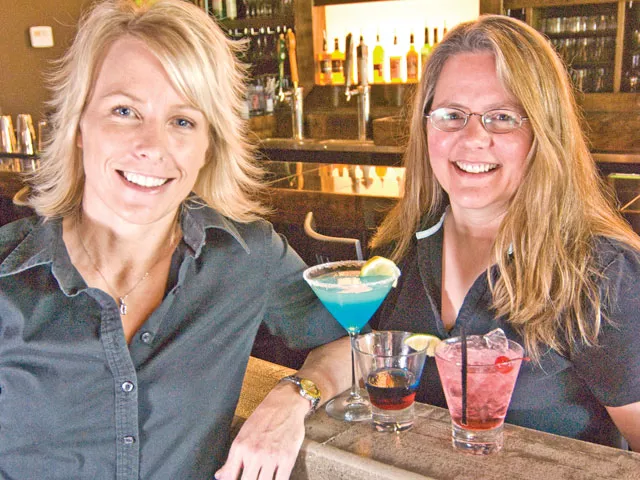 Every bar has its crowd. Fast Eddie's is teeming with freshly turned 21-year-olds. The Riff attracts tatted wanderers. Dempsey's bubbles with drag queens.
With the opening of Nyne Bar & Bistro (232 W. Sprague), downtown's social scene has expanded to include a ladies-specific niche.
"Our vision over a year ago was to create a space that caters to women and sports," says Kitty Kane, who co-owns Nyne with business partner Marcine McLaughlin.
Nyne's historic location is vast, spacious and loft-like — kind of like Tom Hanks' dream pad in Big. Origami paper lanterns illuminate rustic oak ceiling beams and metal plumbing. Commanding square windows with industrial glass panes circumnavigate the looming brick walls. An aged garage door rolls up to access patio seating.
The fare is geared towards morsel-munching with a menu that's concise but thoughtfully stratified.
Appetizers are chips and salsa ($4), sliders ($6), edamame ($4), a flatbread platter ($8), spicy pork wings ($10) and a soup of the day. Entrées consist of a peppercornbleu burger ($9), grilled salmon with wild caprese salad ($13), and a grilled Tuscan chicken Caesar salad ($13).
The flatbread was a hit with our group, vanishing quickly as it was presented. Served warm and fluffy, it came accessorized with a colorful spread of cool Tatziki, savory hummus, and a pile of sun-dried tomato relish that tasted sweet, like cranberries.
In addition to popular liquors like the Pinnacle Whipped Cream Vodka, there are about six beers on tap (with rotators like Boundary IPA and Blue Moon White), and a bottled inventory mindfully stocked with chic requests like MGD 64 and Bud Light Lime (domestics $3.50; micros $4.50).
Ample elbow room is another plus. Even when Nyne is hopping, you're less likely to be bumped by drunken boobs.
Jazzy accoutrements include pool, five TV's and a mesmerizing touch-jukebox that looks like an iPhone and attracts passersby on their way to the bathroom like flies to a lamp. There's set-up for Wii bowling tournaments, shooting for shots (Nyne has a basketball half court) and a chill, sublevel multi-purpose/make-out area called "The Pit."
So is Nyne the future Wildrose (an infamous lesbian bar in Seattle) of Spokane?
Judging from the couple making out on the couch, maybe. Patrons seem pretty comfortable with PDA. And why shouldn't they be?
"It's a classy sports bar that caters to women," McLaughlin says. "We know men will come — we love men — but there's no place [locally] that really caters to women." (Blair Tellers)

Nyne Bar & Bistro, 232 W. Sprague, is open Mon-Sun, 11 am-close. Call: 474-1621.
Chinese Time Machine
Back before the Wandermere area exploded, and before the North Division Y became a strip mall and big-box hub — before NorthTown was built — back when Division Street was just four lanes and Francis Avenue was two (and unpaved!), Tom Eng opened the Cathay Inn at 3714 N. Division.
The building was small, only about 30 feet by 60 feet, and squat, though a monumental Statue of Liberty at the roof peak nearly doubled the single-story building's height.
There were 13 tables. The men's bathroom was outside.
During busy times, they'd call in a second waitress.
You'd imagine that a Chinese restaurant with a giant Statue of Liberty on top was a strange sight, but back then, in that part of town, buildings of any kind were odd enough. Tom Eng's son Eddie said that when he came to work at the restaurant in 1952, there were just a handful of restaurants to the south, back toward downtown, and "north was just a few old houses."
The Cathay Inn grew with Spokane, especially after the Engs bought the land in the 1960s. Eddie doubled the size of the building in 1959 and doubled it again 10 years later. Eddie knocked down a grocery store at the south end of their lot and seven houses to the east to make room for the steady expansion. There were six major construction projects in all and more interior redecorations than Eddie can remember. The current tall, iconic pagoda structure was completed in 1998.
The Cathay Inn turns 60 next Monday, ever under the guidance of the Eng family — first Tom, then Eddie, and now a third and fourth generation, Tom's grandson Dennis and Dennis' son Raymond.
To mark the occasion, the Engs will be serving two dishes off the 1950 menu at 1950 prices.
The Combination — Pork Chow mein, sweet and sour ribs and egg foo young — will sell for $1. The China Special — all the same stuff but with prawns instead of egg foo young — will go for $1.25. Those were the most popular items on the menu when it was just Tom and Eddie slaving away in the kitchen. "We sold a ton of those," Eddie says. "You couldn't keep up with the cooking."
At those prices, we imagine the scene will be much the same Monday.
The revelry will only last, though, from noon to 8 pm that day. If you're charging $1 for a meal, you couldn't stay in business much longer than that. (Luke Baumgarten)