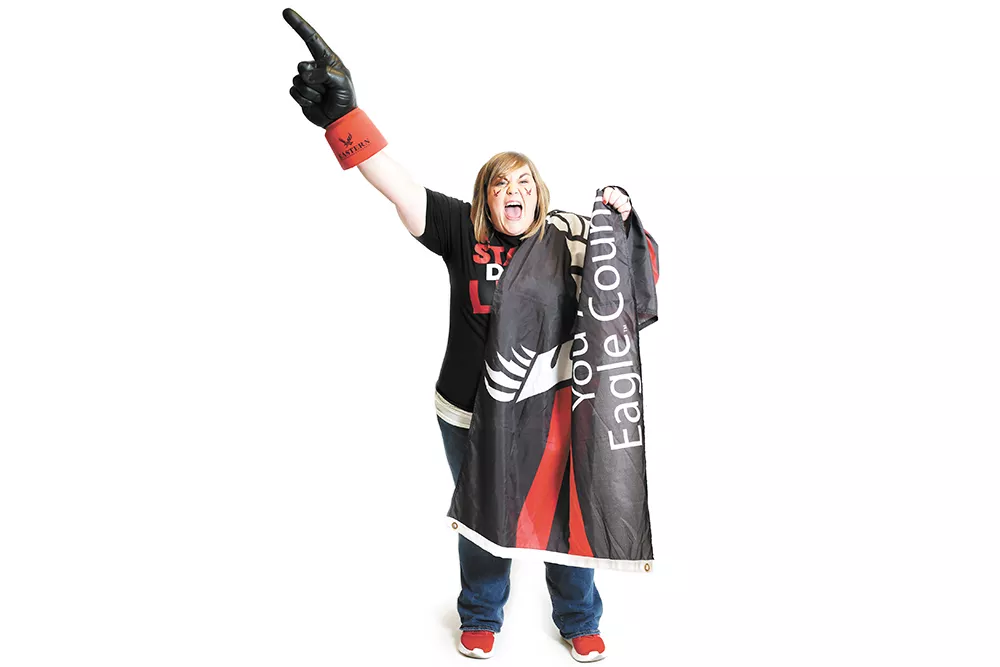 Hang around Cheney and the Eastern Washington football program for a while and you'll inevitably hear Coach Aaron Best refer to one of his players as an EKG — an Eastern Kind of Guy.
Kelsey Hatch-Brecek is the type of dedicated fan who requires an expansion of the EKG definition, because the 37-year-old event planner and Eag-fan-for-life is definitely an Eastern Kind of Gal.
A third-generation Eagle, Hatch-Brecek and most of her extended family live within a mile of Roos Field, attend every home game and several road games each year, and collect all manner of Eag-related paraphernalia, from framed game photos to jerseys memorializing favorite players past and present.
"It's a family affair," Hatch-Brecek says of her fall football seasons. "We all have season tickets, we all sit together. That's what I think makes it so cool. Yeah, we love Eastern. We love everything about Eastern. But we get to do it together, and that's what makes it super special."
She even waited for the family to go on a road trip to Cal Poly to tell her mom (and her aunt and her grandma) that she was pregnant with her now-5-year-old son. While that was probably the most memorable road trip the family's undertaken for a ball game, there have been plenty of others, from national championship games in Frisco, Texas, to season openers like this year's game against UW in Seattle. When we talked, Hatch-Brecek was trying to convince someone in the family to make the cross-country trip to Florida for the Eags' game against Jacksonville State; apparently, that sort of distance is the only thing that will keep most of her family from joining her.
"I hate flying by myself, but it just feels wrong not to go," Hatch-Brecek says.
Hatch-Brecek starts every home game day in Cheney pretty much the same way, and typically after a pretty crappy night's sleep. It's not necessarily nerves that keep her up, she says, but excitement to get going with the game-day fun because "this is my favorite thing on the planet."
"I'm up really early, and I always post 'It's Game Day!' on social media, typically hours before everyone's up. And two years ago I started getting these donuts made that are Eastern, so it says 'Go Eags!' or 'beat whoever it is we're playing.' 'Stay Salty,' all the hashtags the team's had. That's something a lot of people look forward to."
While tailgate parties are great for socializing with her fellow Eags, Hatch-Brecek says she's too wound up to eat much beyond a trusty bag of Sour Patch Kids; she leaves the chili and Scotch eggs to her relatives. Watching the pre-game party scene evolve and grow as the team's established itself as an annual national and Big Sky Conference power has been rewarding, although she admits to brief worries that it might get too big and she hopes it doesn't get overcrowded. Then she checks herself: "It's such a great atmosphere that I want everyone to experience it.
"There's just this negative connotation a little bit about Eastern," she explains. "It's like, 'Eh, it's not Pac-12.' 'Eh, it's not Gonzaga basketball.' Like, geez guys, we're really good. Really good."
That's not just the opinion of an Eag fanatic — Hatch-Brecek knows her football. She's one of five administrators nationally — and the only woman — of FCSFansNation.com and its affiliated social media sites, all dedicated to dissecting everything about the Football Championship Subdivision (what us old timers still call 1-AA). Over the course of our conversation, she recalls names and years-old game scores like a living, breathing EWU football database.
Looking forward this fall, Hatch-Brecek is hopeful of the kind of year the Eags hatched last season, when they made an unlikely run to the national championship game, overcoming myriad injuries along the way. The team is picked to win the conference and starts the season No. 4 in the nation, so expectations are high as always, and Hatch-Brecek acknowledges feeling a little entitled to success after the run the team's put together the last 10 years or so.
"We're the second-most successful FCS team there is this decade ... we're right after North Dakota State," Hatch-Brecek says of the Eags' success and the Bison's seven national titles since 2011. "As a fan that's been there a long time, it's really cool to see. It's so much more fun now. Hey, winning is fun!"♦
EWU EAGLES
The Big Story: After missing the playoffs two years ago, the Eagles emphatically corrected the ship last season despite losing their superstar quarterback Gage Gubrud (now a WSU Coug) to injury. Eric Barriere stepped onto the field and helped lead coach Aaron Best's troops all the way to a national championship game appearance against North Dakota State. Expectations are naturally sky-high for this season even as the Eags have to replace 25 departed seniors, but given the team's run of success over the past decade, meeting and exceeding expectations is as much a part of the program as that red turf in Cheney.
The Big Game: It's a non-conference game against a national power that will go a long way in determining the Eagles seed if they make the FCS playoffs. Nope, not the opener against Pac-12 heavyweight UW, but the trip to Florida against FCS preseason No. 6 Jacksonville State.
2019 Schedule:
Aug. 31 at Washington
Sept. 7 vs. Lindenwood
Sept. 14 at Jacksonville St.
Sept. 21 at Idaho
Sept. 28 vs. North Dakota
Oct. 5 at Sacramento St.
Oct. 12 vs. Northern Colorado
Oct. 26 at Montana
Nov. 2 vs. Northern Arizona
Nov. 9 at Idaho St.
Nov. 16 at Cal Poly
Nov. 23 vs. Portland St.