TV
Really, the only thing you need to know about The Following is that Kevin Bacon plays the lead role. The story is essentially a casserole of murder mystery clichés baked in a thick sauce of corniness and middle-school level Edgar Allen Poe trivia, but for crying out loud, Kevin Bacon is in the damn thing. Yeah, it's basically a network television take on Silence of the Lambs, but guess what Silence of the Lambs, didn't have? Kevin Bacon, duh.
BEVERAGE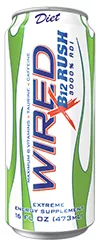 You probably shouldn't consume energy drinks. And you certainly shouldn't be drinking discount energy drinks, but allow me to provide one exception.
Diet Wired B12 Rush
, delivered to your nervous system by way of a 16-ounce can, features 94 milligrams of caffeine — about as much as a cup of coffee. But what really gets you going is the dose of vitamin B12 that is 3,000 percent of what your body needs in a day. The taste is nothing special, but the I'm-going-to-lift-that-pickup-truck-off-the-freaking-ground sensation makes it totally worth your while.
GAME
If you've been reckless enough to actually imbibe that $2 pint of chemical power and then watch a Fox network drama, you might need to balance it out with some worthwhile brain stimulation.
Bananagrams
is essentially a board-less version of Scrabble in which one assembles connecting words (reading up-to-down, left-to-right only). To win, you use all your little letter tiles before your opponents. It provides plenty of thinking and — short of getting Kevin Bacon on your guest list — is a way to revive a boring dinner party.