TV
What with DVDs and the Internet, I can't remember the last time I watched a show while it was actually on the air, so I'm indebted to Inlander television expert Daniel Walters for tipping me off to Bob's Burgers. Each episode about a family-run burger restaurant is consistently hilarious and zany — recent plots involve a talking toilet lost in the woods and revenge in the form of a middle school science fair project about Thomas Edison. But what keepsBob's Burgers from being another Family Guy or King of the Hill is its sweetness — it's funny without being abrasive, and the characters' frequent mishaps are never mean-spirited.
BOOK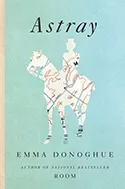 Emma Donoghue's previous critically acclaimed novel
Room
took place almost entirely within the four walls of a shed where a woman and her young son are held captive. This time, in
Astray
, characters cross oceans and continents, leaving friends and sometimes finding reunions. Each chapter is a brief portrait based on real people and events — footnotes in history — and at times the concept feels like a tired assignment from a writers' workshop. But with Donoghue's sure and versatile prose, the haunting bites of historical fiction become a satisfying meal.
FONT

You know Wingdings, the font that's little symbols instead of the alphabet? Imagine Wingdings for the 50 states, and that's
StateFace
, a font created by journalism organization ProPublica. It got lots of buzz among web designers and news nerds last fall when election coverage required lots of state-by-state results, and last week it won a Malofiej award, which is kind of like the international Pulitzers for news graphics. It's available for free for anyone to
download
and use like any other font on your computer.