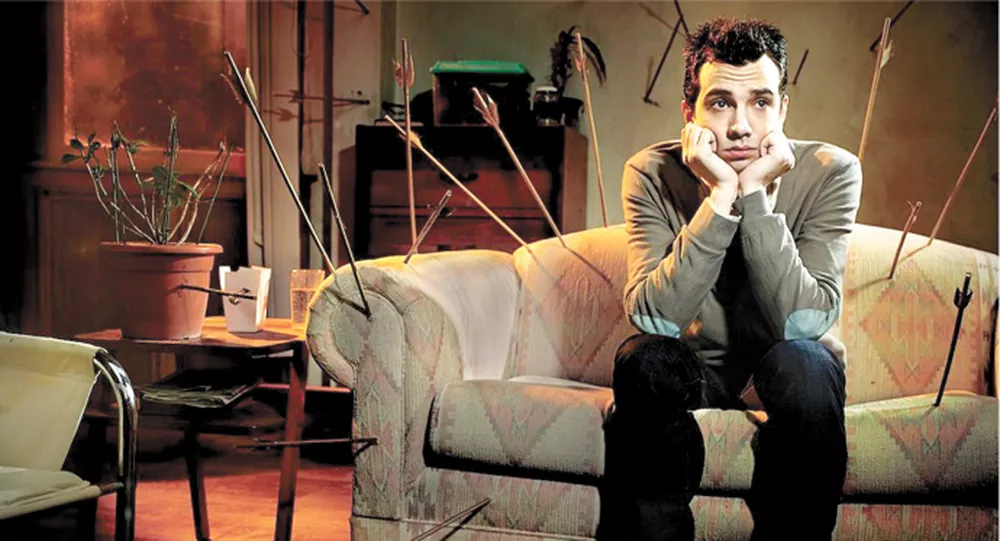 TV | Imagine Louis C.K.'s Louie, but as, you know, an actual comedy. MAN SEEKING WOMAN (FXX, Wednesdays, 10:30 pm) brings an absurdist, sketch-comedy sensibility to the modern dating world. Jay Baruchel (Undeclared) has the appropriate scrawny, sweat-drenched awkwardness of Josh, a 27-year-old trying to date after a big breakup. Well-trod territory, sure. But the style and silliness breathe new life into hoary clichés and transforms them into inventive illustration. A priest performs an exorcism of Josh's ex-girlfriend's spirit so he can get over her; the composing of a text message takes the form of a war-room argument with generals and scientists; and a bro's warning about the staleness of a committed relationship is delivered through a Scared Straight!-style glimpse of suburbia.
---
GAME | Others have tried to turn George R.R. Martin's popular A Song of Ice and Fire series into something videogamey — and have mostly failed. Neither the combat skills of a single man nor the tactical maneuvers of armies really capture the unique despair of Martin's world. But GAME OF THRONES: A TELLTALE GAME SERIES (Steam, Telltalegames.com) stands a much better chance. Telltale gave us the bleak and brilliant The Walking Dead and The Wolf Among Us interactive graphic novels, all about making ugly, no-win choices that never seem to have the results you hope they will. That, more than anything else, sums up the entire theme of Martin's world.
---
PODCAST | The second original podcast from startup Gimlet Media, REPLY ALL shines a light on the quirky, strange and sometimes sinister corners of the Internet. Like the behind-the-scenes hero who kept the pictures of Kim Kardashian's champagne-glass platform of a butt from breaking the Internet. Or the college faculty members who banded together to defeat the anonymous racism on the Yik Yak app. Or director Errol Morris, whose brother just might have invented email. In an online world that generates subcultures and invents neologisms with increasing rapidity, it's great to have a travel guide.