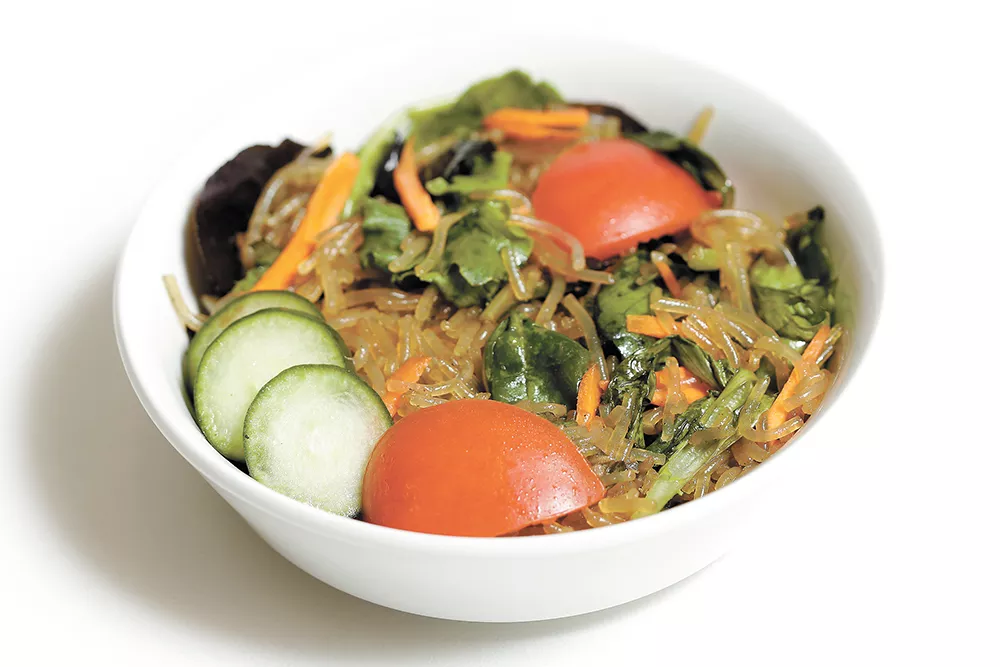 Whenever we sit down to put together this issue, one thing that's always requested is that we feature inexpensive food that also doesn't take up your entire day's recommended caloric intake. So if fitness, health and price are top of mind when you eat out, these eight dishes should, for the most part, fit the bill.
Hearty Bowl, $9
Method Organic Juice Cafe, 7704 N. Division and 718 W. Riverside; methodjuicecafe.com
Pretty much everything you order at Method — whether that be juice, a smoothie, a salad or a small side — is going to come packed with plant-powered nutrition. Plus, nearly all items on its menu are vegan and gluten-free. If you're looking for something a little more filling to sustain you for several hours, try one of the build-your-own "hearty" bowls, which start with a base of sprouted brown rice, quinoa, romaine and spinach. That's all topped with a mix of fresh, raw veggies and your choice of sauce, including thai peanut, lemon tahini, kale pesto, panang curry and a few other varieties. You can add additional toppings — legumes, nuts, fruit and more veggies — for 50 cents to $2 each.
Korean Noodle Salad, $6.95
Ephata Cafe, 1908 W. Northwest Blvd., 328-8888
This hidden gem in North Spokane offers a diverse menu of traditional American breakfast items, sandwiches and wraps, along with its signature list of Korean-inspired dishes, like mung bean pancakes, bibimbap (rice bowls) and japchae (sweet potato) noodle dishes. The Korean noodle salad, though — especially when ordered with the gluten-free japchae noodles, a lighter option than the traditional wheat-based udon noodles — is a refreshing yet filling lunch. The noodles come atop a bed of mixed greens, and topped with cucumber, tomato and carrots and a light, flavorful dressing.
Greek Salad, $5
Maple Street Bistro, 5520 N. Maple, 443-3129
Located near Five Mile on a busy stretch of the Maple-Ash corridor, this little bistro with a drive-through window is a popular spot amongst both neighborhood residents and people passing through. With offerings that range from baked goods and coffee to smoothies, wraps, paninis, soups and salads, the bistro offers mostly lighter fare, and for a great bargain. Consider the classic Greek salad; a bed of greens topped with feta cheese, kalamata olives, artichoke hearts, cucumber, tomato and balsamic vinaigrette. If you want to add some protein, an upgrade of chicken breast is only $1 more. Even if you add a cup of soup ($3.50), you'll still be spending under $10.
Chicken Pho, $7
Vien Dong, 1730 E. Sprague, 536-6073
Often touted as one of the healthiest dishes in Asian cuisine, Vietnamese soup, or pho, offers a filling meal that's usually lower in calories and, in this case, comes with a lean protein. For those new to the varied world of pho, it's comparable to chicken noodle soup, as it's served in a flavorful broth with noodles (here made from rice) and a form of protein, including pork, various cuts of beef or tofu. Pho is also packed with veggies and aromatics, like cilantro, scallions, bean sprouts and other spices (a high sodium content is one of pho's downsides, however). On average, a bowl of chicken pho can be between 350 and 500 calories. Add more veggies in place of the meat if you're really counting.
Acaì Berry Coconut Bowl, $9.95
Liberty Lake Juice Co., 1334 N. Liberty Lake Rd., 818-2674
The bowl is a versatile vessel; able to contain just about any scrambled mixture of nutrients, including the super-popular and trendy health food of pureed acaì berries, which are usually topped with other members of the "superfood" category. Of the several acaì bowl offerings at the fairly new juice, smoothie and health food shop located in a Liberty Lake shopping center, the berry coconut bowl is a sweet and no-guilt treat: acaì, strawberries, bananas, maple syrup and almond milk is topped with blueberries, raspberries, blackberries, coconut shreds, granola and locally sourced honey.
Gulf of Mexico Salad, $10
Grabbagreen, 405 W. Neider Ave., Coeur d'Alene, 208-277-9700
Though it's not a locally owned chain, the Coeur d'Alene franchise location of this veggie-forward "fast food" chain (based in Arizona) is, and it's one of the first eateries of its kind to enter the Inland Northwest market. At Grabbagreen, you'll find smoothies, fresh-pressed juice, acaì cups and hearty grain- and veggie-focused salads, like the "Gulf of Mexico." The veggie mix comes in a to-go box that's packed with avocado, cucumber, egg, green onion, parsley, red onion, spinach and shrimp, and topped with cayenne and a creamy avocado sauce. The filling meal is just under 300 calories.
Rice Gone Wild, $9
Cosmic Cowboy Grill, 412 Haycraft Ave., Coeur d'Alene, 208-277-0000
This new and locally owned spot in North Idaho offers a mashup of traditional Southwestern grill fare, but with a much healthier approach than the standard roadhouse. Many of the dishes on the menu are organic, gluten-free, low-carb, vegan or vegetarian, like this nutrient-packed rice bowl. The "Rice Gone Wild" is a colorful bowl filled with basmati rice, cabbage, peas, butternut squash, chickpeas, green onions, dried cranberries, pistachios and a mint-cilantro dressing. You can add protein — chicken, steak, salmon or tofu — to give this hearty mix even more power.
Hummus Sandwich, $9
Kabob House, 2118 N. Ruby St., 474-0499
Mediterranean food is known for being another of the world's healthiest and lightest cuisines, and you'll find a long list of better-for-you options at one of the newest restaurants serving up Greek fare in Spokane: Kabob House. This regional chain, with locations in Ellensburg and Yakima, offers the traditional favorites: falafel, gyros, kabobs, taziki, babaganoush and salads. The hummus sandwich also happens to be vegetarian, on a pita loaded with fresh cucumber, tomato, onion, olives, lettuce, green pepper, feta cheese and your choice of one of the house-made hummus flavors: traditional, spicy and jalapeño cilantro. ♦