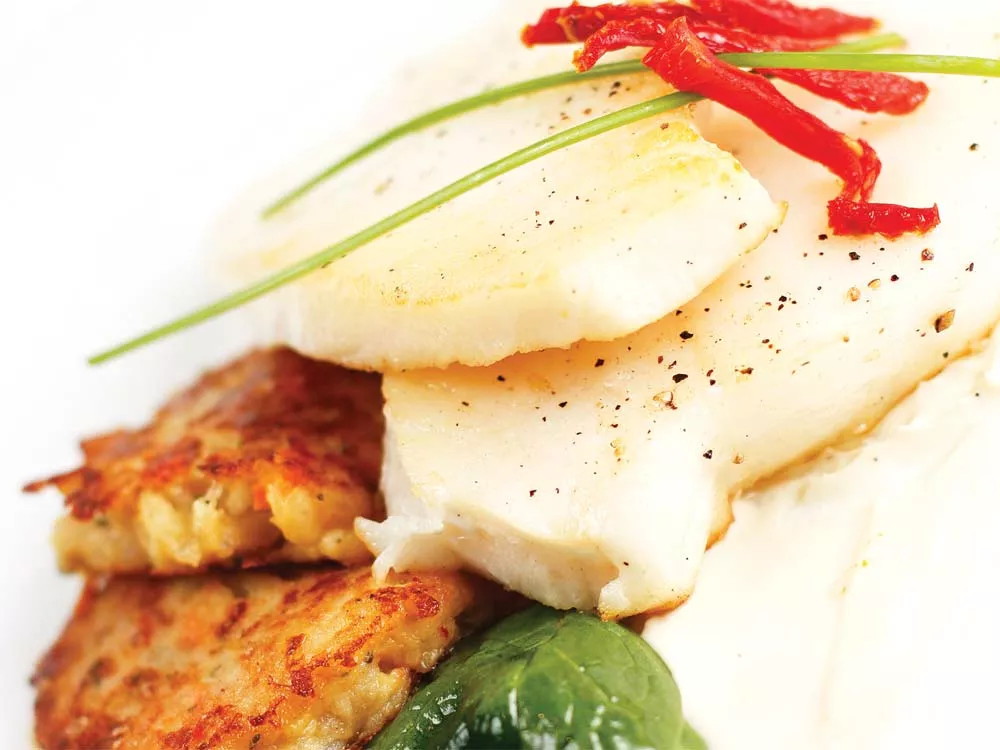 If you want to guarantee a win at Northern Quest Casino in Airway Heights, skip the slots and head upstairs to MASSELOW'S for breakfast or dinner. Within a year of opening, the restaurant received the AAA Four Diamond Award for 2011 — a notable win for Eastern Washington.
For a hotel's dining establishment, the odds of winning the AAA Four Diamond Award are slimmer than your average roulette bet. After meeting some 27 initial requirements, a restaurant undergoes a rigorous evaluation and rating by the AAA experts, who make judgments on everything from décor to cuisine.
According to the numbers, less than 4 percent of AAA-approved spots — 31,000 nationwide — earn Four Diamonds. Masselow's is the first restaurant in Eastern Washington to win the award, and the first new regional restaurant in nine years. (The Sun Mountain Lodge Dining Room in Winthrop was awarded in 2001.)
But fine dining doesn't mean this place is out of your league. True to its Kalispel tribe roots, Masselow's goes out of its way to make you feel comfortable. At a recent breakfast, we chatted with sous chef Robert Rogers about what makes Masselow's accolade-worthy.
"We make our own everything here — our own mayo, crackers, andouille chicken sausage, pasta," he says. "It's a blast, collaborating as a staff on new recipes, trying new things with whatever we can source locally." He mentions a few favorites — the "Prairie" Benedict, eggs and country gravy over griddled biscuits and house-made sausage ($12), and the seasonal ginger waffle with orange zest cream cheese ($10).
Chef Rogers points to my plate, a towering French toast stack of Petite Chat Village Bakery brioche drenched with huckleberries and layered with cream cheese and thick slabs of Kansas City-style bacon ($12). "Everybody does some kind of stuffed French toast," he smiles, "but this is on another level." Four Diamond level, that is. Come hungry.

Masselow's • 100 N. Hayford Rd., Airway Heights, Wash. • Breakfast: Mon-Fri from 6-11 am, Sat-Sun from 6 am-noon; Dinner: Tues-Sun from 4-10 pm • 242-7000
* A previous version of this story incorrectly stated that Masselow's is the second restaurant in Eastern Washington to win AAA's Four Diamond Award. Masselow's is actually the only Eastern Washington restaurant to have ever received the award.
---
Nativity Search Engine Vestibule
Perhaps because it's a college town, or maybe because in summer, it becomes a dust bowl to rival the Sonoran Desert, but damn, Cheney has a ton of Mexican restaurants.
With the recent arrival of the salmon- and sherbet-walled EL PORTALITO, there are now four. (That number does not include Taco Bell, because that would be like putting Asian massage parlors on a list of acupuncturists.)
Cheney is a town of barely 10,000 people, which means there's a Mexican joint for every 2,500 people. To achieve that kind of enchilada density in Spokane, we'd need, like, 80 places. (We have around 30.) For a few months last year, Cheney even had its own Tacos Tumbras truck.
Even in this saturated market, which has an excellent hole-in-the-wall (Corona Village) and a rather traditional family Mex joint (El Rodeo), the new niño on the block is a standout.
In Spanish, depending on context, portalito means "vestibule," "Nativity scene" or "search engine." The menu finds a similar variety. There are more than 90 items here, not including lunch specials or combinations. It's not all nachos con carne and nachos sin carne (though they have both). There's diversity here.
Plates boast moles, cremas, and spicy diabla sauces along with all the usual suspects. There's an extensive list of seafood plates and about 17 vegetarian options.
The machaca ($9.25) was a heaping hash of shredded beef scrambled in eggs with green peppers, onions and tomatoes. There was a nice char on the veggies and meat, adding a depth of flavor while allowing the meat to retain its juices. Everything tasted fresh, even the accompanying rice, beans and tortillas (which, on a slow Wednesday night, is as good a freshness test as anything we can think of).
Even though El Portalito doesn't open until 11 am, the machaca is joined by a few other egg dishes, including huevos rancheros ($8.25) and chorizo con huevos ($9).
In short, the place is a Mex-ucopia. At roughly the square footage of a foyer, it's hard to imagine where they keep all the ingredients.

El Portalito • 24 W. First St., Cheney • Mon-Sat 11 am-10 pm, Sun 11 am-9 pm • 235-2035