These days, anyone and everyone can make an Instagram account and show off their savvy home styling looks, no interior decorating degree required. Whether your best friend, sister, mom, aunt or cousin is into the midcentury modern revival, a neutral indie-boho vibe or the charming and rustic farmhouse style, there's a bevy of locally owned shops across the Inland Northwest to find a unique piece that your recipient will proudly feature in dozens of posts to come.
BOTANICAL ART PRINTS (a)
Spokane artist and graphic designer Vanessa Swenson has a nature-inspired style that will blend seamlessly with most modern home decor themes. Her soft-edged botanical paintings are done in natural palettes of golds, blues, greens and oranges, while her letterpress designs feature the sharper lines of original pen-and-ink drawings of wildflowers, birds, bees and other natural motifs. Other designs, meanwhile, blend both styles and media into occasionally abstract designs that would look pretty on any wall or shelf. Find Swenson's limited edition print runs on her website, and stocked by local artisan shop From Here, which also has a few custom-framed pieces ($200 each) available, along with Fellow Coworking. Prints from $26-$68 • vanessaswenson.com or From Here • 808 W. Main Ave.
POTTED HOUSEPLANT (b)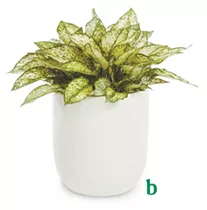 Houseplants are so hot right now, literally and figuratively since they require warm inside temps to thrive. Ask any home decor expert or scroll through any lifestyle account on Instagram, and pretty inside greenery is everywhere. Even if your recipient doesn't have the greenest of thumbs, don't fear. The staff at Fern plant shop in downtown Spokane can help pick a newbie-friendly variety, like snake plants or the easy-to-care-for "ZZ" plant, and will even repot it in your chosen vessel for free. Fern offers a huge variety of both common and rare plants in a variety of sizes, including tiny succulents and air plants that are perfect for display in terrariums (also available at Fern from local maker Sage + Moss) and small spaces, or homes with mouthy pets and young kids. $12+ • Fern • 1516 W. Riverside Ave.
THROW PILLOWS GALORE (c)
If there's more space on your sofa or occasional chairs occupied by pillows than there is room for sitting, that's actually not a bad look. Throw pillows in large quantities can instantly transform any space into a cozy, hygge haven and are an easy and affordable way to refresh a space throughout the seasons. At newly opened downtown decor shop Savvy Home, a huge selection of throw pillows range from traditional plaids to bumpy, texture-adding chenille and other woven fibers to ultra fluffy faux furs and cozy sweater knits. While you're there, peruse the shop's large inventory of barware and other items ideal for host/hostess gifts, like evergreen-scented candles, hammered copper mugs and much more. $34-$63 • Savvy Home • 1407 W. First Ave.
MACRAME / FIBER ART WALL HANGINGS (d)
Fiber art, and especially macrame, has seen a huge resurgence of late. But don't confuse this classy modern boho look with some of the gaudier pieces popular during the artform's first wave in the 1970s. Local artist Laurie Ann Greenberg, who works under the name Roving Goddess, stocks her hand-woven and knotted pieces in a range of materials, shapes and sizes at many retailers in the Spokane area. One of her macrame wall hangings, often attached to pieces of driftwood, can add a layer of texture and interest to any space. The artist also has a collection of fiber mandala necklaces, macrame tree ornaments and leather key fobs, which are all great gift options for smaller budgets. See samples of her latest work on Instagram at @rovinggoddess. $28-$250 • Online at etsy.com/rovinggoddess; locally at From Here (808 W. Main Ave.), Helix Wines (824 W. Sprague Ave.), Boutique Bleu (1184 W. Summit Pkwy.) and more. ♦